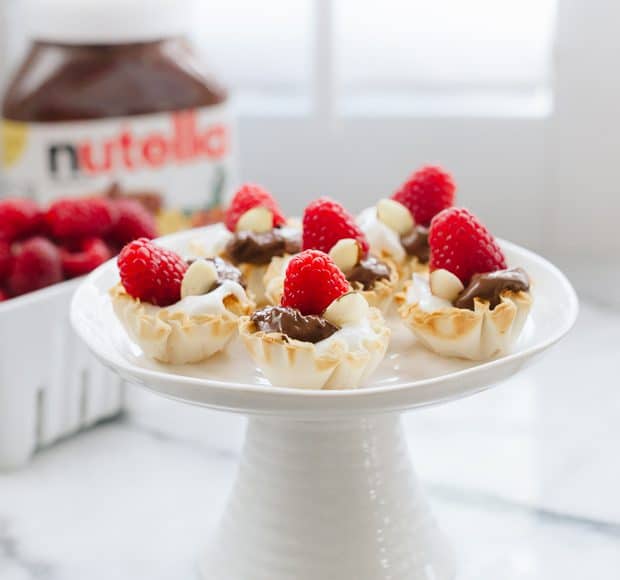 Nutella Greek Yogurt Fillo Cups
When it comes to friendships, I feel blessed to know that I have met some wonderful people over the years – each one unique and special in its own way. There are the friends I've known since childhood – since that very first day of…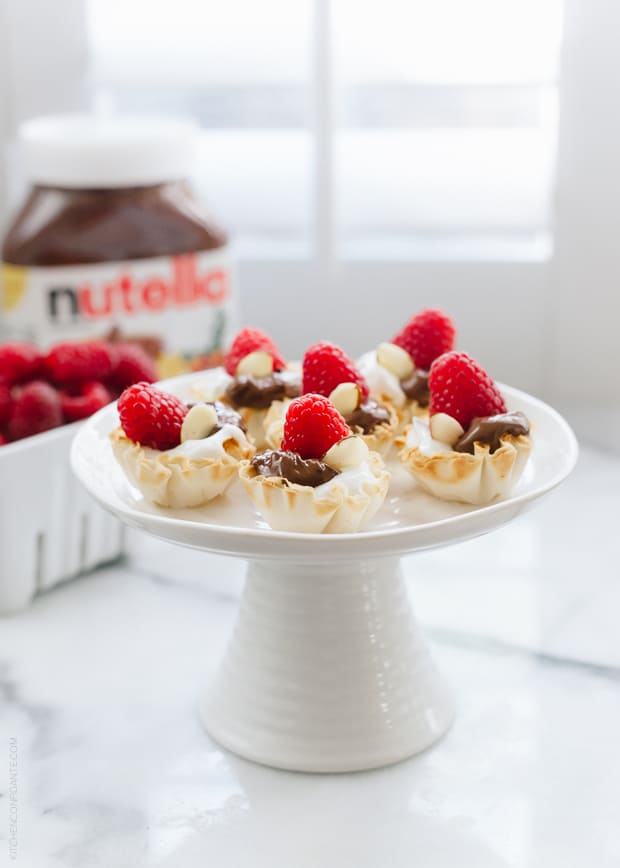 Nutella Greek Yogurt Fillo Cups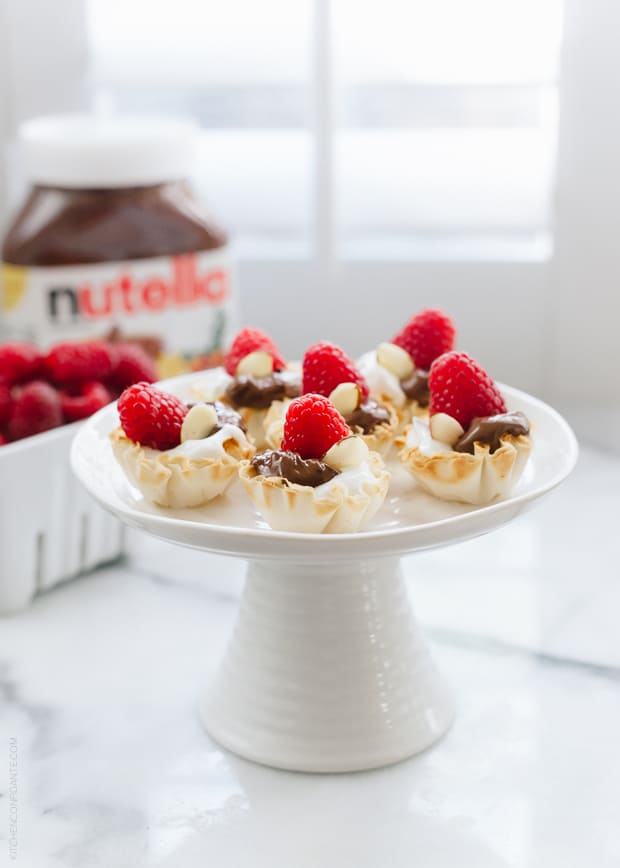 When it comes to friendships, I feel blessed to know that I have met some wonderful people over the years – each one unique and special in its own way. There are the friends I've known since childhood – since that very first day of school, when I donned that plaid uniform and knee-high socks. There are the friends I made in high school – those that spent hours in rehearsals, practicing for performances, going over routines and songs over and over again. There are the friends from college, the roommates who were among the first outside of my family to know every part of me. There are the friends you make because of your children — funny how we tend to gravitate towards the same kind of people our children choose to play with. And of course, there are the friends I've made because of this blogging world, who share my passion for cooking and baking, and all things food.
Sometimes these worlds intersect, and sometimes, they do not.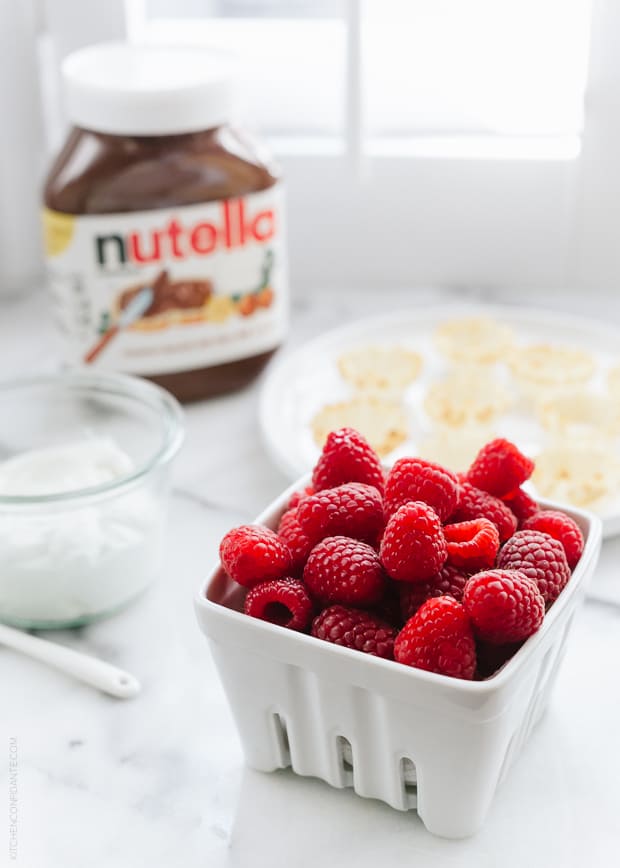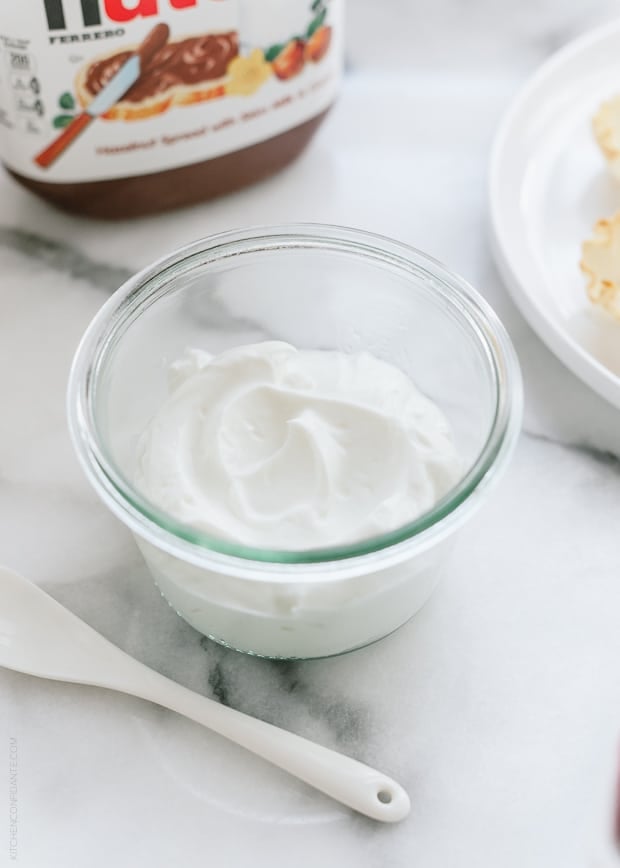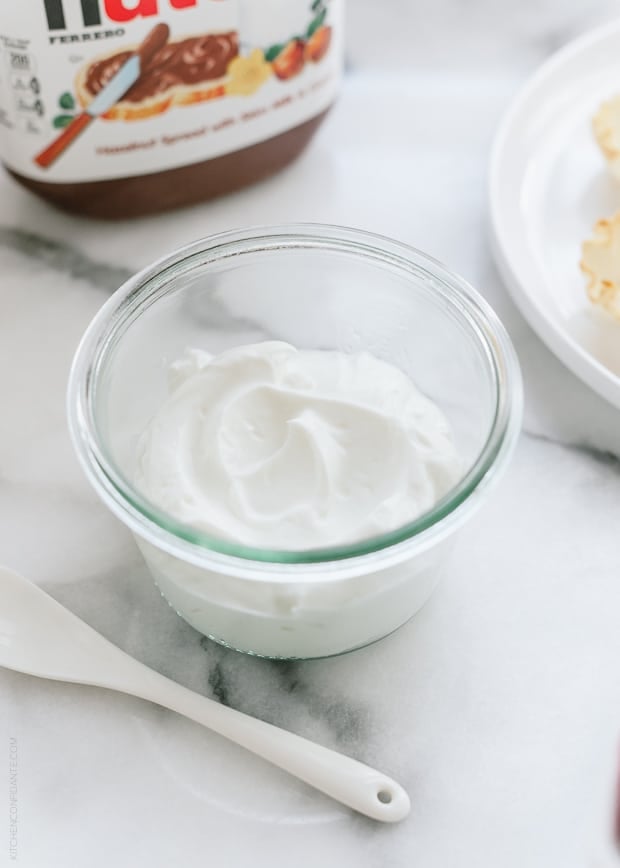 I have one friend who is intimidated in the kitchen. Butchering a chicken does not come easy to her, nor does slicing a watermelon. But she shares my passion for eating, thank goodness! I have something today that she can tackle, I'm sure, with finesse – and when it comes down to it, these are the best recipes of all: simple, quick, and utterly delicious.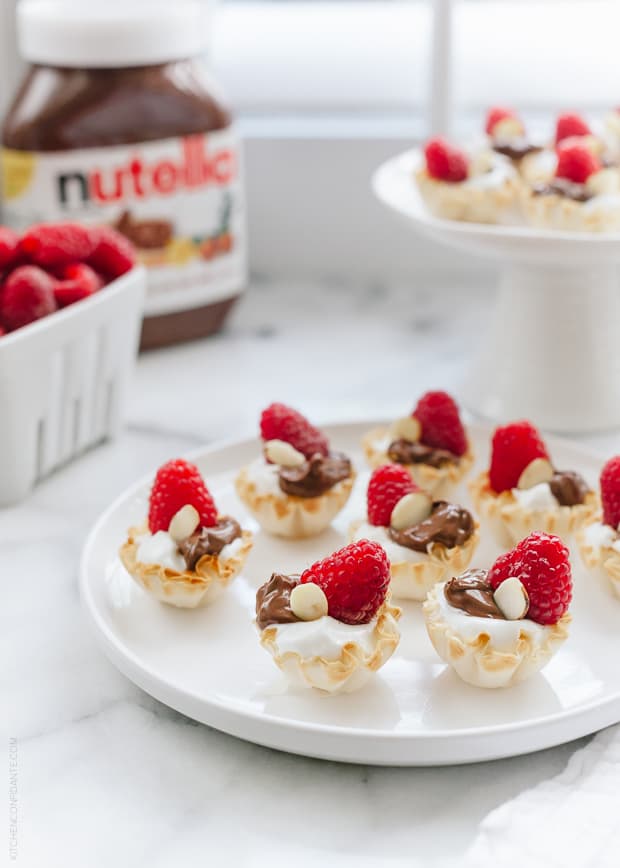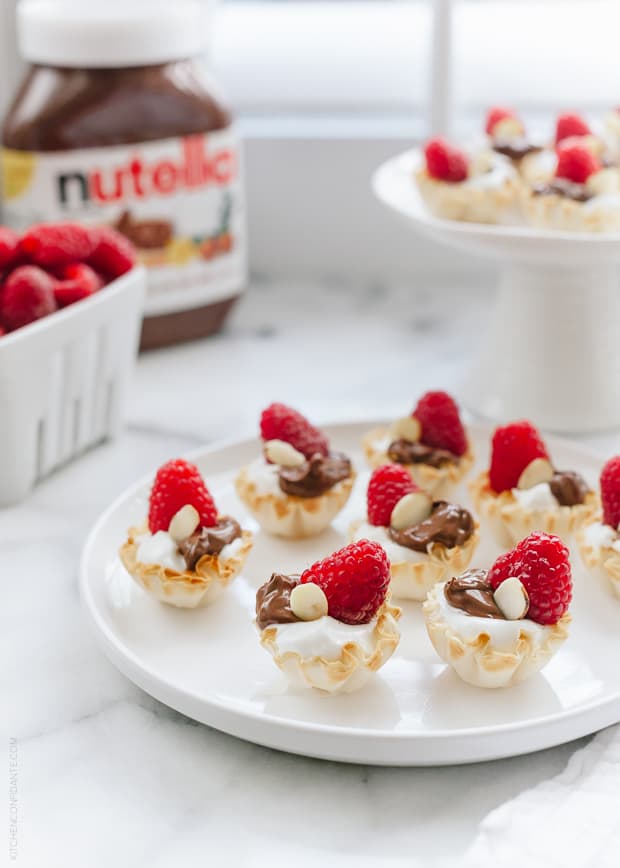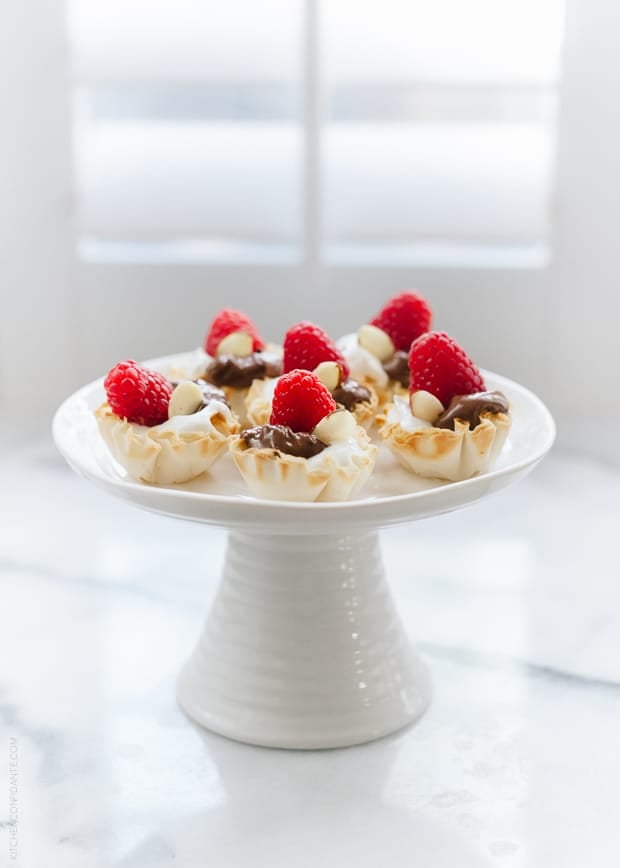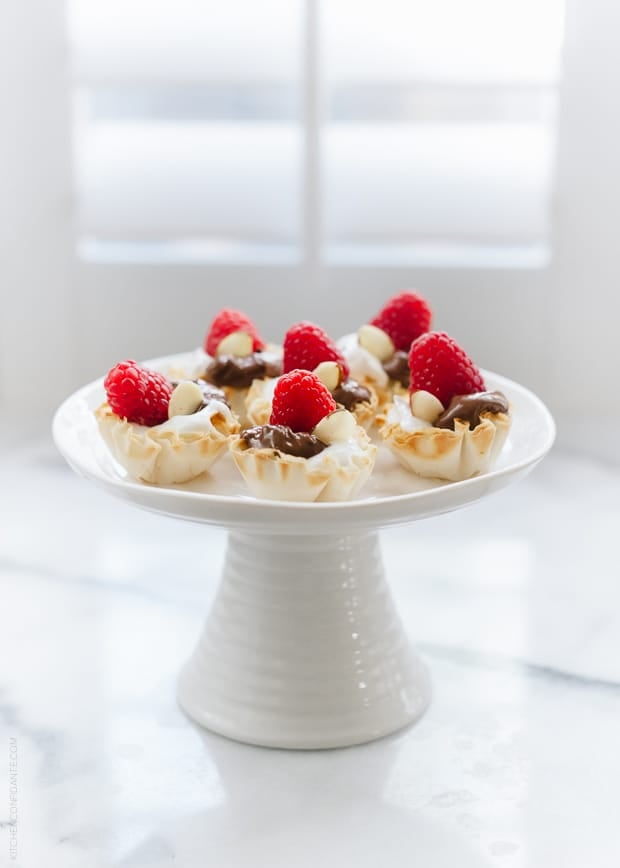 These Nutella Greek Yogurt Fillo Cups are delightful bites of happiness – light and creamy greek yogurt swirls in each bite with my beloved Nutella – these fillo cups are perfect for entertaining, don't you agree? The best part is that anyone can make them!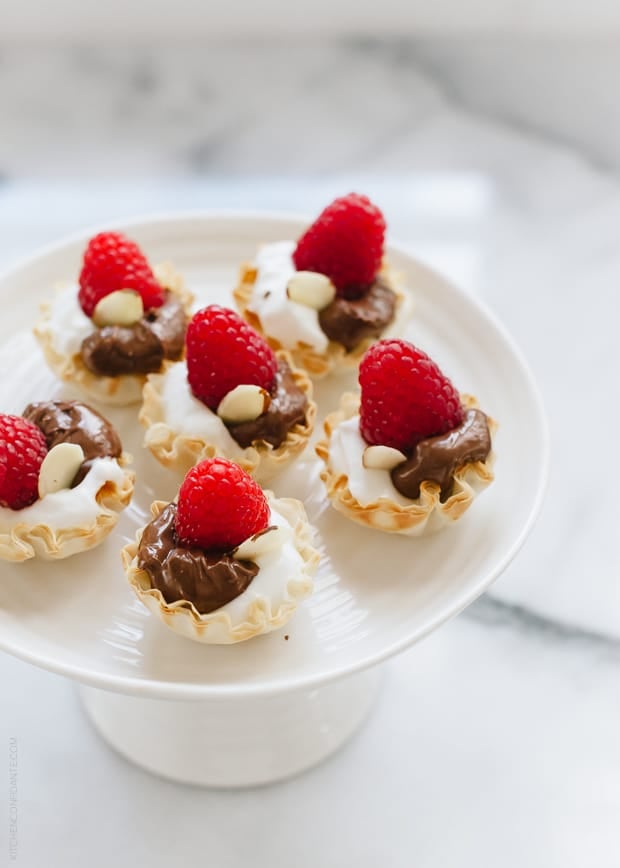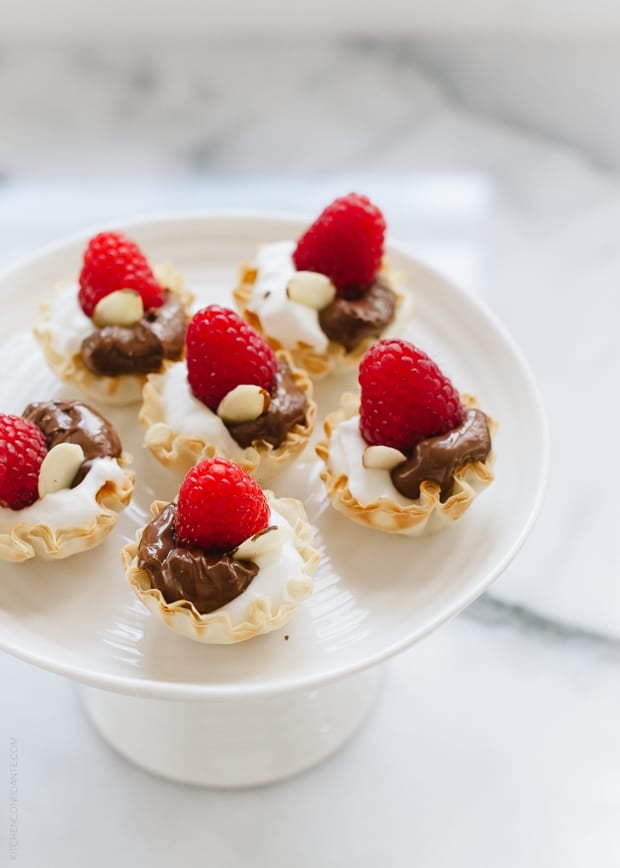 You know what else is the best? The Nutella 'Spread the Happy' Sweepstakes! You should check it out! Visit nutellausa.tumblr.com between now and September 1st and submit a photo of your favorite Nutella combo for a chance to win one of 50 prize packages. What's in the prize package? Fun stuff! Including:
Nutella tote bag
T-shirts
(1) mug
(1) tumbler
(1) spreader
(2) coupons for free jars of Nutella
Nutella® hazelnut spread is a happy start to every day! Pick up a jar of Nutella in the spreads aisle and enjoy it with whole wheat toast, waffles, pancakes, strawberries, bananas and many other foods. Nutella. Spread the Happy™.
Disclosure: Compensation was provided by the makers of Nutella via Mode Media. The opinions expressed herein are those of the author and are not indicative of the opinions or positions of Nutella.
Nutella Greek Yogurt Fillo Cups
Sweet, but not too sweet - I love how Greek yogurt and Nutella play so nicely together. I love keeping fillo cups in the freezer - they make fantastic last minute desserts, like this one!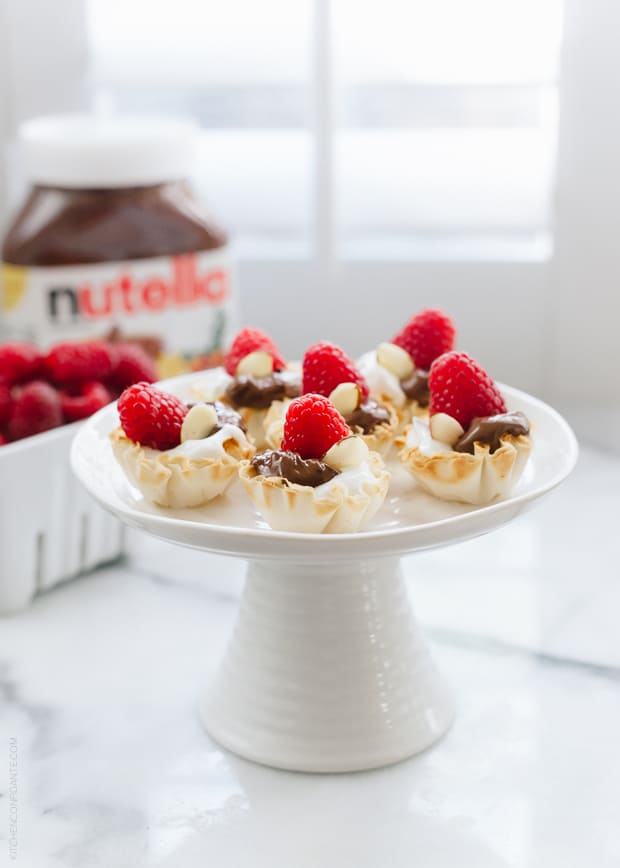 Print Recipe
Ingredients
1 package frozen fillo cups
8 oz Greek yogurt
8 oz Nutella
Raspberries
Sliced Almonds
Instructions
Place about 1 teaspoon of Greek yogurt in each fillo cup, then layer with 1 teaspoon of Nutella in each cup. Place a raspberry and sliced almond on top. Keep refrigerated until ready to serve.