Coconut Zucchini Coffee Cake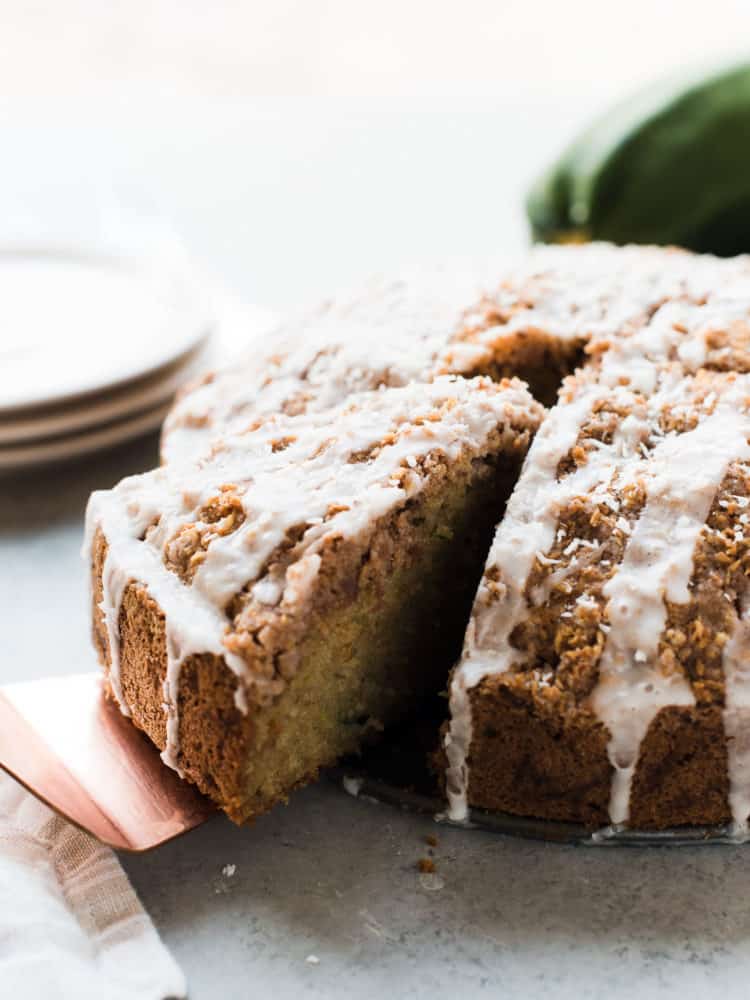 Coconut Zucchini Coffee Cake
When you have more zucchini than you know what to do with, make cake! This Coconut Zucchini Coffee Cake is beautifully speckled with zucchini, coconut and a delicious crumble.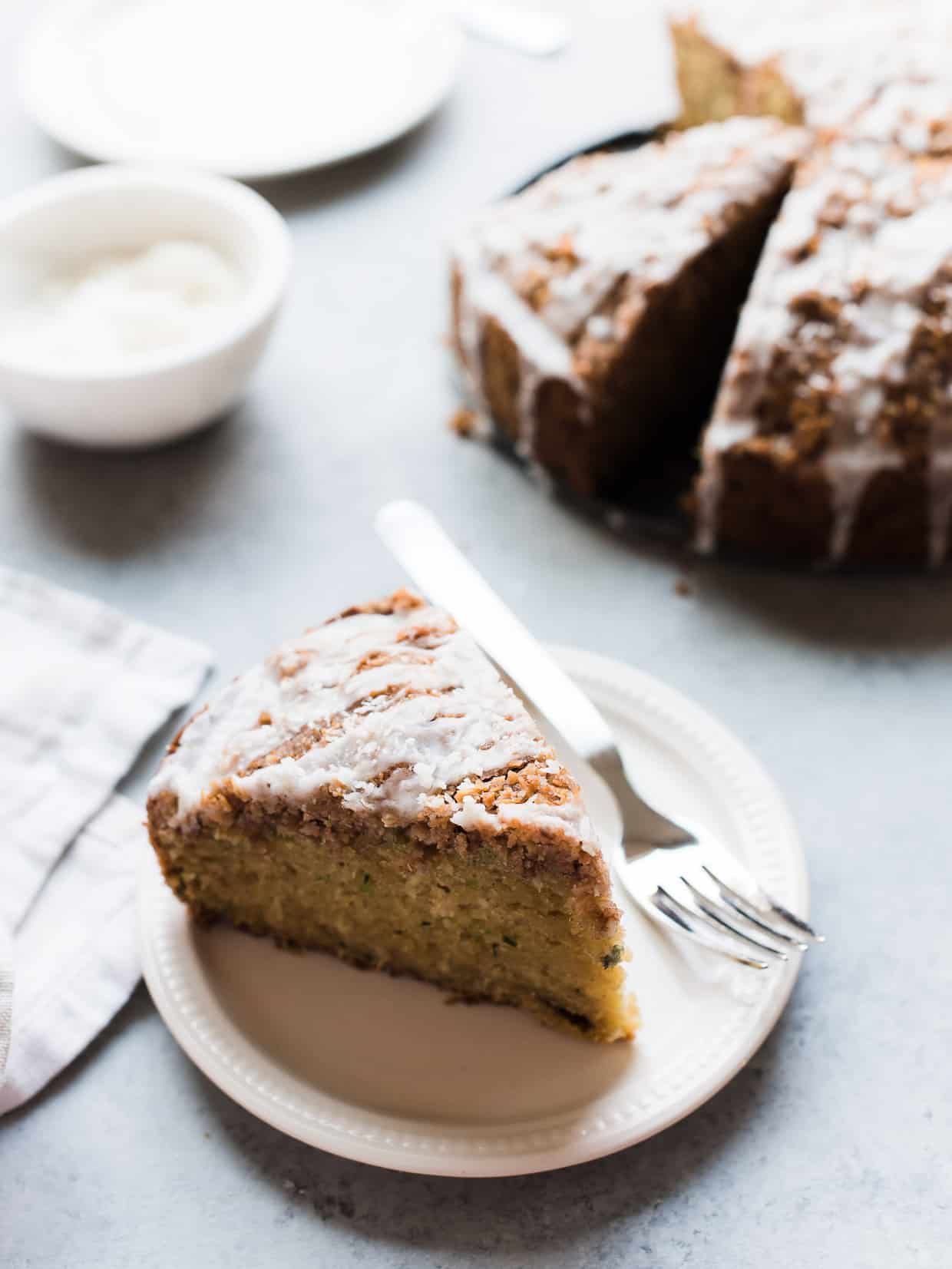 It all started with Bob.
Bob came to us from our neighbor across the street, he was big for his age, but quick to make friends. My kids took to him immediately, cradling him and passing him around.
I should mention that Bob is a zucchini.

My neighbor had a giant zucchini in her garden, and she was generous enough to share it with us. When the kids brought him home to me, we couldn't get over how huge he was — I mean, a zucchini the size of a watermelon — the size of a child! We were on instastories laughing, my daughter burping and christening him, "Bob."
So what do you do with so much zucchini? LOTS.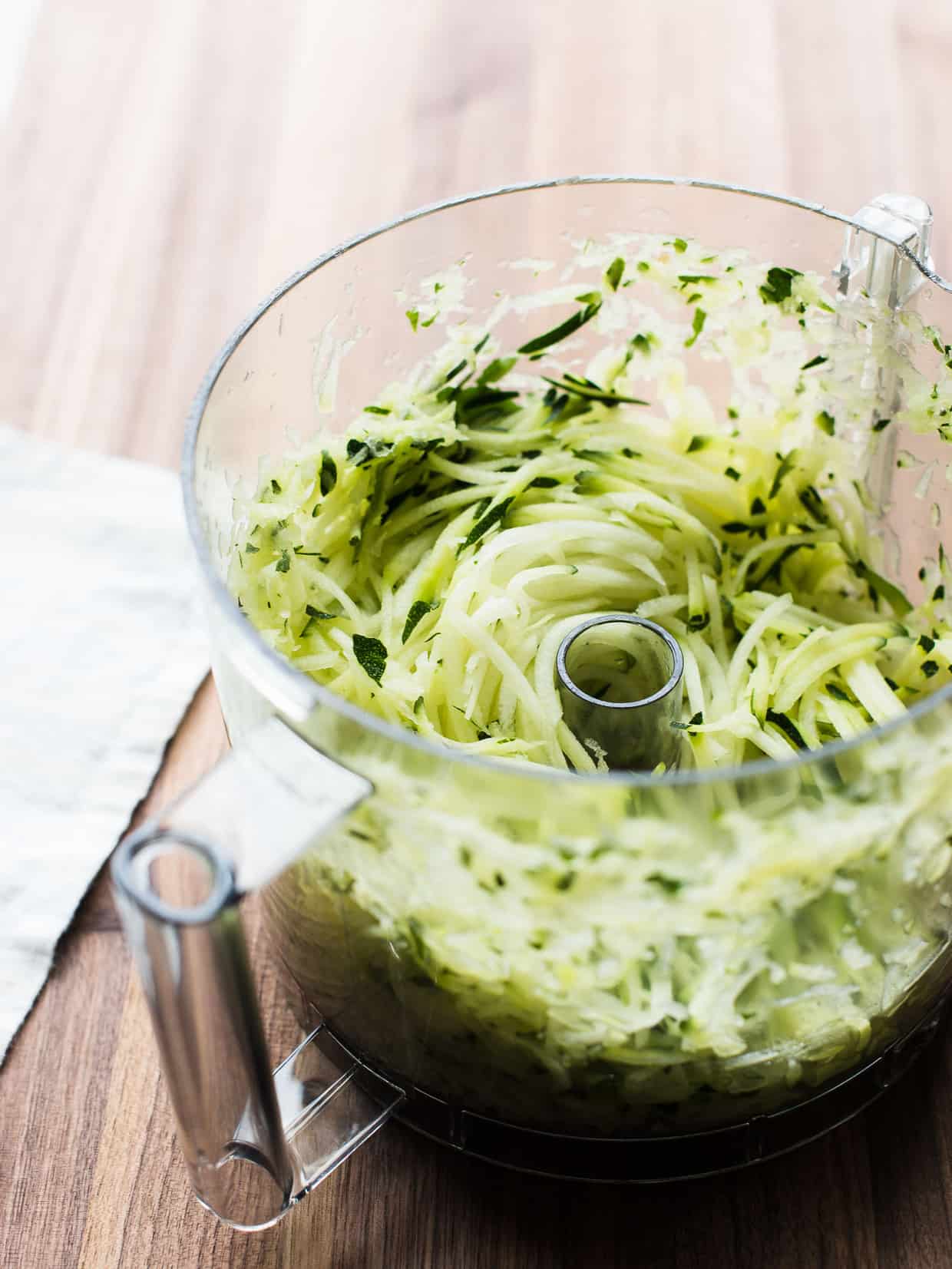 But first, cake.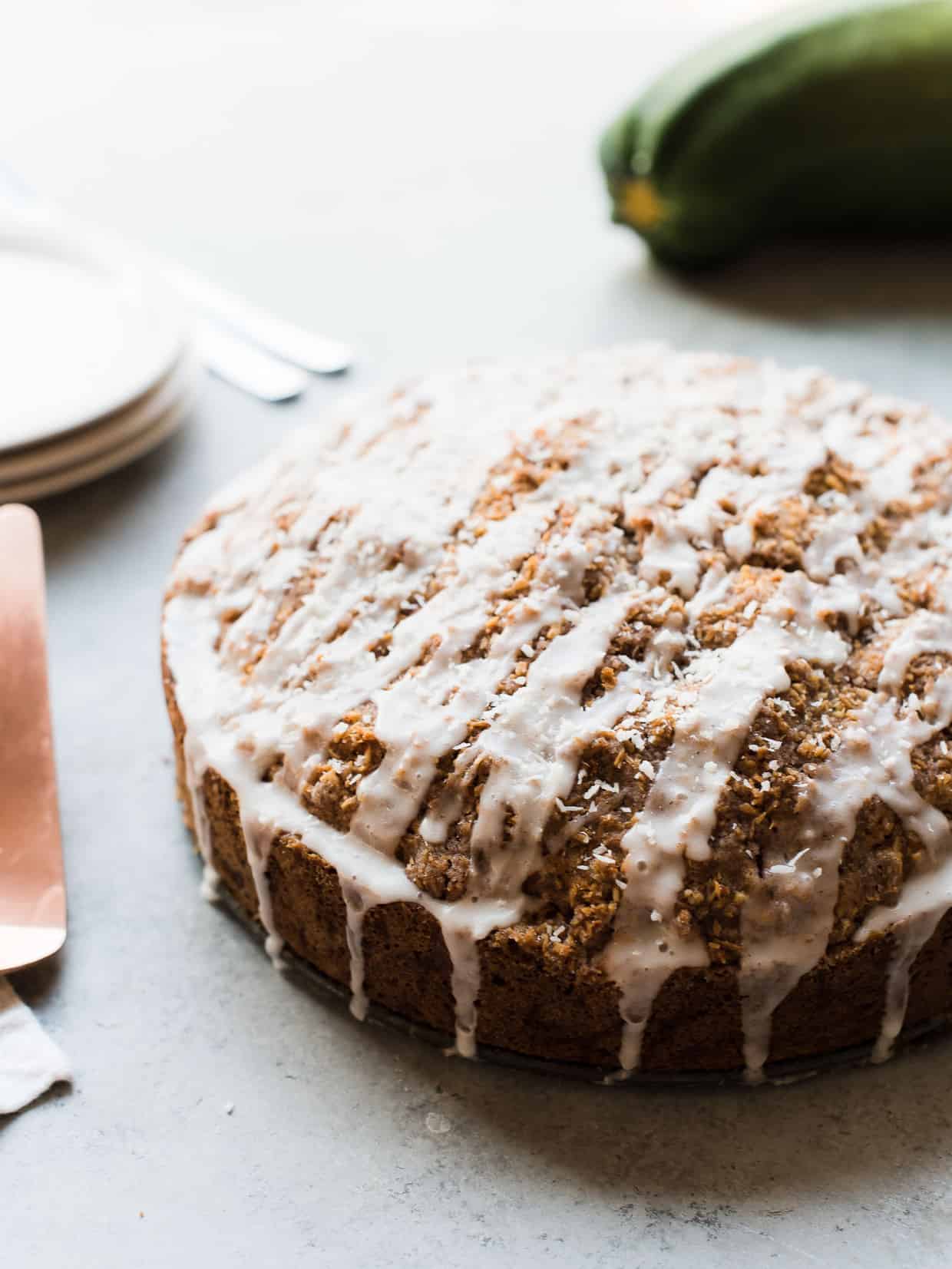 My daughter envisioned a beautiful layer cake, you know, the kind of Pinterest dreams — a naked cake, because that's how we prefer cake (we're not huge frosting fans in general), with lovely green speckled layers.
Well the cake was lovely, but the frosting was a failure, but after that first attempt, we decided to change plans.
Let's make it into a coffee cake.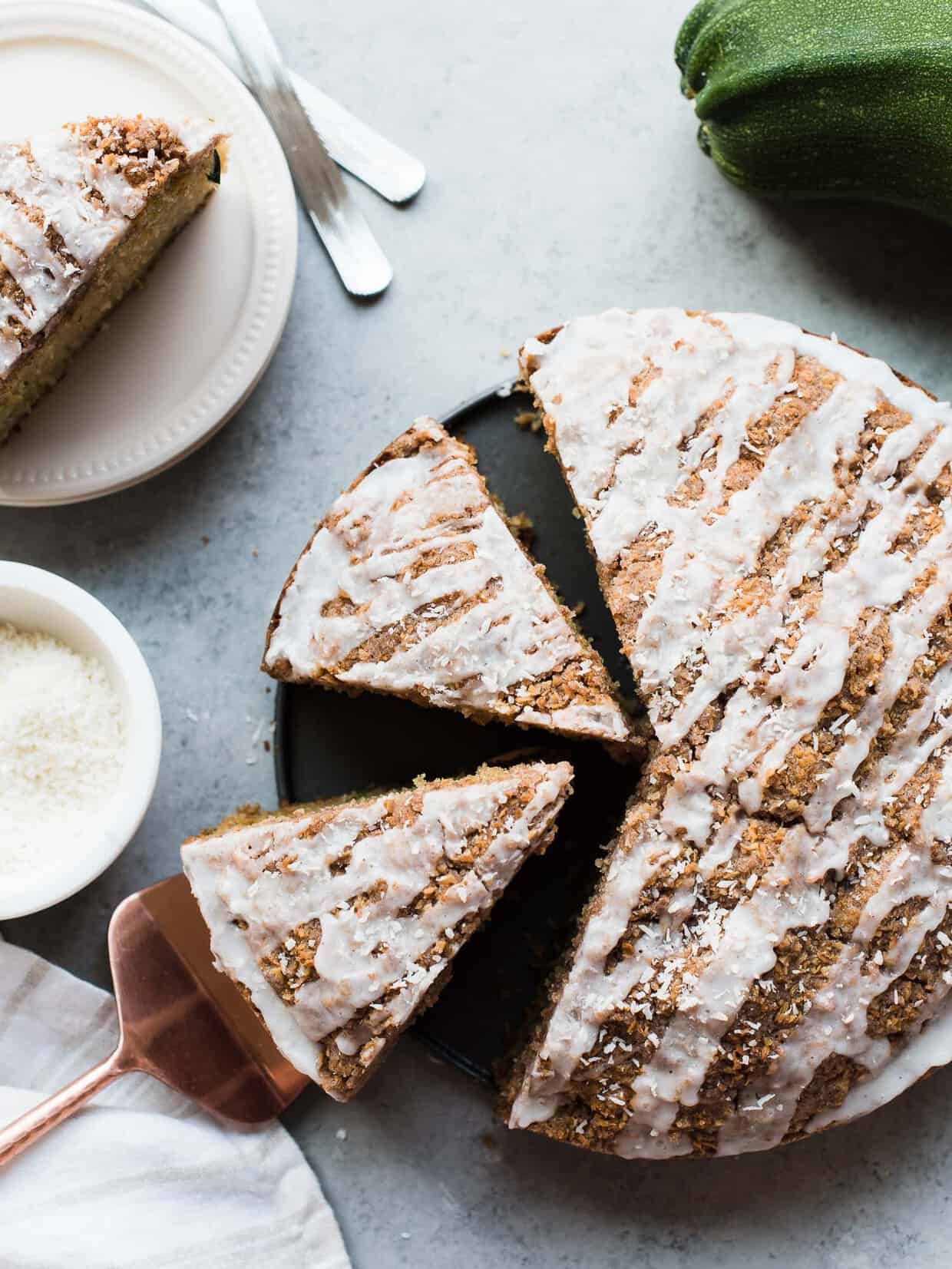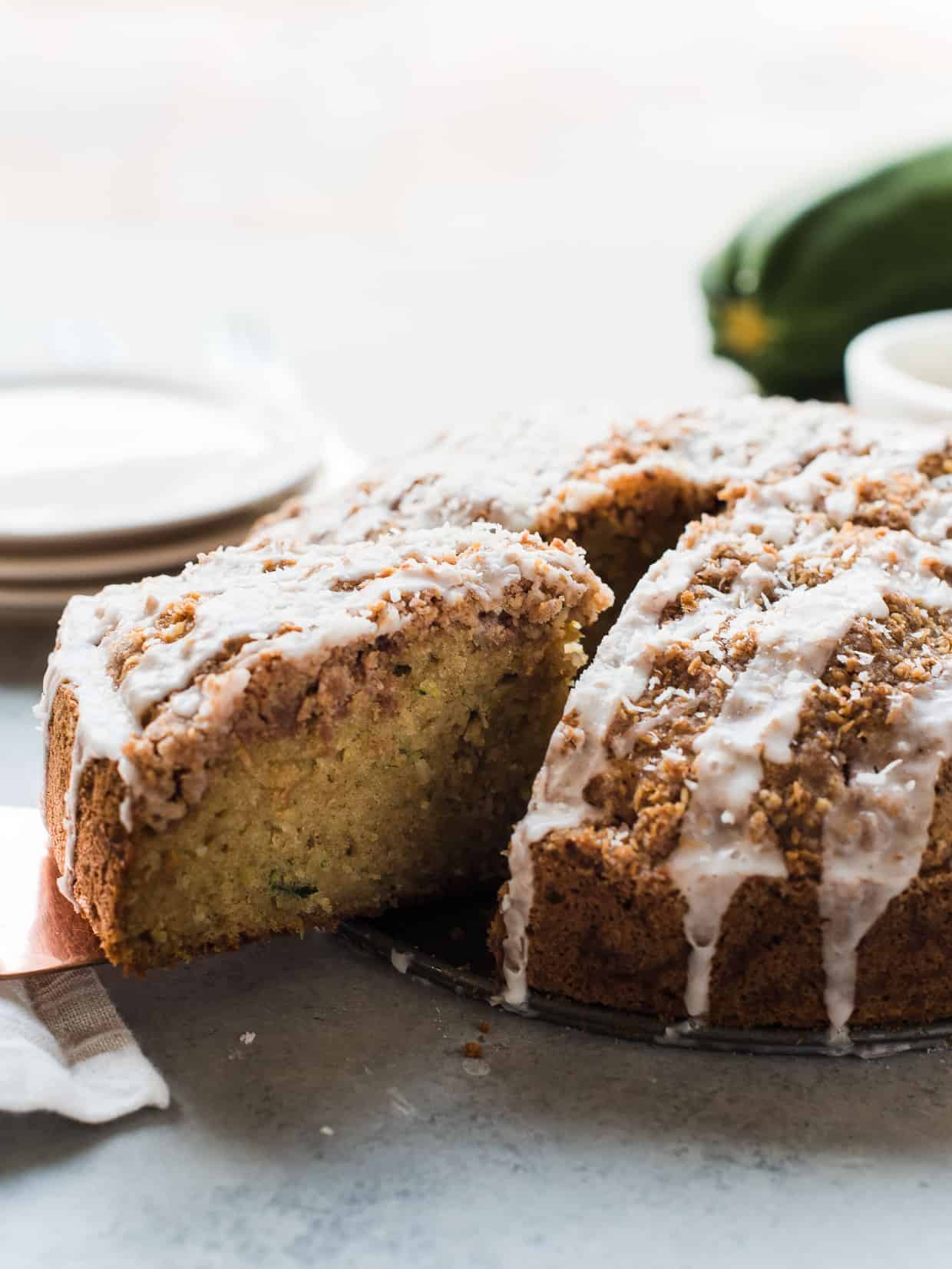 Since I am a little addicted to coconut (I would apologize, but I won't. If you hate coconut, leave it out, I won't be offended.), all versions of we made of this cake included a little hint of coconut, which I believe goes so well with zucchini. On top, a streusel topping, like a good coffee cake must have, and a drizzle of glaze, though that part is up to debate. A little snow shower of powdered sugar would do just as well, too.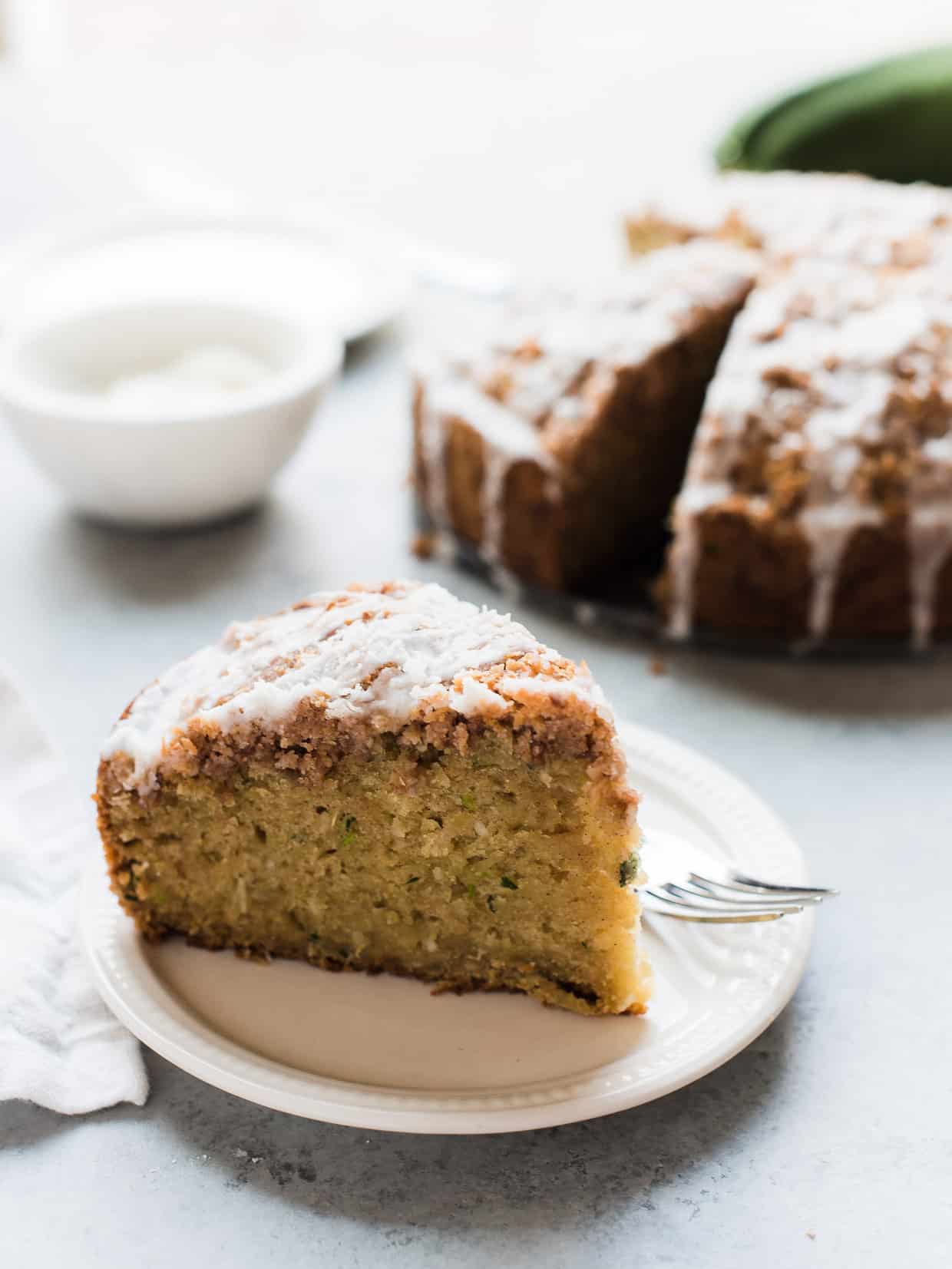 In case you're wondering how Bob is doing, well, there's still some zucchini left. We are chipping away at him, in raw zucchini noodles, muffins, flatbreads, and more.
I wonder if Bob has any brothers or sisters?
Zucchini Coconut Coffee Cake
When you have more zucchini than you know what to do with, make cake! This Coconut Zucchini Coffee Cake is beautifully speckled with zucchini, coconut and a delicious crumble.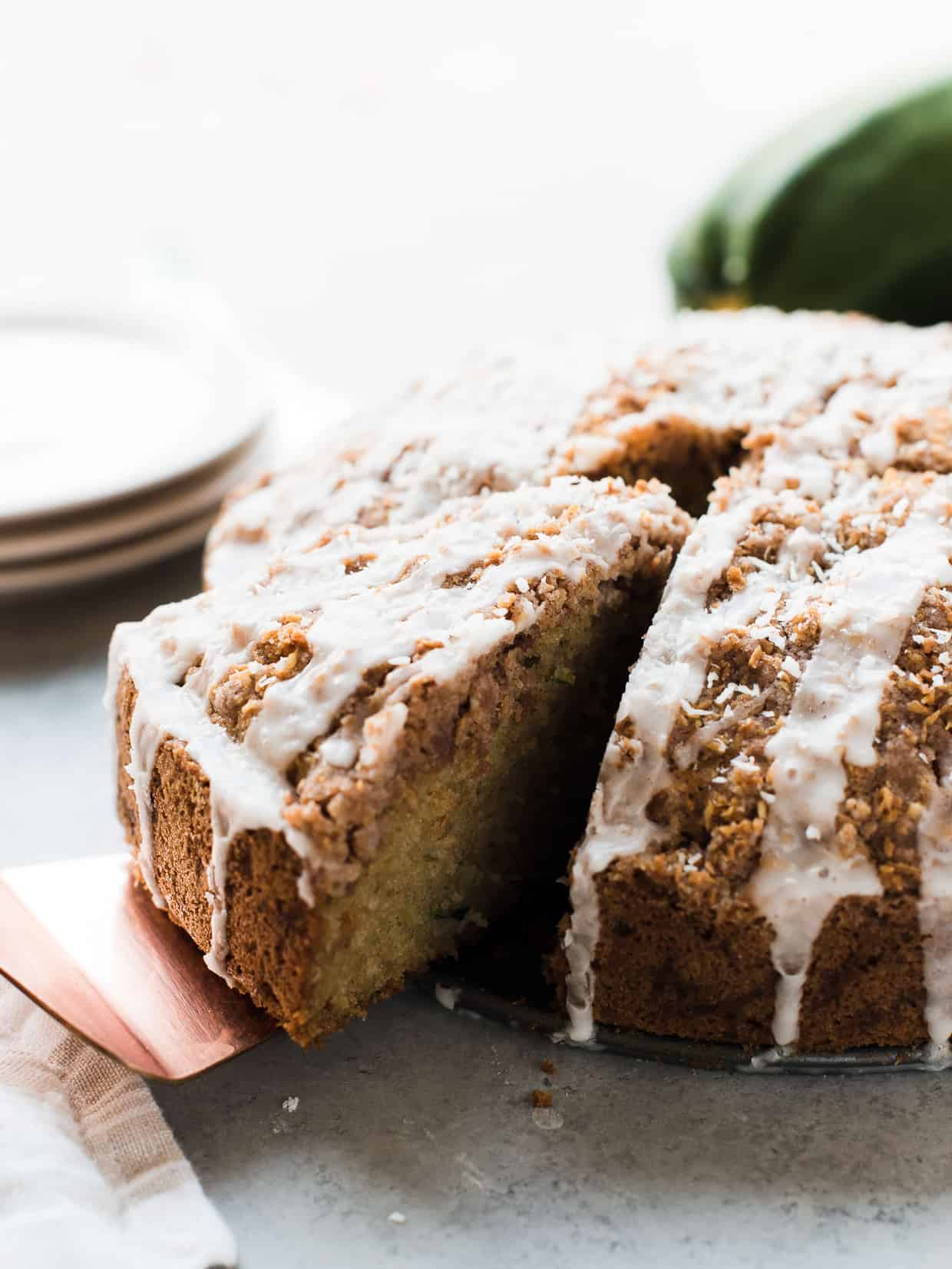 Print Recipe
Ingredients
For the Streusel:
1/3 cup granulated sugar (if you want a deeper color, use a combination of granulated and light brown sugar)
1/3 cup all-purpose flour
1 1/4 teaspoons ground cinnamon
1/4 cup (4 tablespoons) cold coconut oil or cold unsalted butter, grated or cut into small cubes
For the Cake:
2 1/2 cups all-purpose flour
1 1/4 teaspoons baking powder
1 teaspoon baking soda
1 teaspoon cinnamon
3/4 teaspoon kosher salt
3/4 cup granulated sugar
3/4 cup coconut sugar or light brown sugar
1/2 cup shredded, unsweetened coconut
1 cup melted coconut oil or canola oil
4 large eggs, lightly beaten
2 1/2 teaspoons vanilla
1 pound zucchini, grated
For the Glaze and Topping:
1-2 tablespoons milk
1 1/2 – 2 cups powdered sugar
1/4 cup shredded, unsweetened coconut
Instructions
Make the Streusel:
In a small bowl, stir together the sugar, flour and cinnamon with a fork.
Drop in the solid coconut oil or butter, and using your fingers, a pastry cutter or two forks, cut the butter into the sugar mixture until you have crumbs.
Set aside.
Make the Cake:
Preheat the oven to 350°F with the rack placed in the center of the oven.
Prepare a 9-inch springform pan by spraying with baking spray or greasing lightly with butter or coconut oil.
In the bowl of an electric mixer or large bowl, whisk together the flour, baking powder, baking soda, cinnamon, salt, both sugars, and coconut.
Stir in the coconut oil until just combined.
Add the eggs and vanilla and stir until combined, do not over mix.
Stir in the zucchini.
Pour the batter into prepared baking pan.
Sprinkled the reserved streusel over the cake batter.
Bake for about 45 minutes, or until the top is firm to the touch and inserted toothpick comes out mostly clean. Remove from oven an let cool on a wire rack, for about 10 minutes, while you make the glaze.
Remove springform sides.
Make the glaze and topping:
Whisk in the powdered sugar into the milk in 1/2 cup increments until smooth and you achieve your desired consistency, using a little more or less as necessary.
Drizzle or spread the glaze over the warm cake.
Sprinkle with shredded coconut.
Notes
I use a 9-inch springform pan to bake this coffee cake, but you can also bake it in a 9×13 baking dish – just adjust for baking time differences (you will have to pull it out of the oven earlier).