Homemade Cherry Pop Tarts
Homemade Cherry Pop Tarts
Forget store bought! This homemade cherry pop tart recipe makes easy hand pies with a buttery, flakey crust and are filled with a quick homemade jam from summer cherries.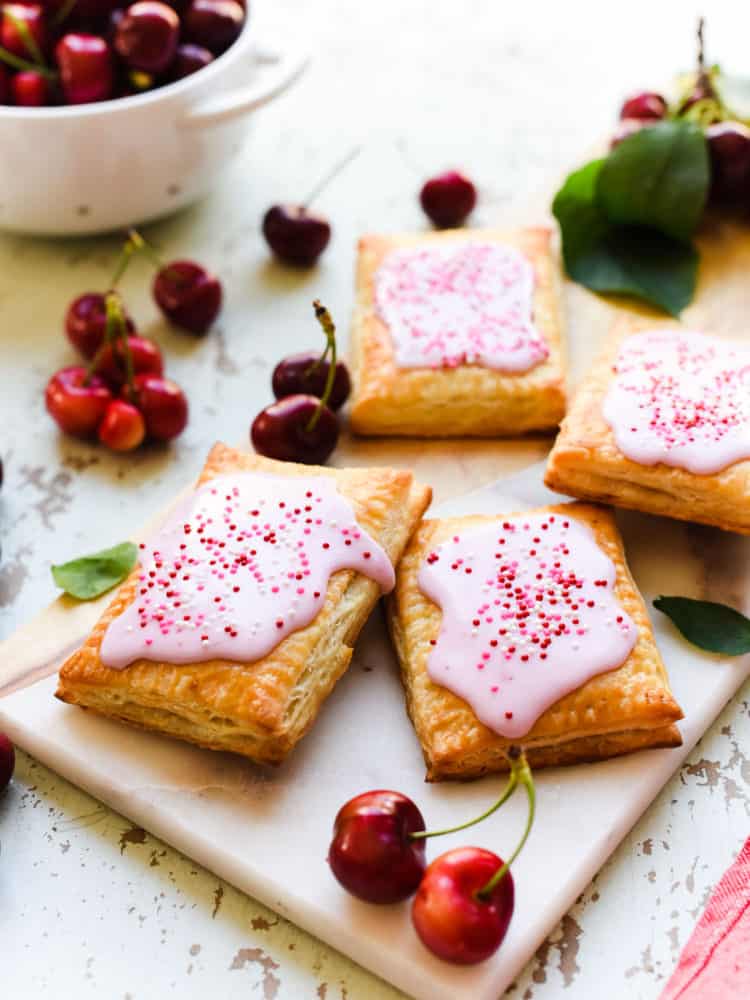 Every parent I talk to these days – my husband included – is eager to bring May to a close. We're in the homestretch, the final days of school bringing with it the awards ceremonies, performances, playoff games, class parties, final field trips, and nearly nightly events at the schools. May is always a busy month, and for us, with two kids promoting to the next grade level, well, it's been even more action-packed — and it sounds like most of us are eager for summer vacation to begin.
Except for me.
Honestly, I don't want my kids to graduate. Why? It means another grade level done, another year older…and speaking of older, telling you that come fall, I will have a freshman in high school sounds so…well…old. When did this happen?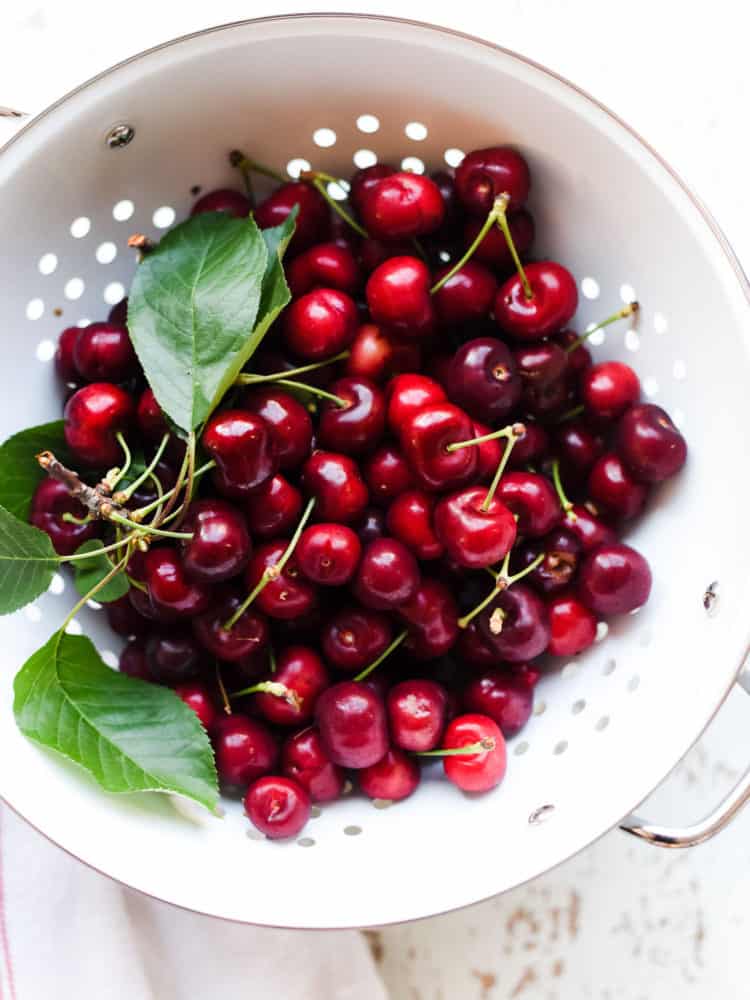 My daughter received a letter in the mail last night, from her 6th grade self. Her teacher had them write letters to their future 8th grade selves, and as she laughed over all the things her younger self wrote, it reminded me of just how quickly this all has gone. All of it. Not just middle school, but ALL of it.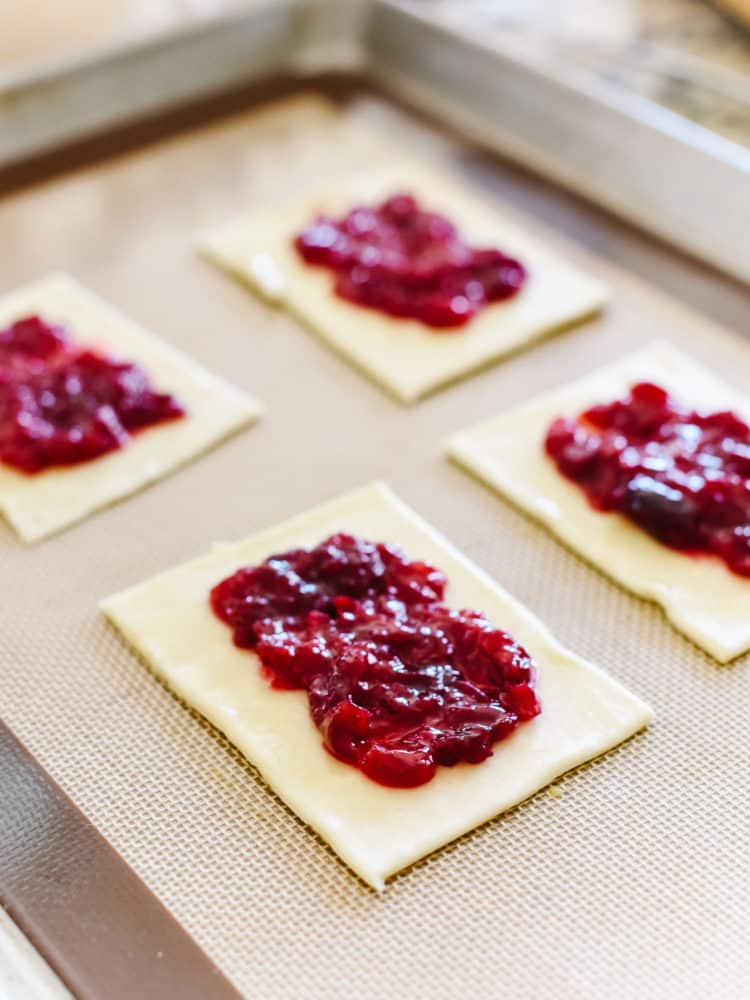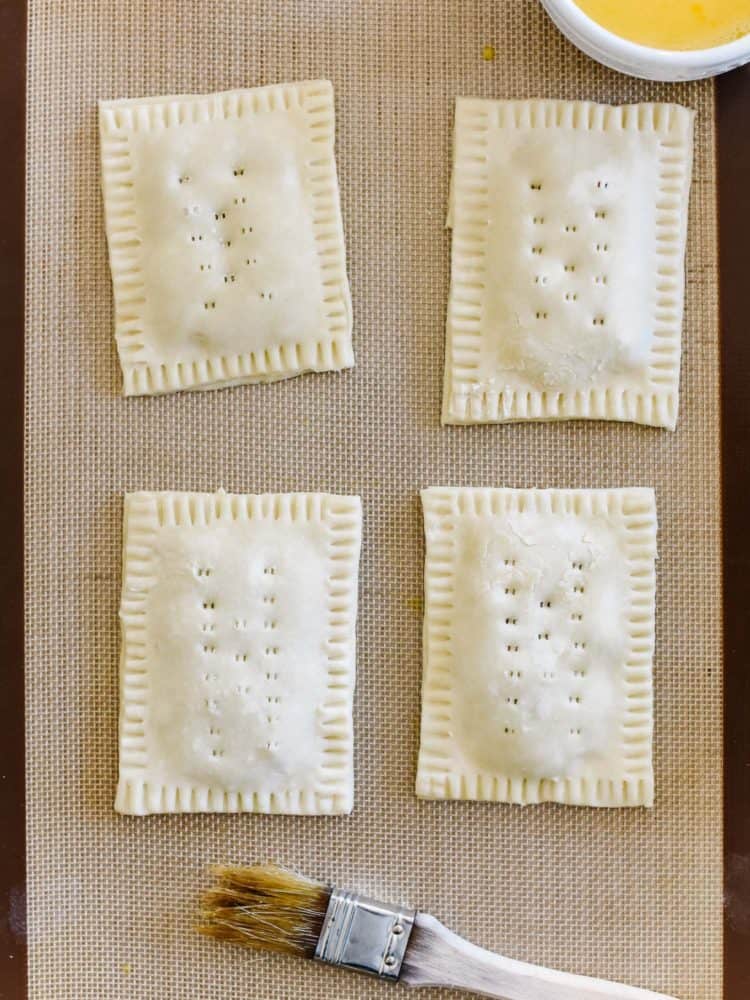 I see a pregnant friend and it reminds me that of that reality so long ago, and wow, it really did go by in a flash.
I see the kid's art work in their old art folders, the clothes they outgrew from even just 3 months ago, the old posts that I update, the mascara on the vanity that is not even mine…and I just want to package them up and keep them small.
So, yeah, I don't want the year to end.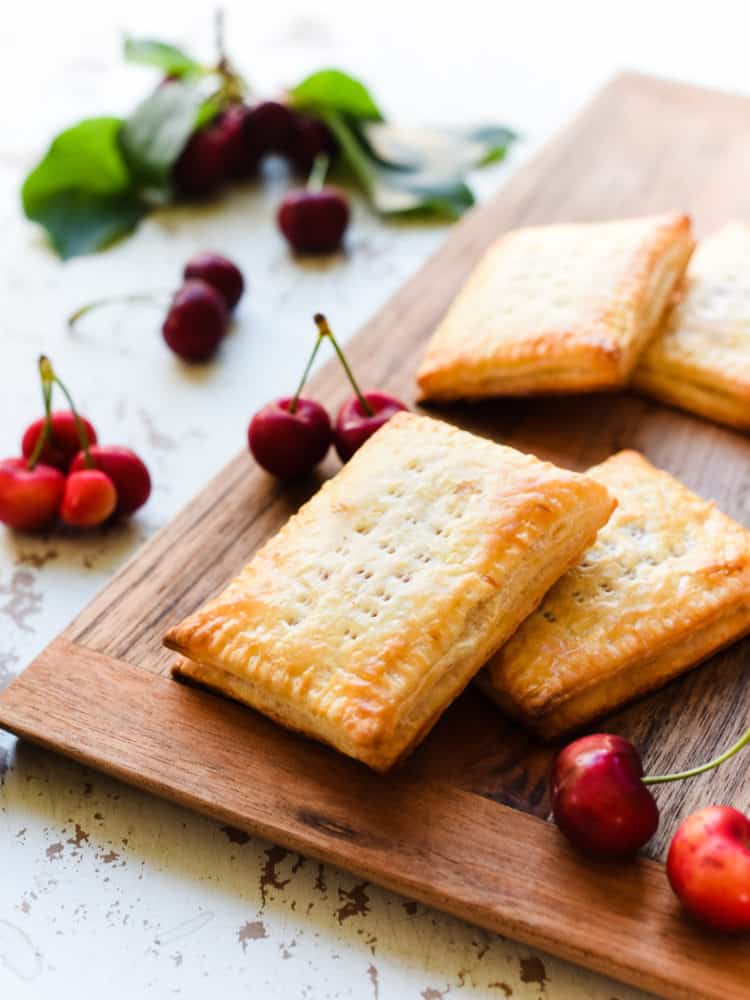 I can take solace in one thing — they'll never outgrow pop tarts. Right? I used to be addicted to brown sugar pop tarts in grad school, full disclosure. But lately, I won't buy it, except for when my daughter orchestrated a pop tart challenge for her 12th birthday sleepover, because I've grown to really dislike the cardboard texture, so dry and brittle. But after we went cherry picking, everyone (hubby and kids) requested homemade cherry pop tarts, so of course, I had to make them.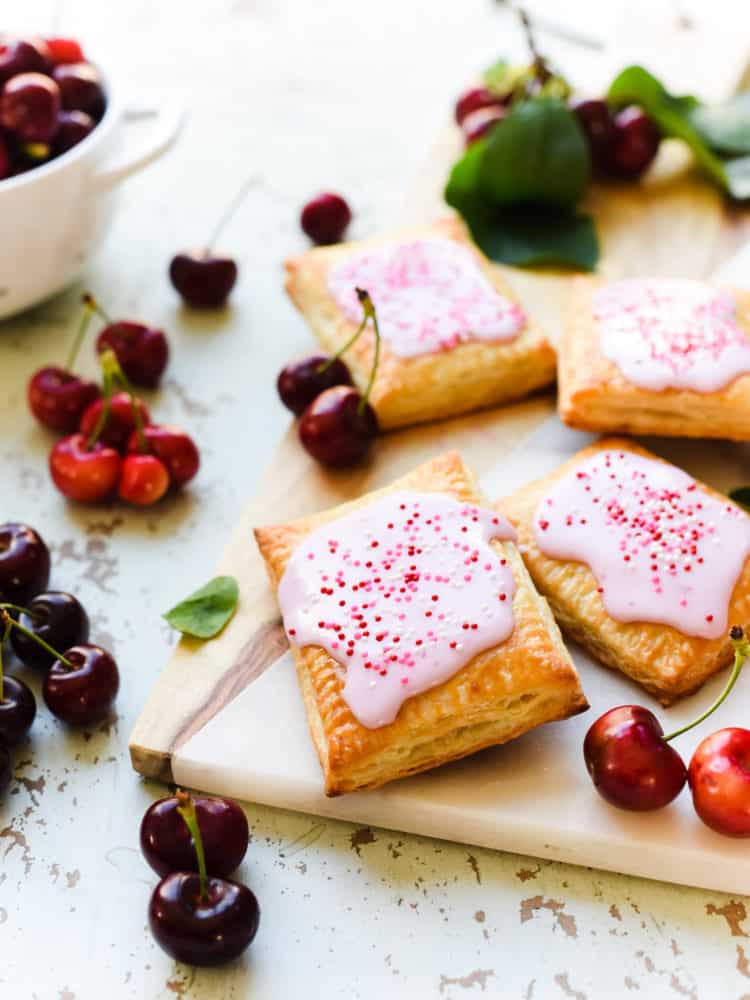 These homemade cherry pop tarts are the hand pies I wish were in those blue packages – instead of the dry crumble, these have a tender, buttery, flakey crust. Inside, they are filled with a quick homemade jam from summer's first sweet cherries. And you know what, they were surprisingly simple to make — and even more fun to eat. In a word, they brought out the child in all of us, even if we can't stay small forever.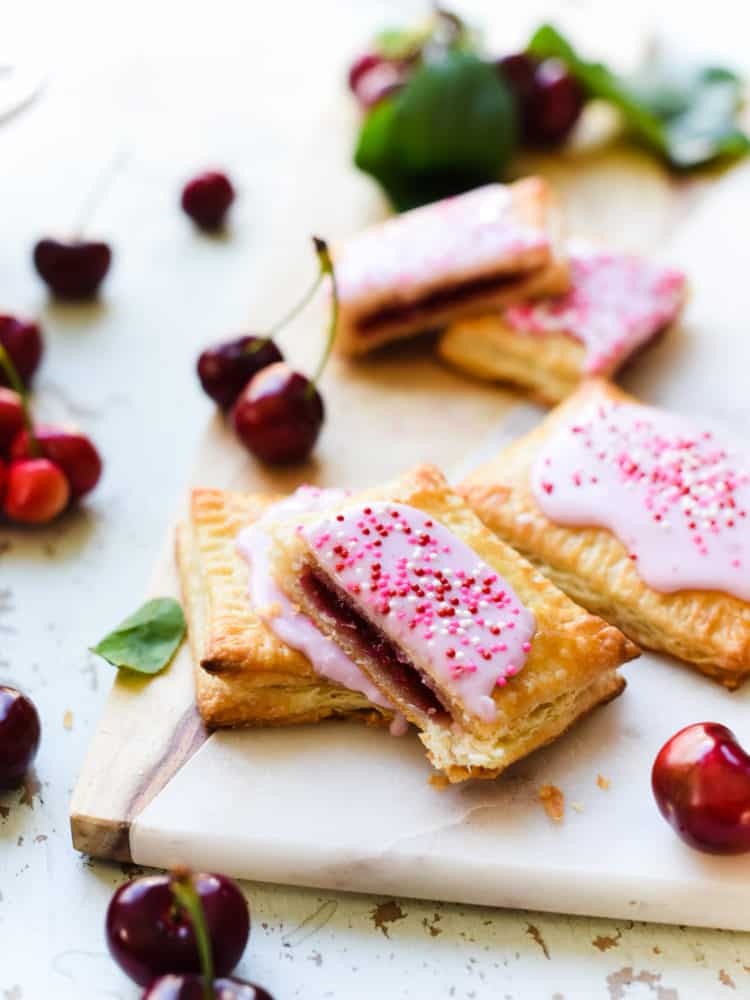 Homemade Cherry Pop Tarts
Forget store bought! Homemade cherry pop tarts are easy hand pies with a buttery, flakey crust and filled with a quick homemade jam from summer cherries.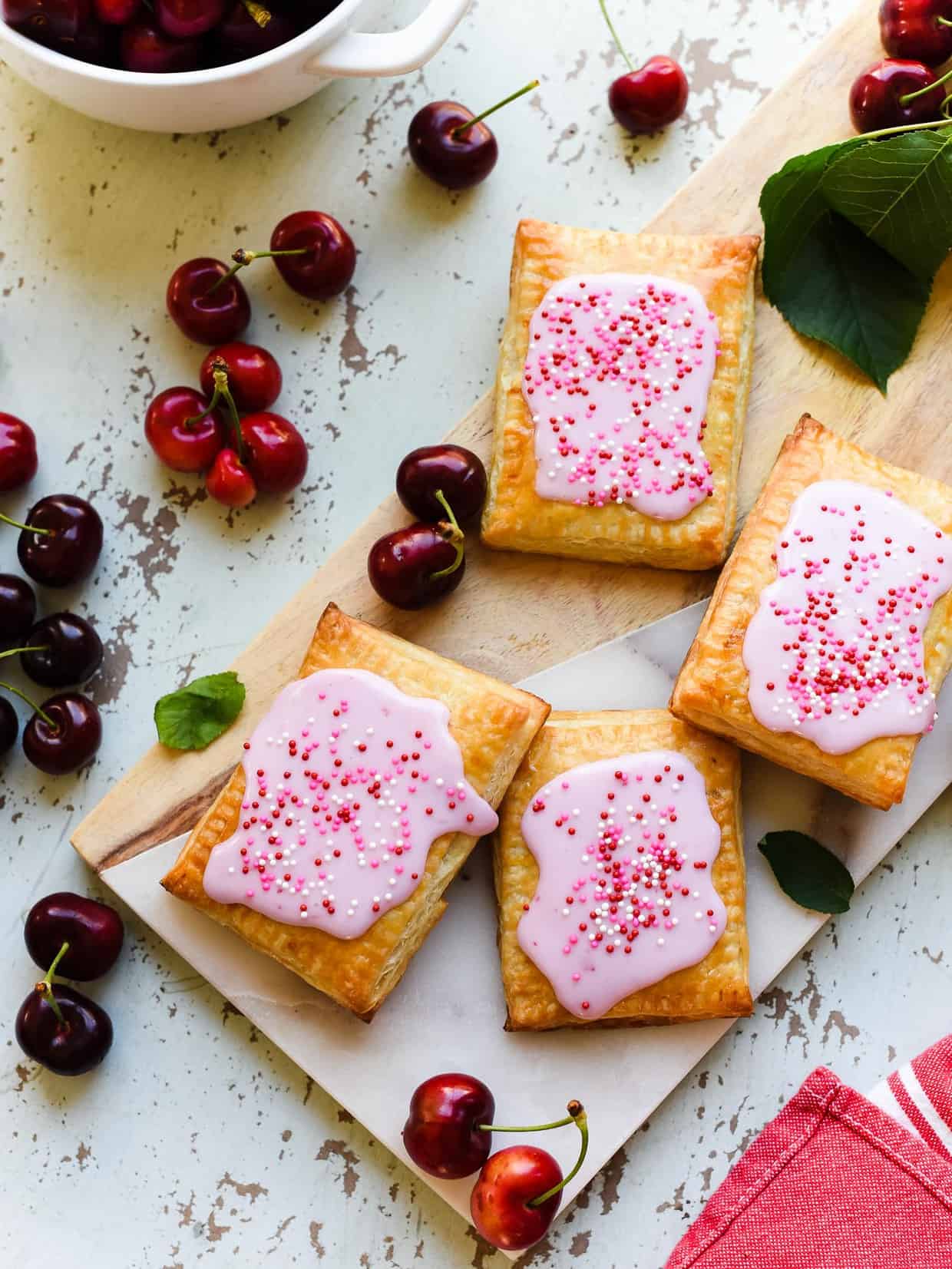 Print Recipe
Ingredients
Dough
1 cup all-purpose flour
1 tablespoon granulated sugar
1/2 teaspoon kosher salt
1/2 cup (1 stick) unsalted butter, frozen
1/4 cup ice water
Filling
2 cups fresh cherries, pitted

1/4 cup granulated sugar

2 teaspoons lemon juice

pinch kosher salt

1 tablespoon cornstarch

1 tablespoon cold water
Assembly
1 large egg, beaten
1 teaspoon water
1 tablespoon sugar
Glaze:
2 tablespoons cherry filling
1 tablespoon water
1 1/2 – 2 cups powdered sugar
sprinkles, if using
Instructions
Make the dough:
In a medium bowl, stir the flour, salt and sugar together with a fork or a whisk. Using your fingers, two forks or a pastry cutter, begin to work the butter into the dough until you have coarse crumbs. Stir in the water a tablespoon at a time, using a fork to incorporate it into the dough, checking it with your fingers by pinching the dough together. You can also do this with a food processor, if you wish. Do not over-work the dough – you want to be able to see bits of butter within the dough, and it will still be rather shaggy and loose. Turn the dough out onto a lightly floured surface and use your hands to bring it together into a ball, but be careful not to overwork the dough. When the mixture pulls together into a ball, wrap the dough in a piece of plastic wrap, form it into a rectangle, and refrigerate for at least an hour or overnight.

Make the filling:
In a small sauce pan, stir the cherries, sugar, lemon juice and salt and cook for about 3-4 minutes, or until the cherries are soft and bubbly. Lower heat. Whisk together the cornstarch and water, and stir into the cherry, stirring constantly, until it is a thick jam. Remove from the heat, transfer to a bowl and refrigerate for at least 30 minutes to cool completely.
Assemble:
On a lightly floured surface, prepare to roll out the dough. Lightly sprinkle the dough with flour, and use a rolling pin to roll the dough into a large rectangle about 1/4-inch thick. Use a ruler and pizza cutter or knife to cut the dough into 3×4 inch rectangles. Gather the scraps of dough and re-roll to cut more rectangles. You should have about 12 rectangles. Place 6 rectangles on a parchment paper lined baking sheet(s).
Whisk the egg and water together, then lightly brush the edges of the dough on the 6 rectangles. Place 2 tablespoons of cherry filling in the center of each rectangle (be sure to reserve some filling to make the pink glaze). Lay another rectangle on top, pressing the edges with your fingers, and crimping by pressing together with a fork. Continue with the remaining pop tarts. Refrigerate for 20 minutes, along with the egg wash.
While the pop tarts chill, preheat the oven to 400°F with a rack placed in the center of the oven.
When the pop tarts are ready to bake, lightly brush the tops with the egg wash and sprinkle the tops with sugar. Use a fork or skewer to poke small holes on the top of the dough to allow steam to escape. Bake for 20 minutes or until golden brown. Remove from the oven and let it cool a little before glazing.
Make the glaze:
Use a fork to mash the cherry filling until smooth, and stir in the water. Whisk in the powdered sugar in 1/2 cup increments until smooth and you achieve your desired consistency, using a little more or less as necessary. Pass through a sieve, then spread the glaze on your pop tarts, and top with the sprinkles. Let it cool on a wire rack (it takes about 40 minutes for the glaze to harden)…or enjoy immediately.
Notes
The separate components can be prepared in advance, from the dough to the filling, making these pop tarts an even easier treat in advance.
You can also form the pop tarts and instead of refrigerating for 20 minutes, freeze in a freezer safe container and bake at a later time.
While this recipe yields 6 pop tarts, you can easily double it to make an even dozen. Save some for future baking, or bake them all at once!