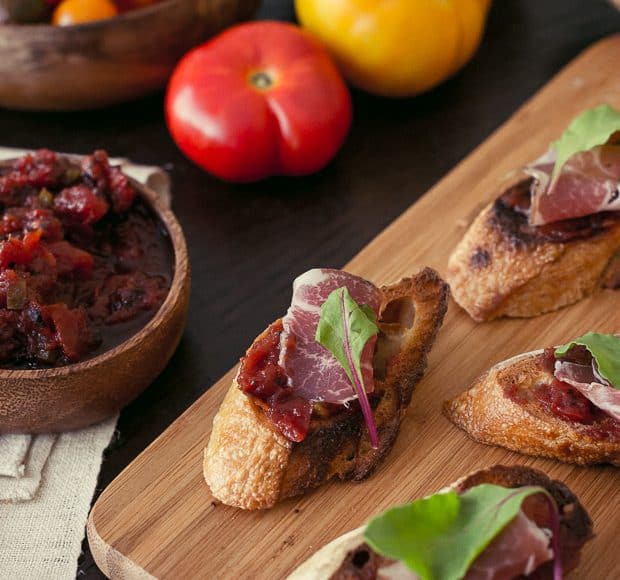 2013 Kendall-Jackson Heirloom Tomato Festival + Fire Roasted Tomato Jam Crostini
I'm guilty of a big no-no. But I know I'm not alone. I eat standing up. I may be a stickler for sitting down to properly enjoy a meal — forever nagging my children to sit down at the table instead of popping up from…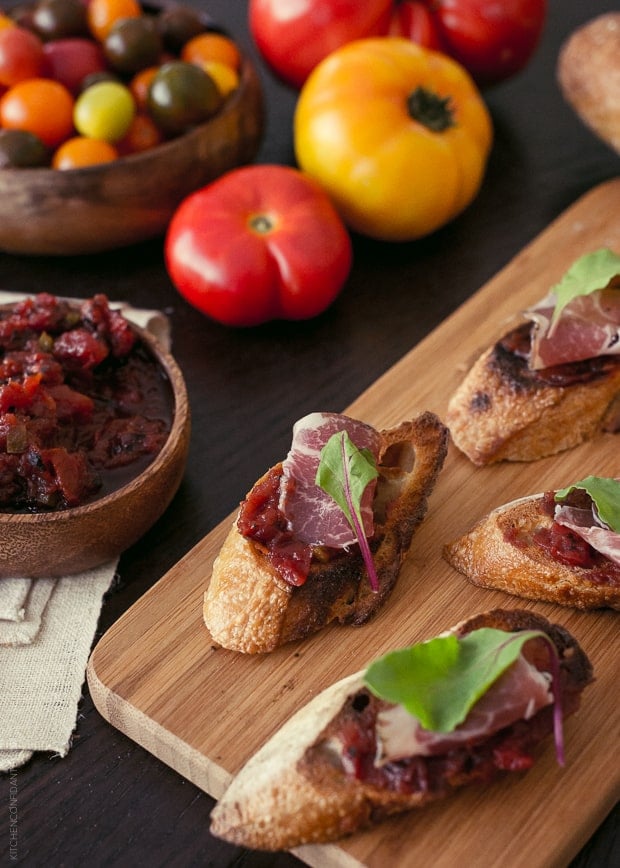 2013 Kendall-Jackson Heirloom Tomato Festival + Fire Roasted Tomato Jam Crostini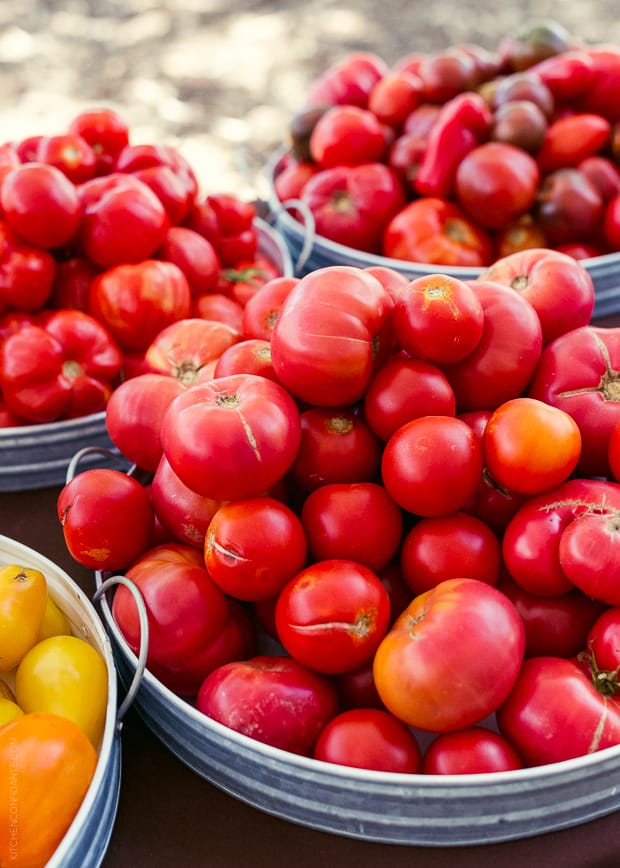 I'm guilty of a big no-no. But I know I'm not alone.
I eat standing up.
I may be a stickler for sitting down to properly enjoy a meal — forever nagging my children to sit down at the table instead of popping up from their seat every two seconds — but the truth is, this morning I ate breakfast in bites at the kitchen counter, between pouring my son a glass of milk and pouring soup into my daughter's thermos. Lunch was no better. You might think I have no excuse, with no one else to feed but myself with the children safe at school and the husband at the office, but even then, I ate standing at the counter again, squeezing in bites of my veggie wrap between a stir of the pot, a snap of the camera, and loading the dishwasher.
I do eventually sit down, at dinner. When the family is all home again, I look forward to resting my feet and sitting down with everyone. And chewing with a little more leisure. I allow myself that much.
There is one time I don't mind eating standing up, and that is when there is a delicious food and wine event. I'll even do it in heels, though last weekend, I was relieved to don a comfy pair of sandals and head to Sonoma for the 2013 Kendall-Jackson Heirloom Tomato Festival. I was asked by my friends at Muir Glen Organic to return to the event this year, this time to photograph the daytime festival at the Kendall-Jackson Wine Estate & Gardens, featuring the beautiful diversity of heirloom tomatoes, prepared by a bevy of local Sonoma restaurants, and accompanied by glasses of wine. You can say I was really looking forward to eating standing up this weekend.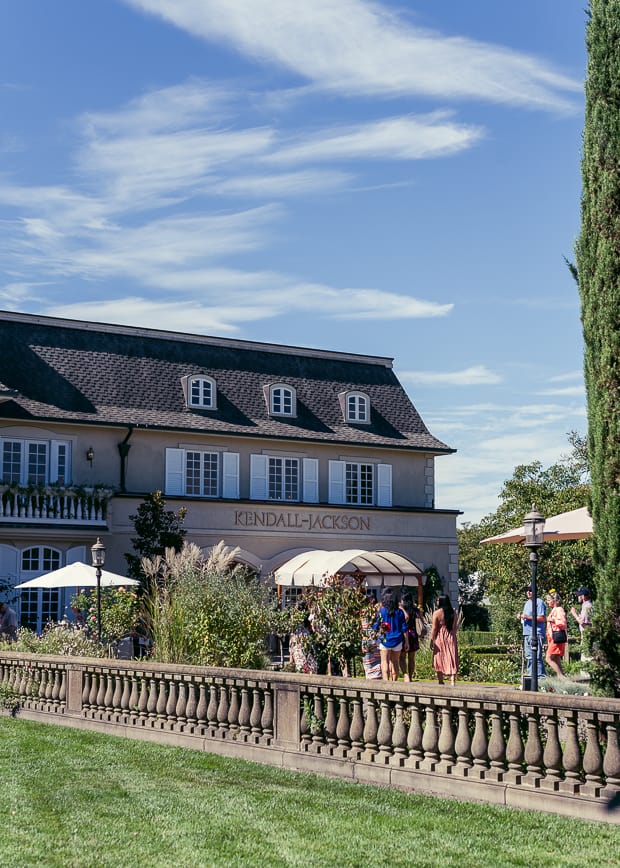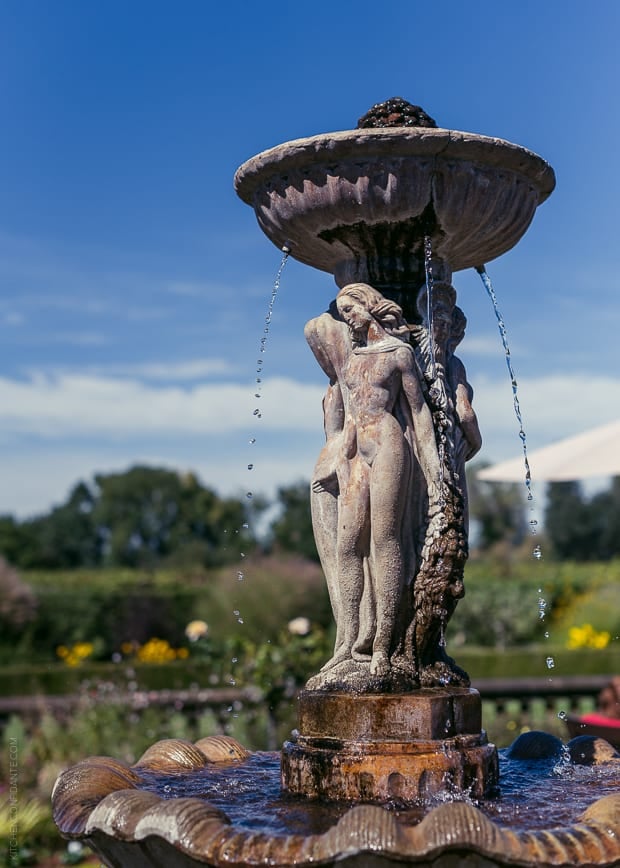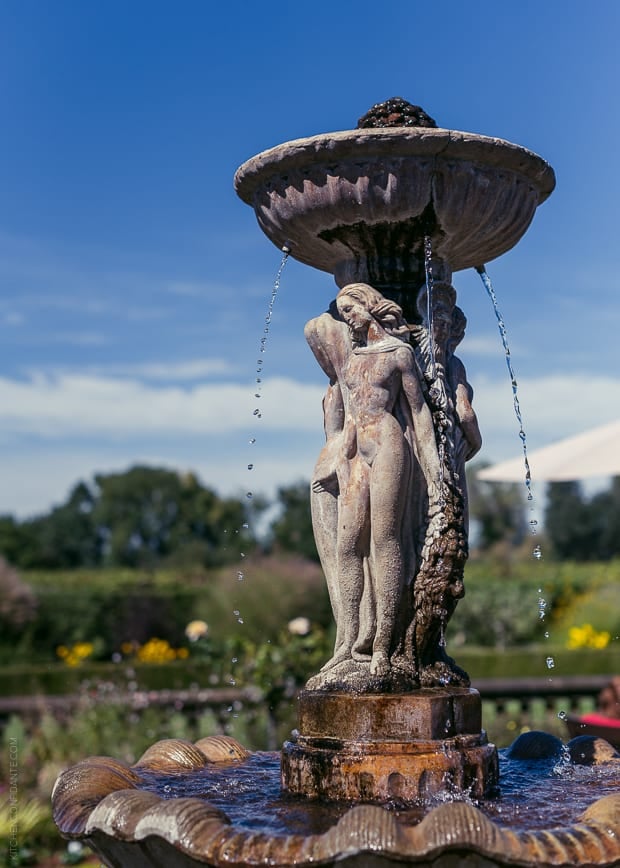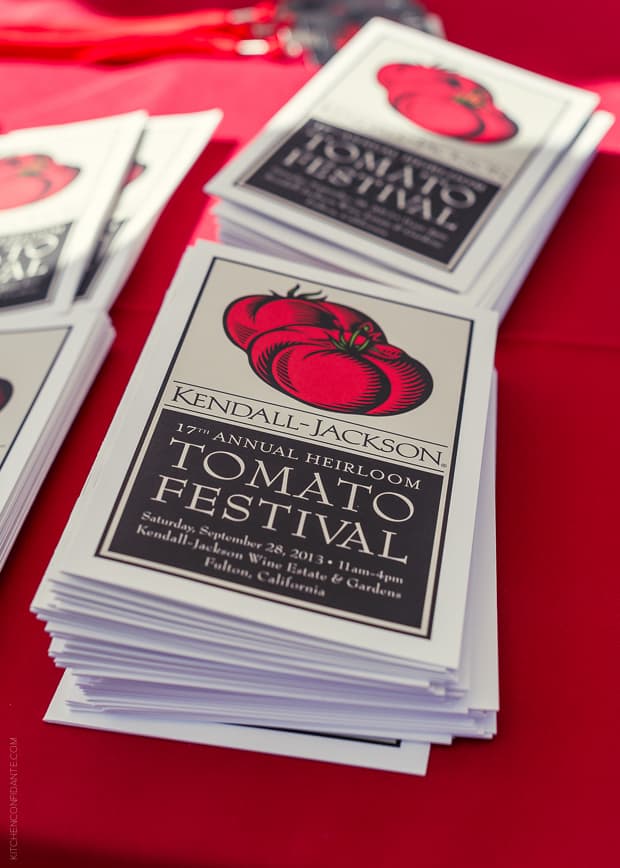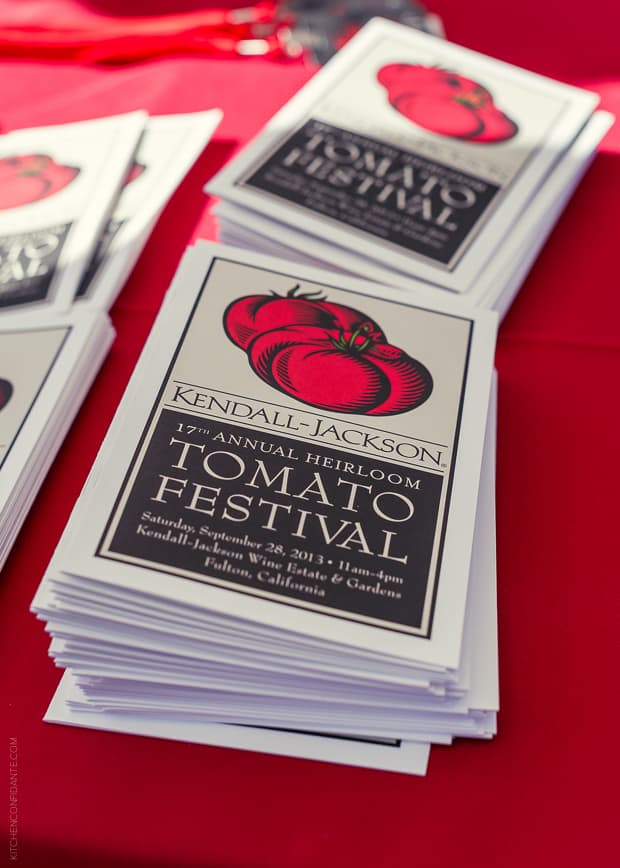 I adore this time of the year, when there is still a wonderful array of fruits and vegetables, and while I know that there is a large variety of heirloom tomatoes, you don't really appreciate it until you enter the Tomato Tasting Tent at the festival, where over 175 varieties of tomatoes are ready for the sampling. As you walk under the shade of the tent, the hay crunching beneath your feet, the length of tables with warm slices of charmingly-named varieties for you to try, you can stroll and taste to your heart's content. Some are tart. Some have great balance. Some are beautifully colored. And some are sweet like candy. I think out of them all, my favorite was the Brandywine.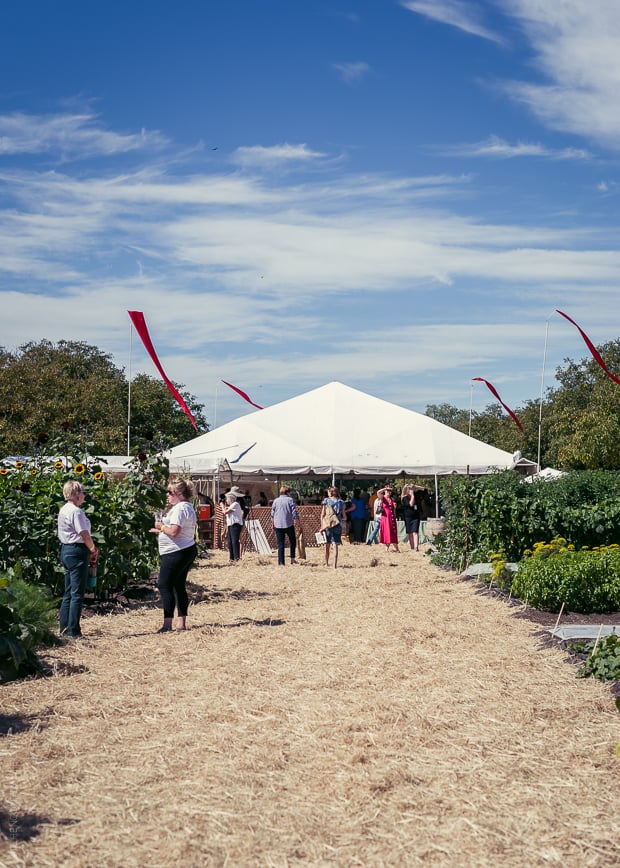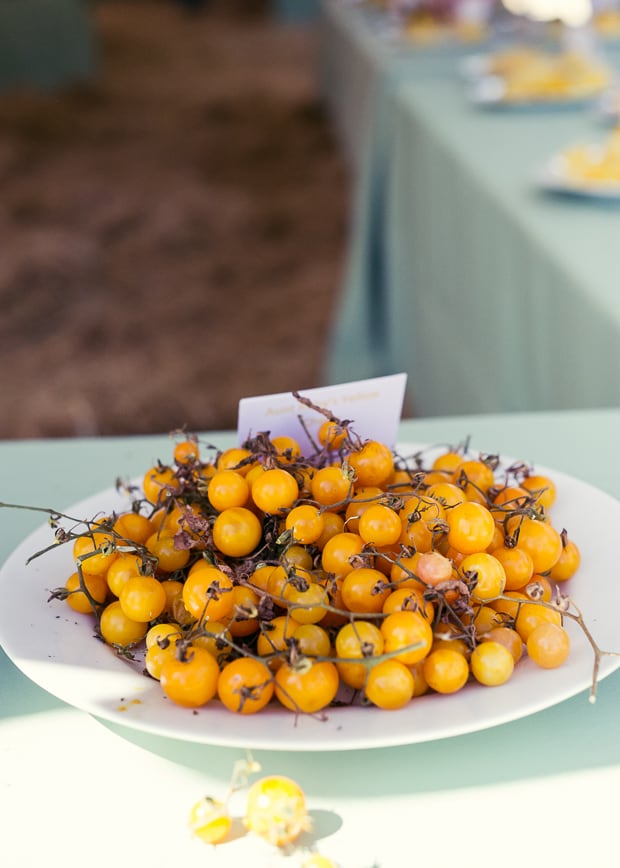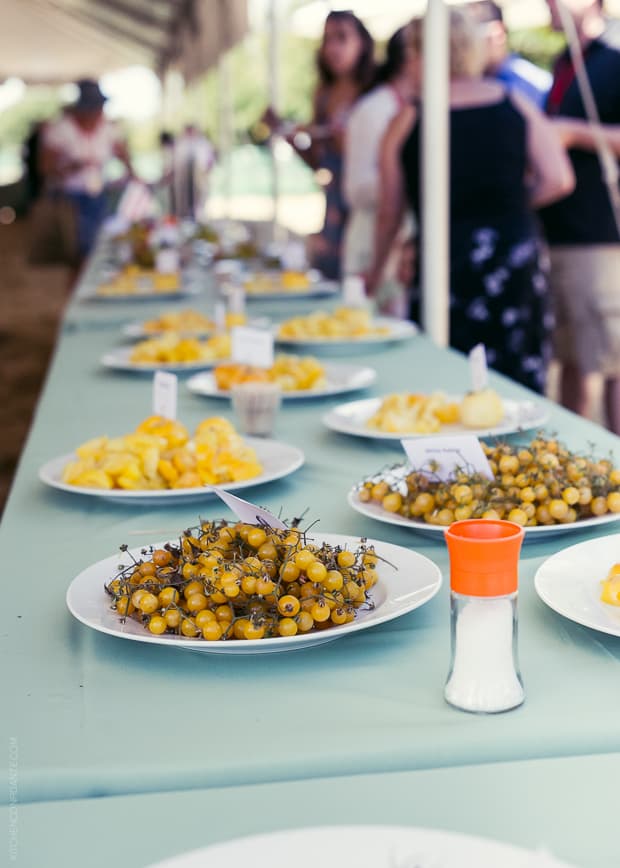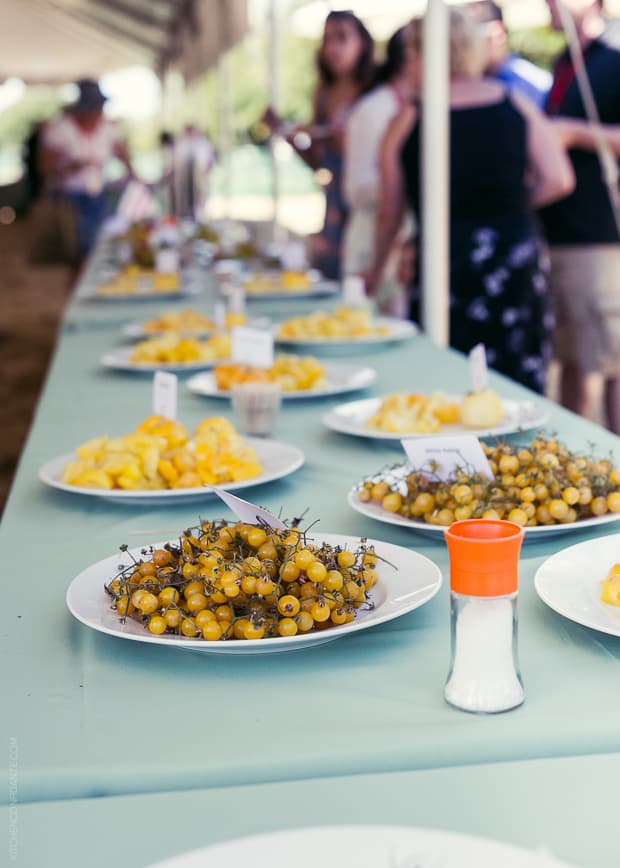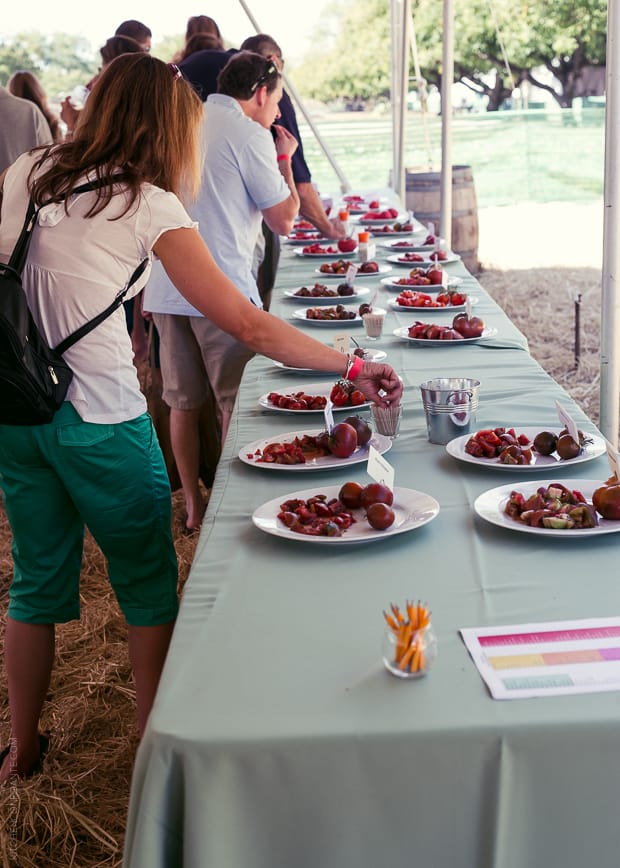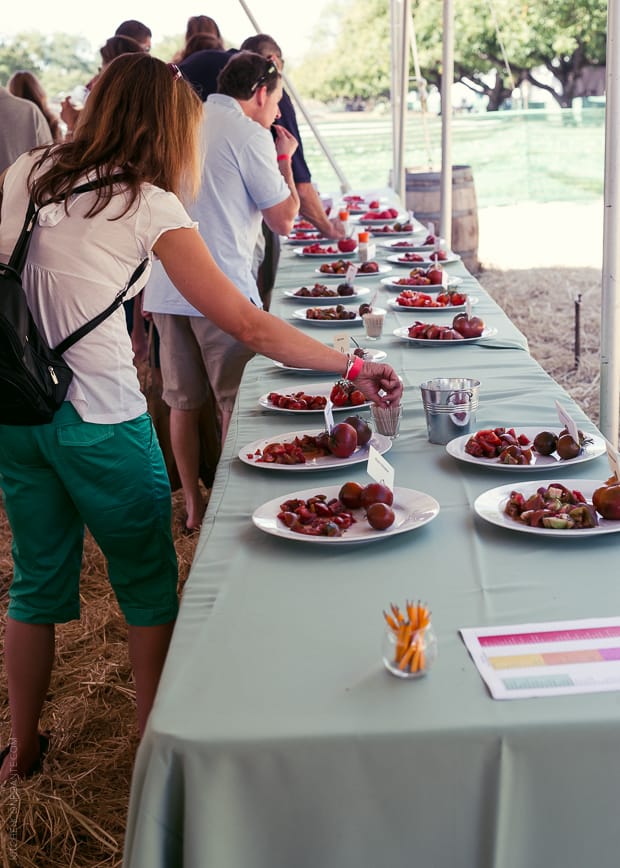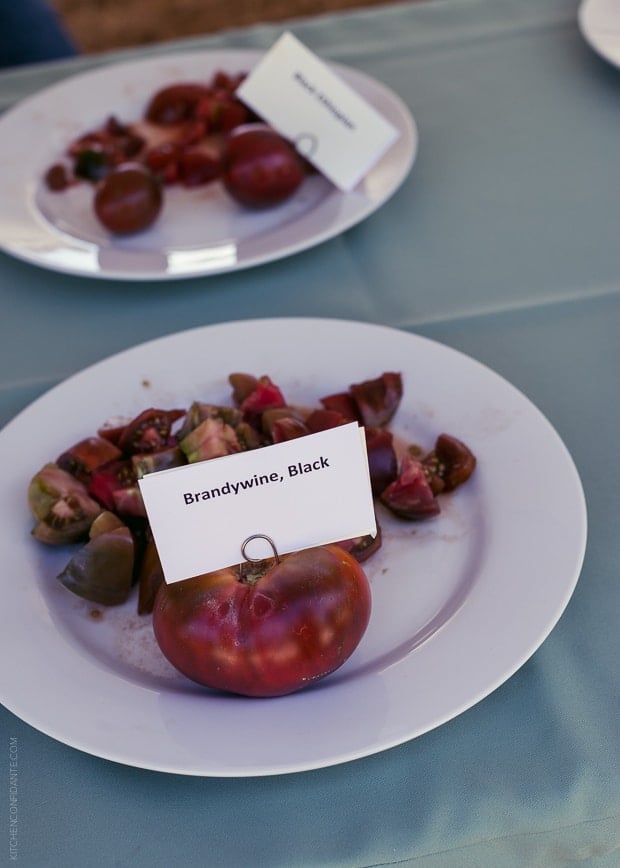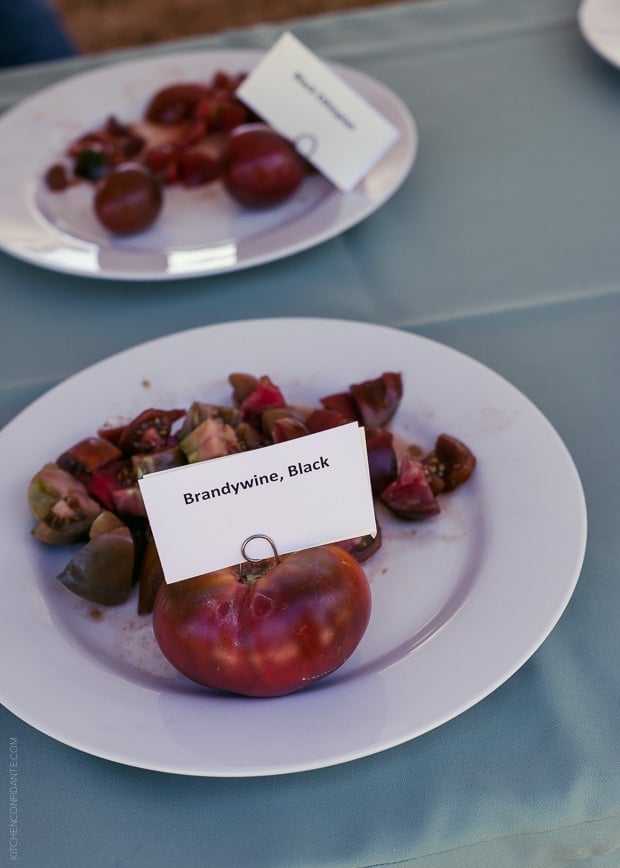 Under the Tomato Tasting Tent, you also find displays of gorgeous produce, but the highlight were the award winning tomatoes. Indeed, this may be the Oscar's of the heirloom tomato world!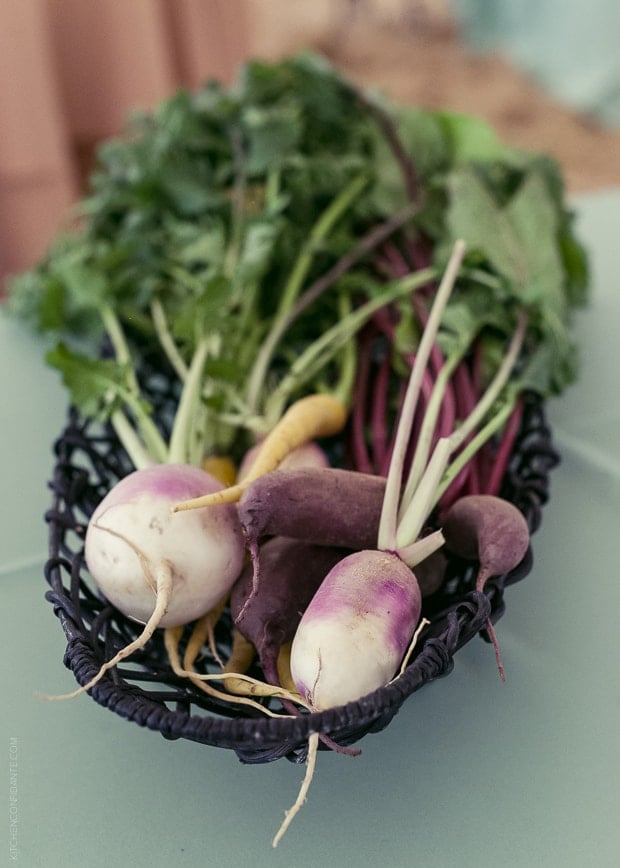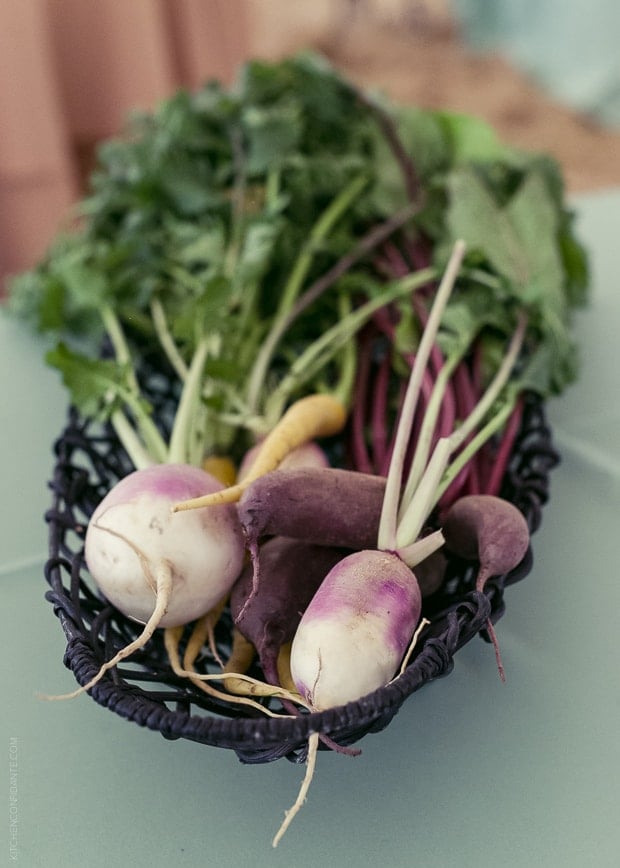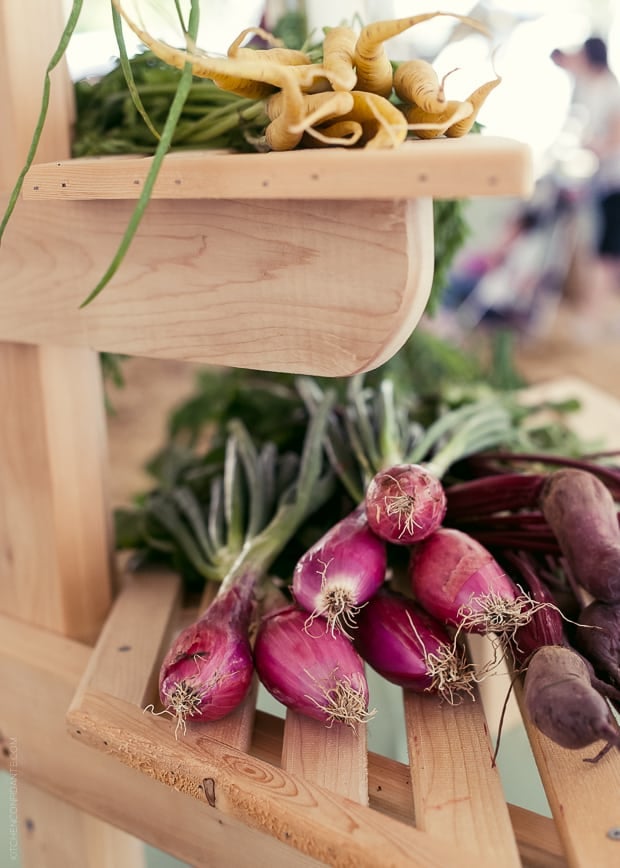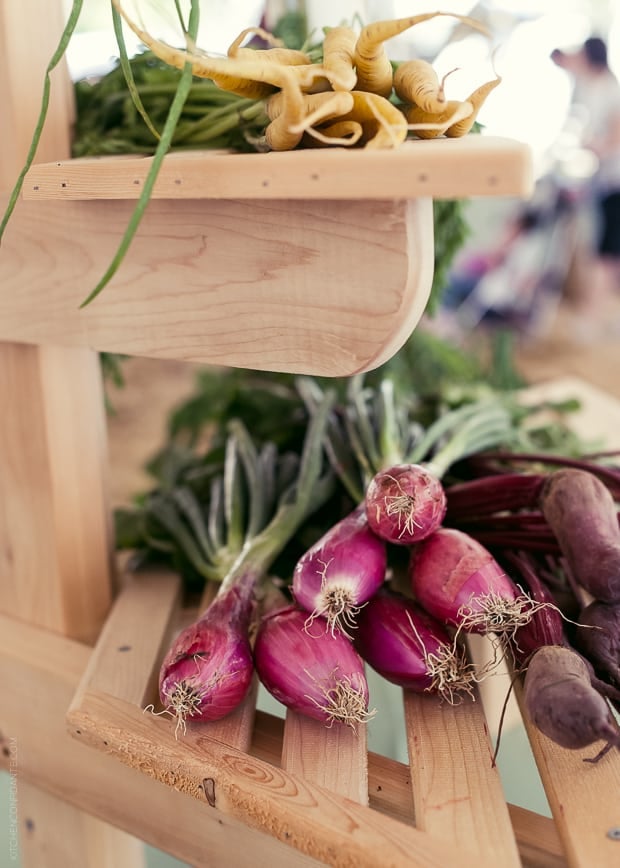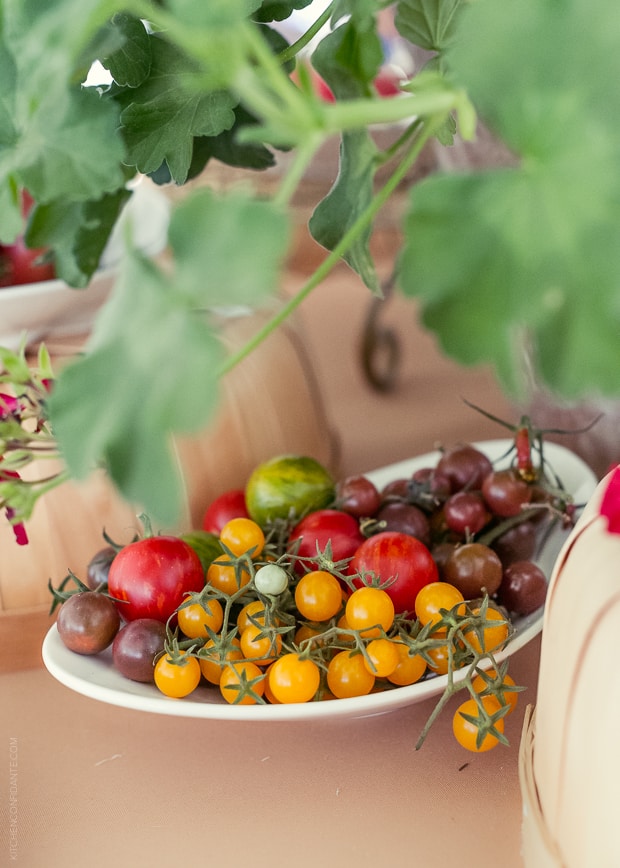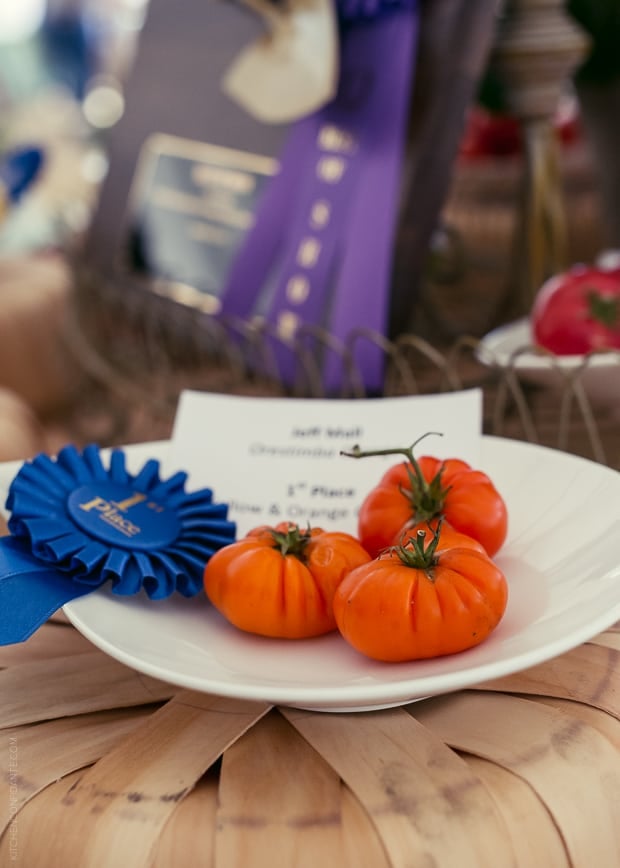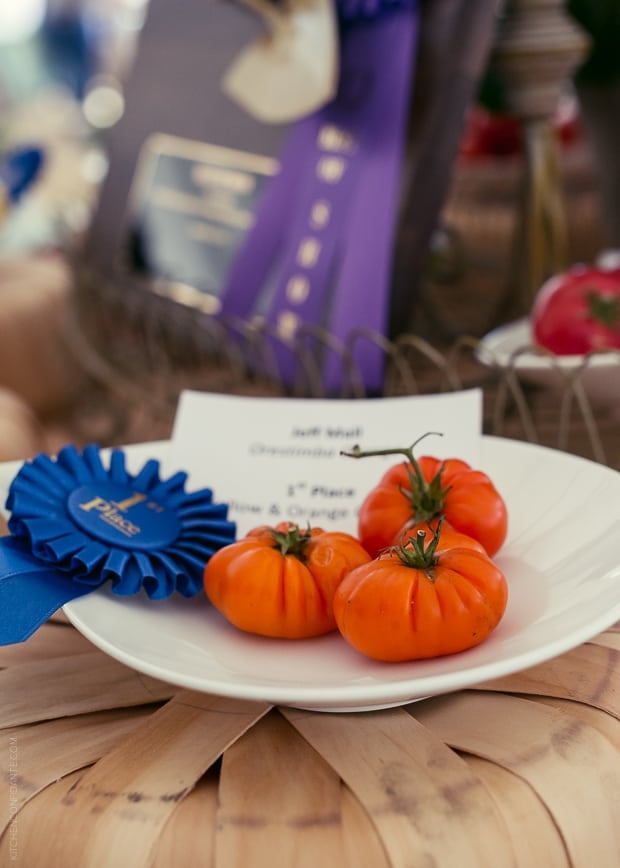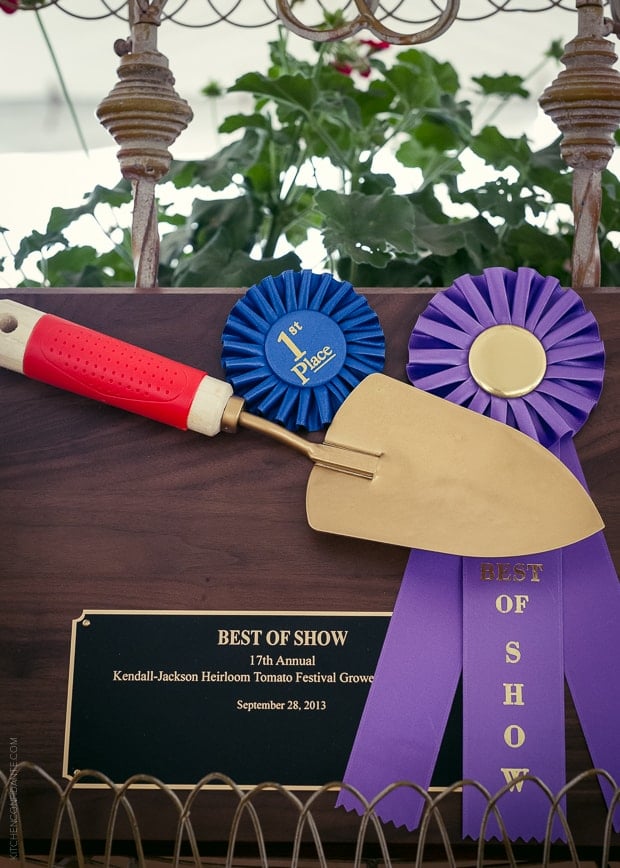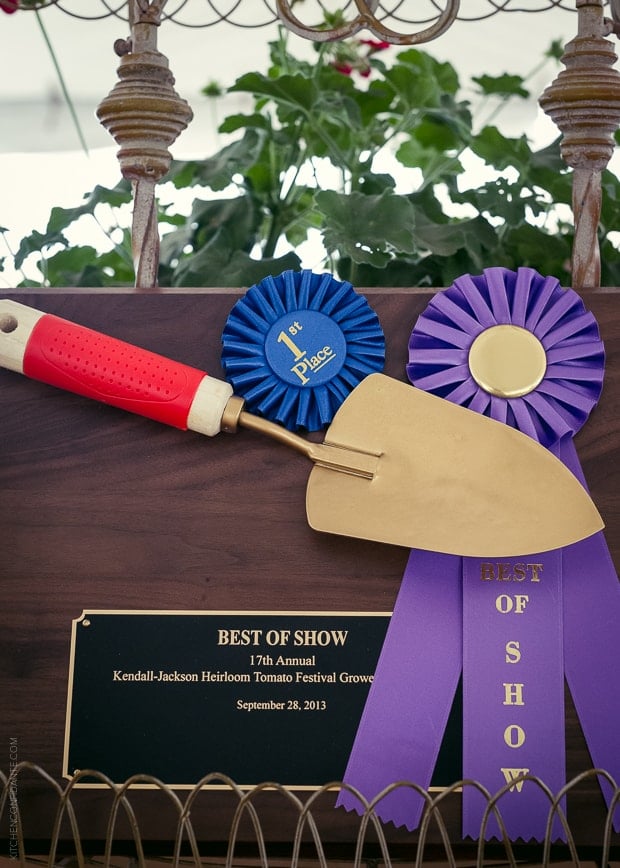 Sampling the tomatoes in its truest form is a treat in itself, but of course, an assembly of local Sonoma restaurants were there to showcase the fruit's versatility. I loved the casual ambiance and local vibe from the community of culinary talent.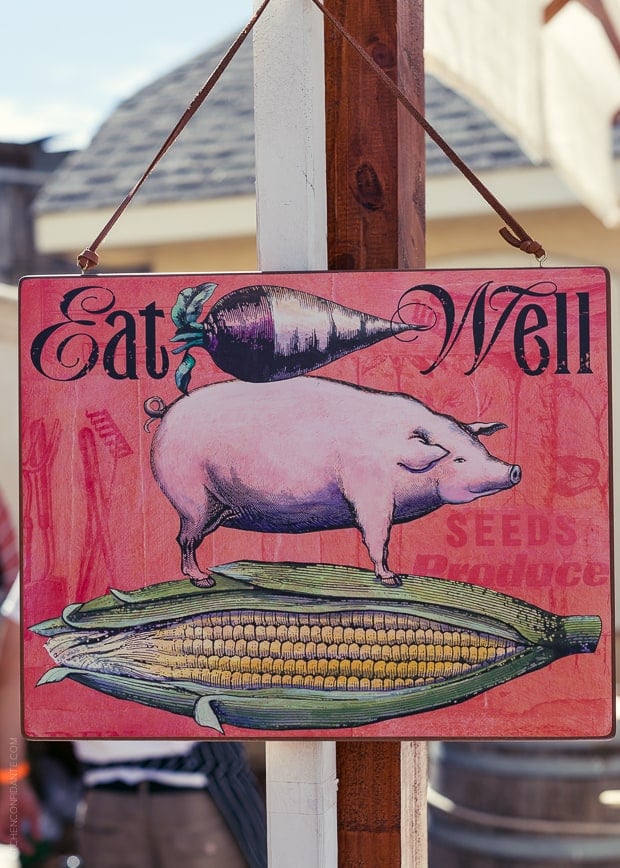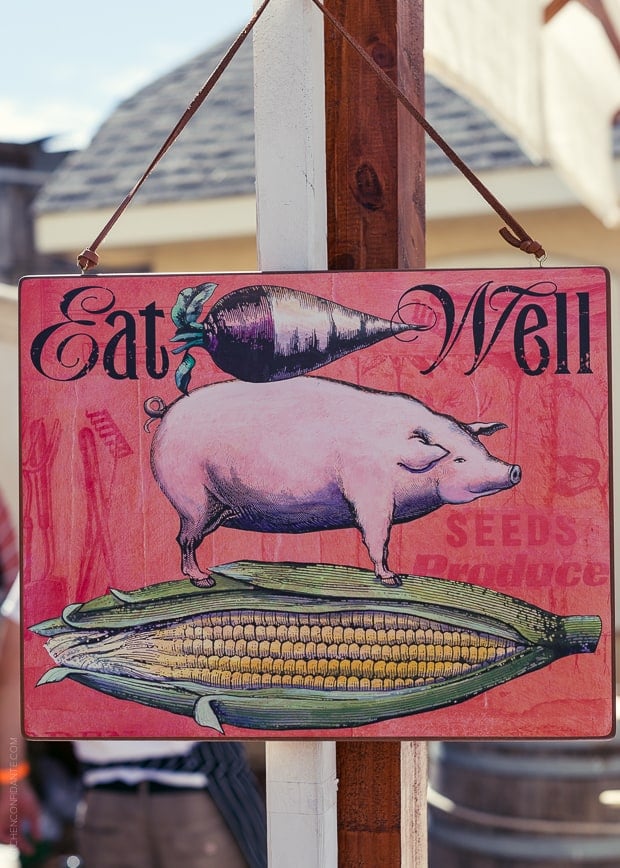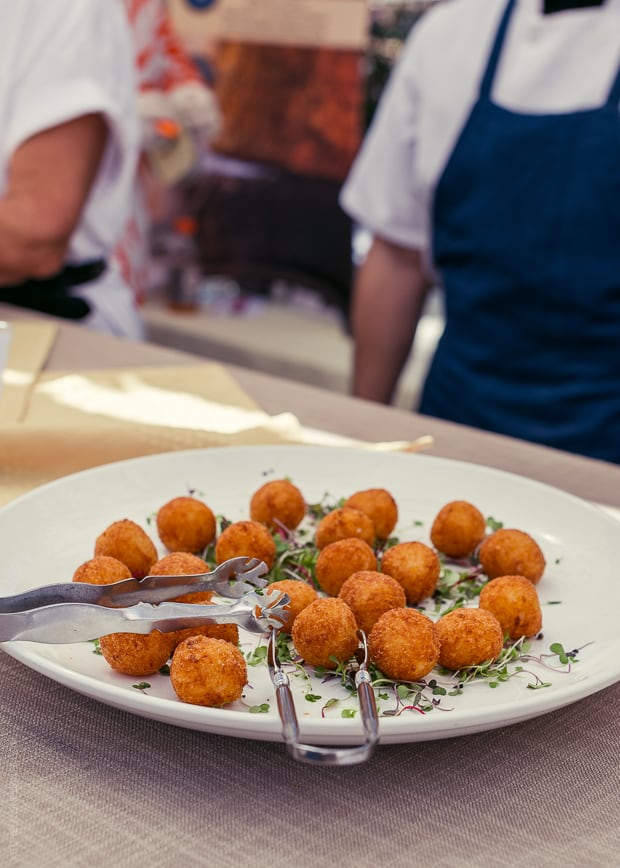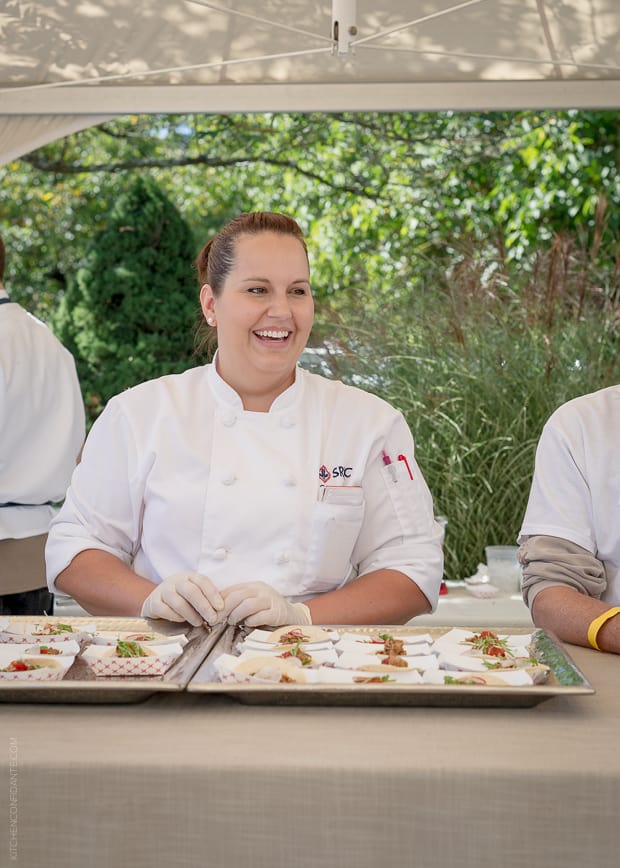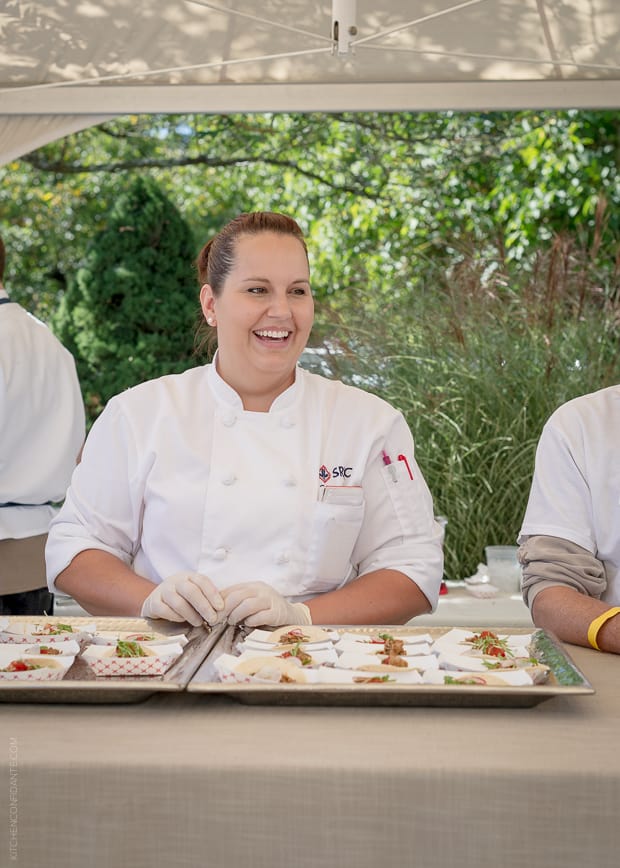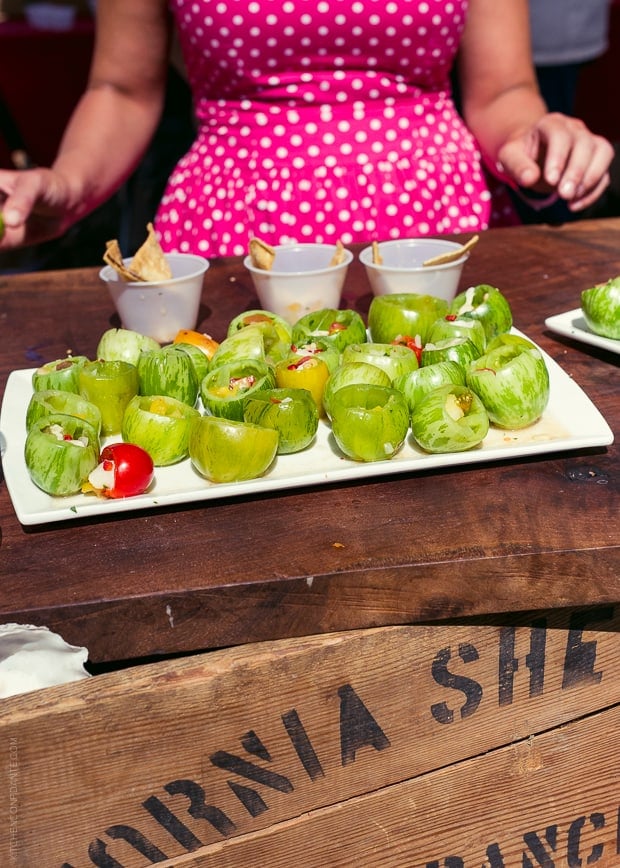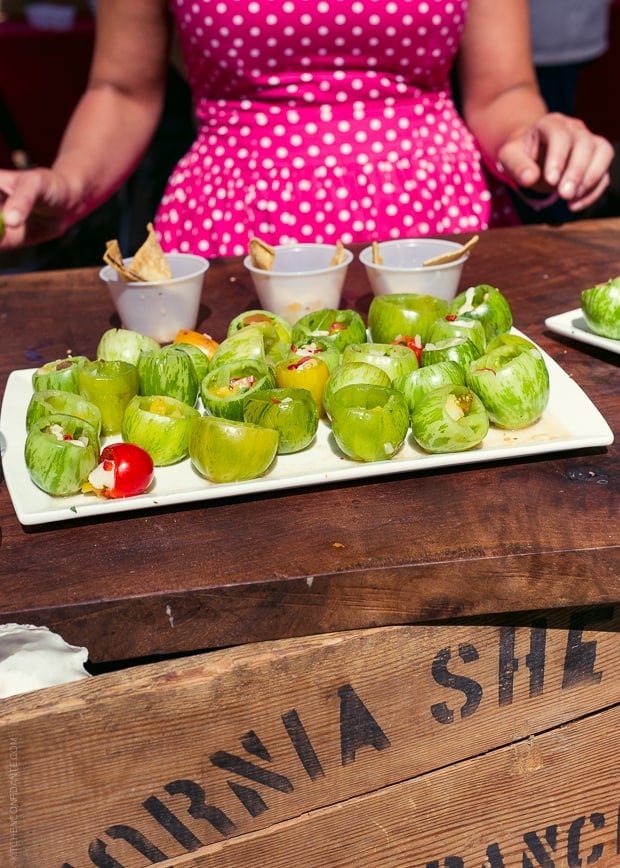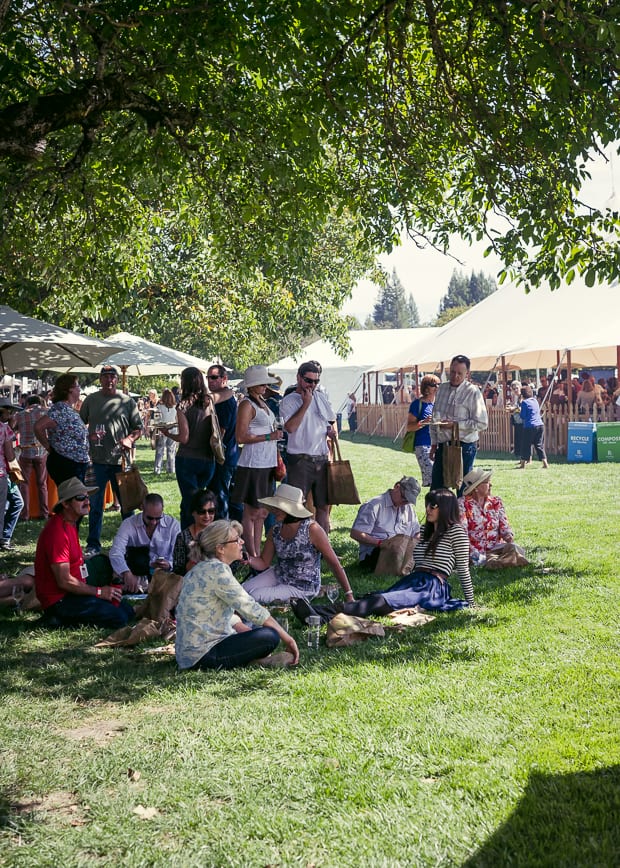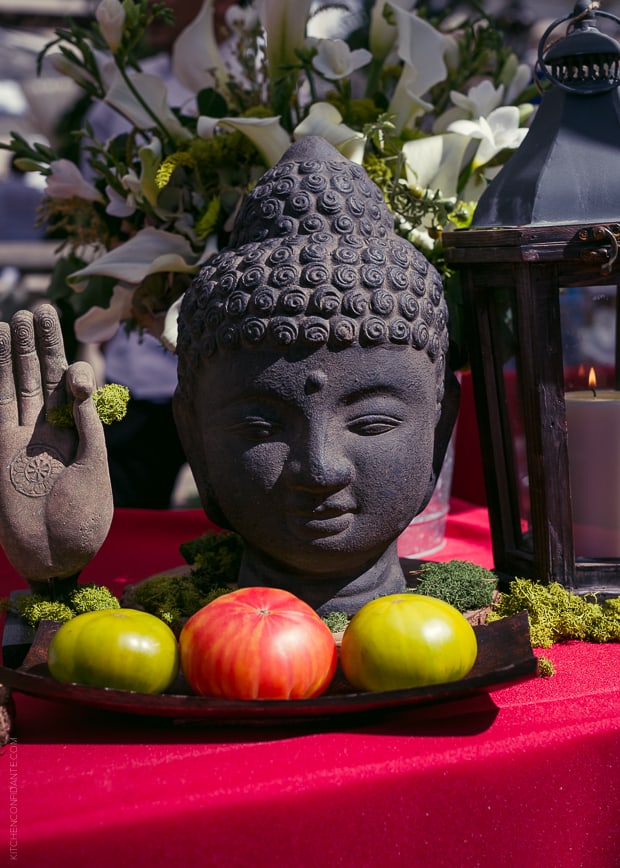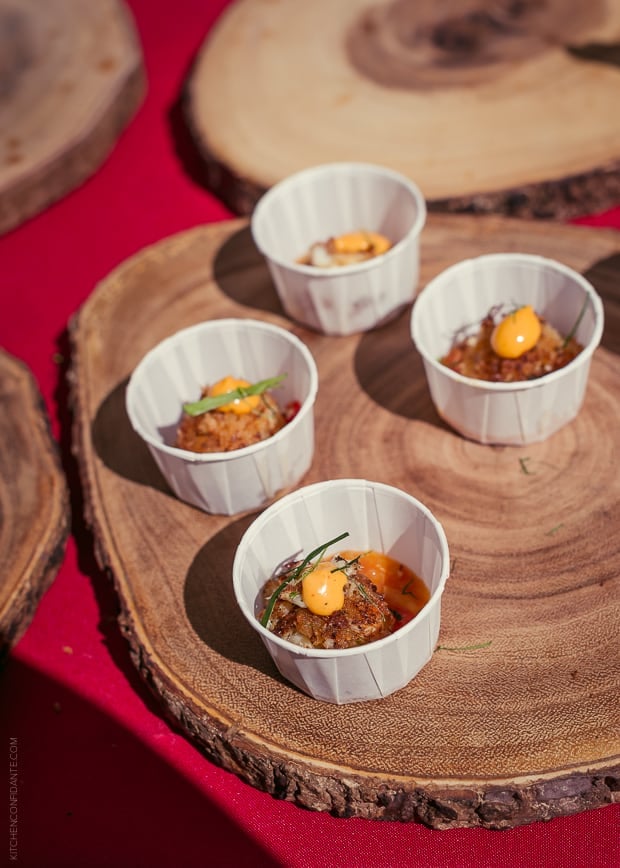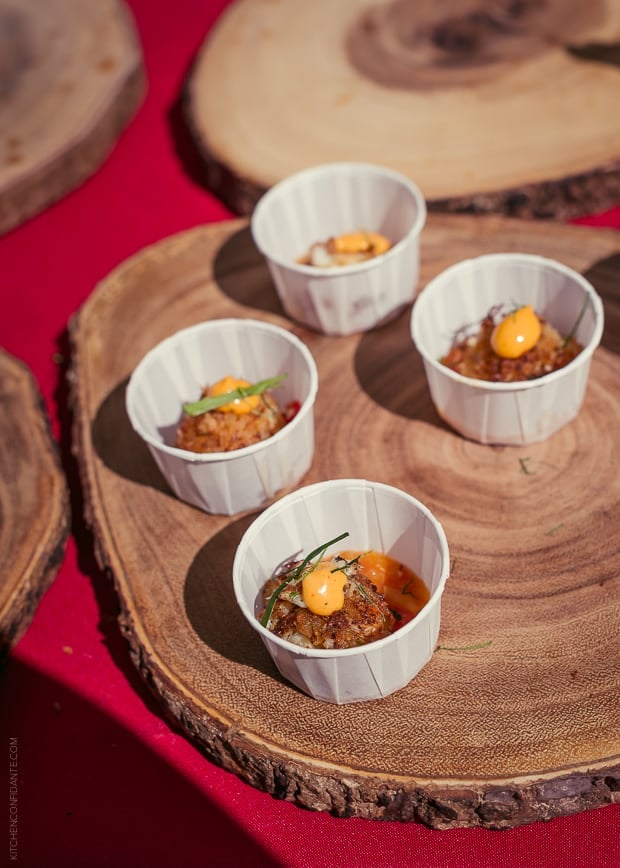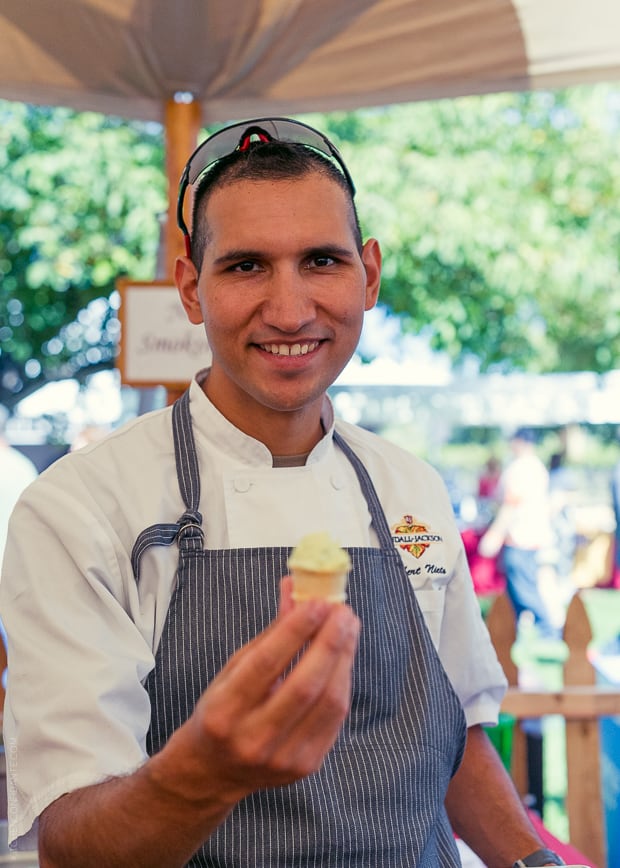 There was something for everyone, even the youngest tomato lovers.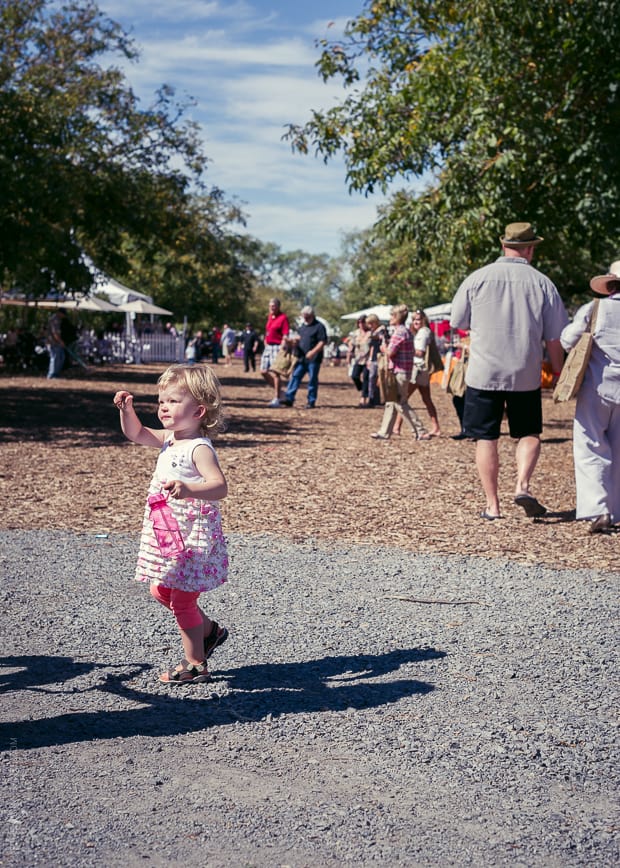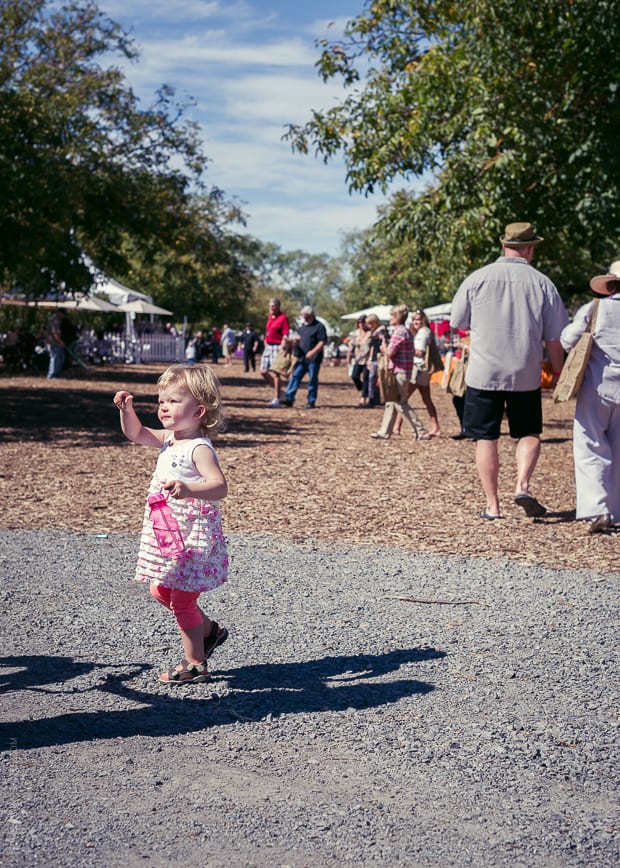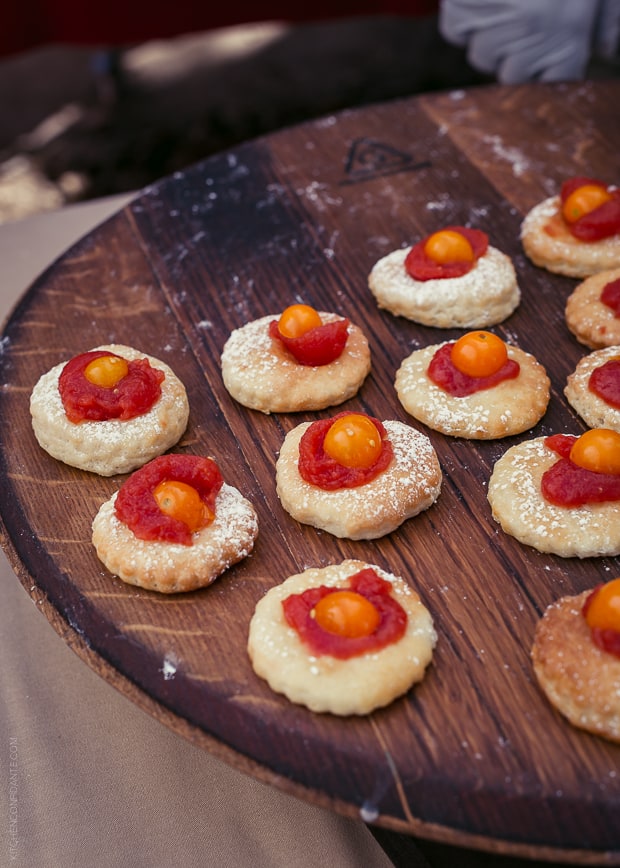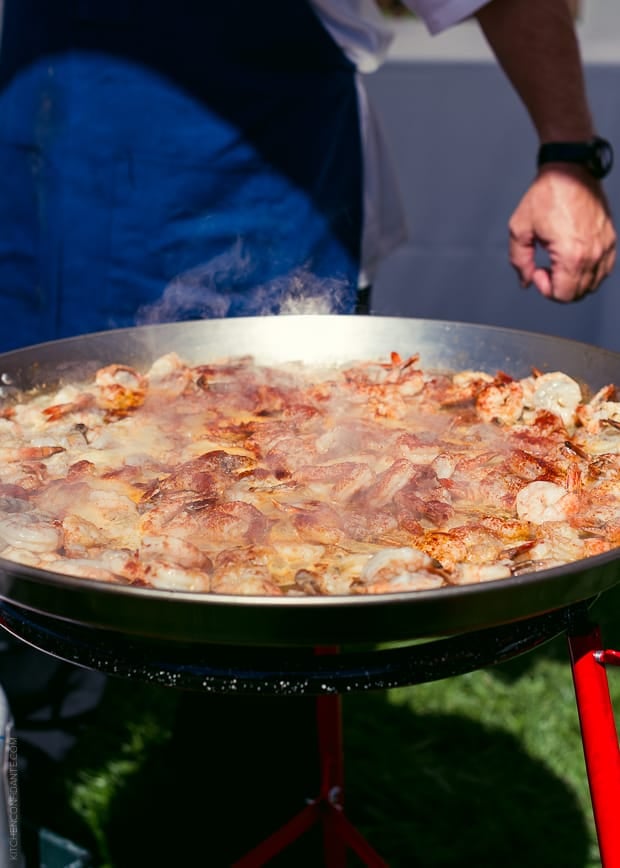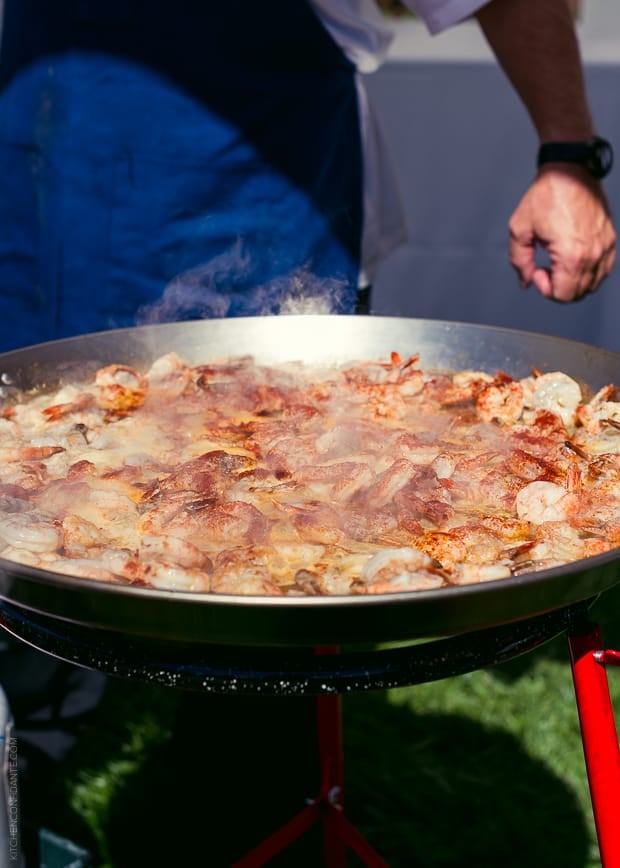 I was drawn by in the ink, but I do believe this was the decorated arm of none other than Top Chef Kevin Gillespie, who participated in the Chef's Challenge.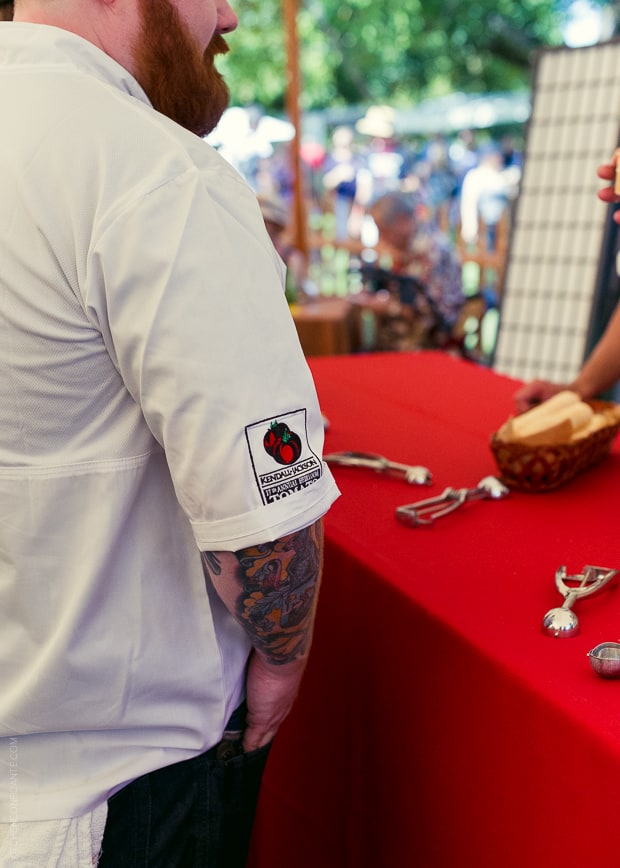 And of course, there was wine. Wine on the vine…wine in the bottle, and better still, in the glass.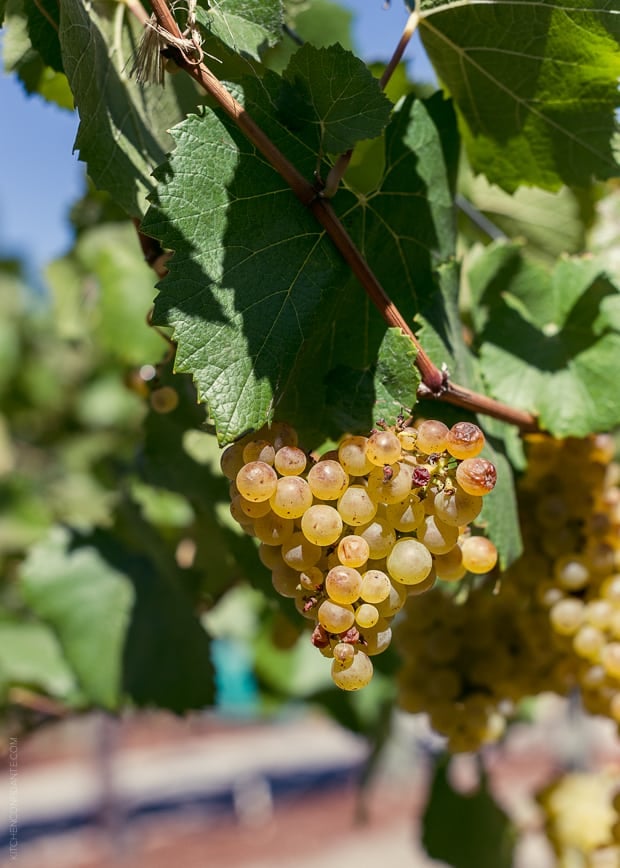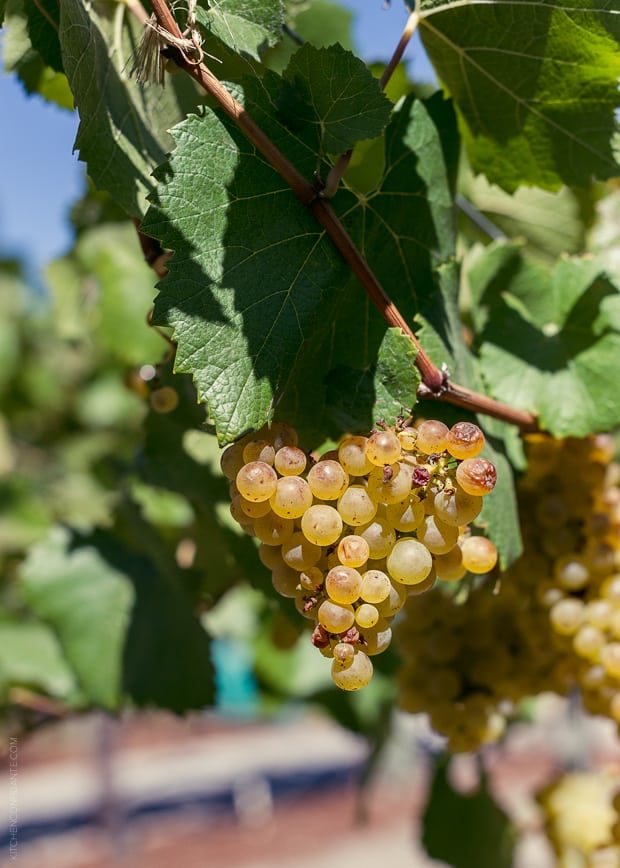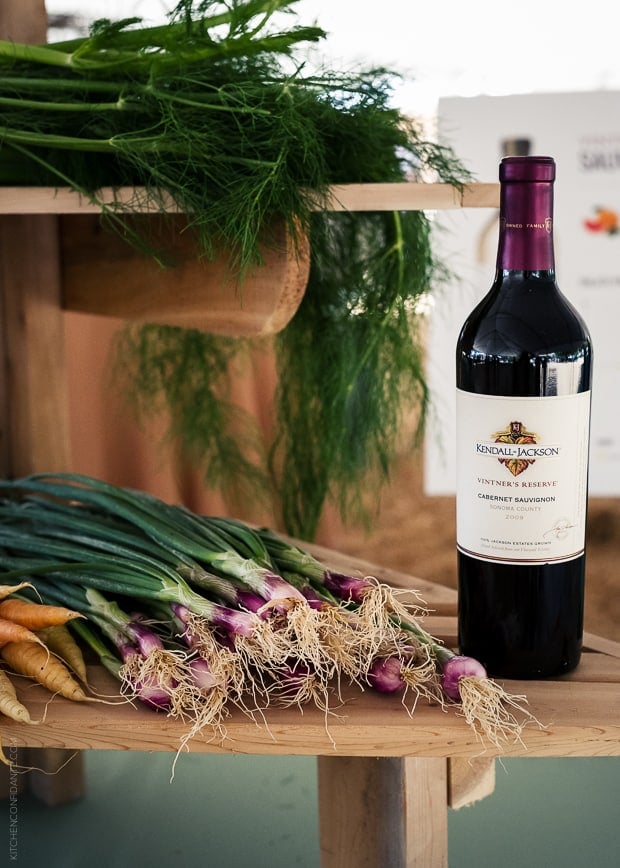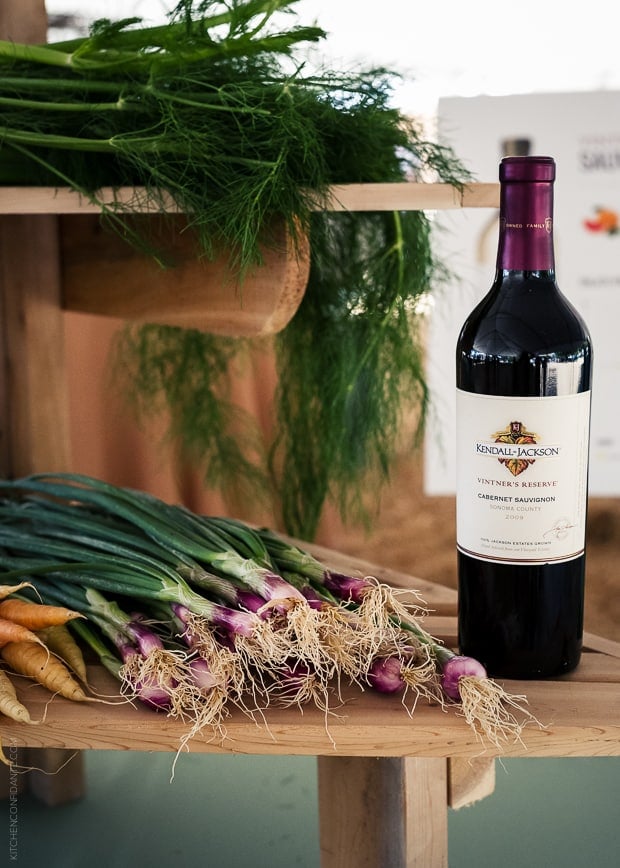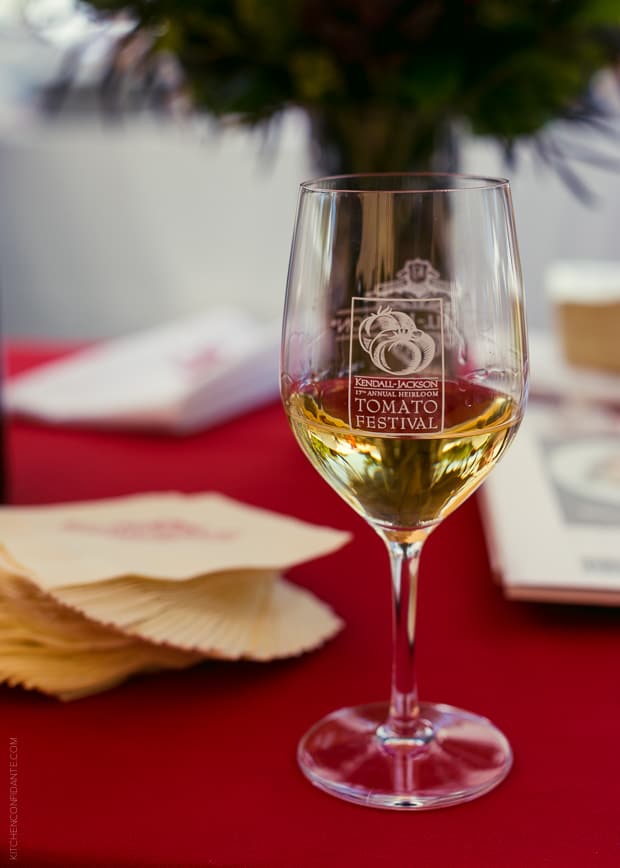 One of my favorite tastes of the day was a Tomato Jam Crostini with Lardo from the folks at Backyard. The jam was more savory than sweet, the flavor drawn out by sherry vinegar, and with the thin sliver of lardo on top, it melted in your mouth with wonderful balance.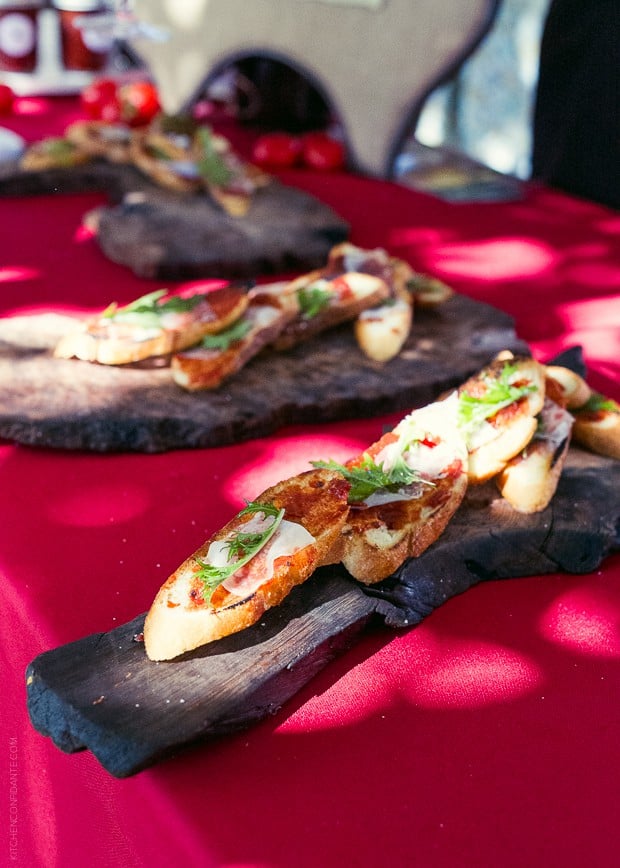 It was savory, it was sweet, and it had crunch. All my favorite things. And something that can easily be recreated at home. So I did just that.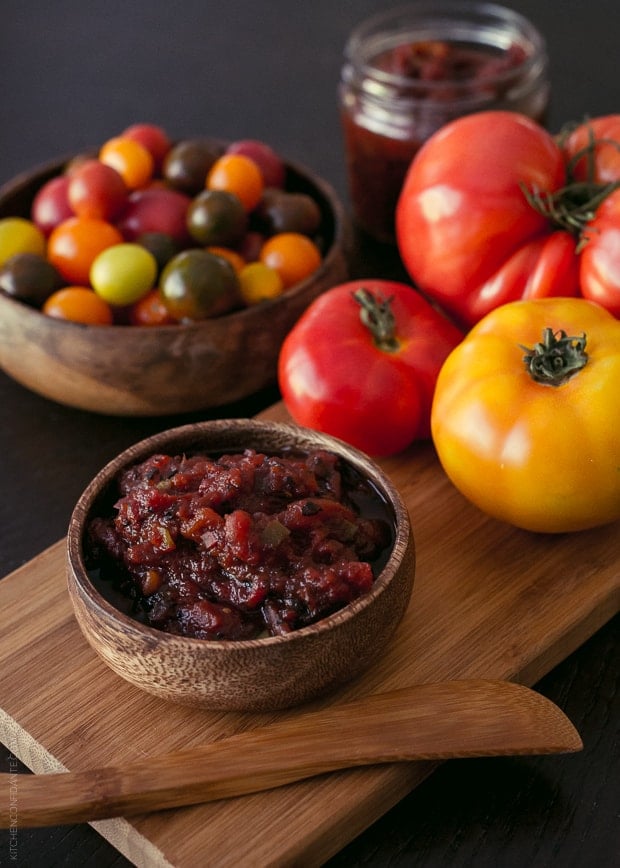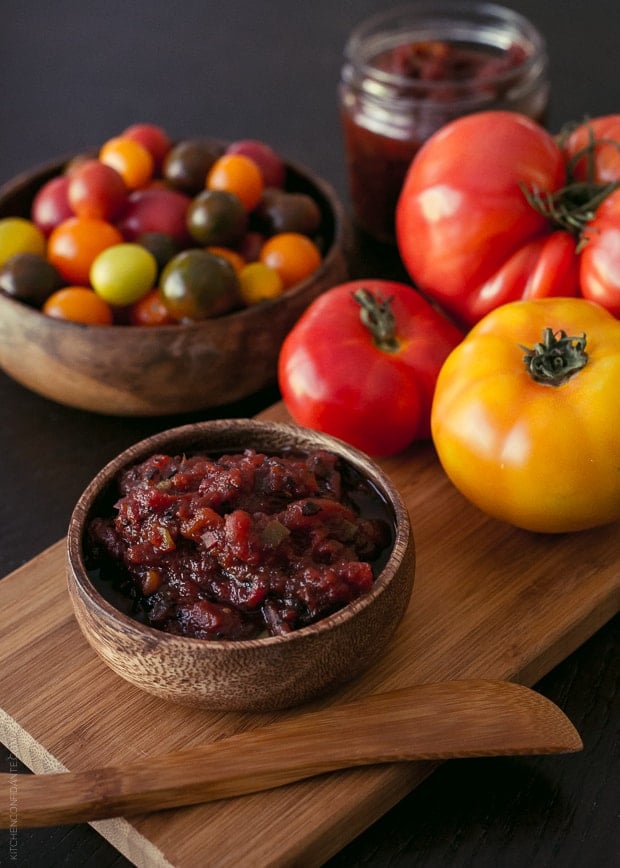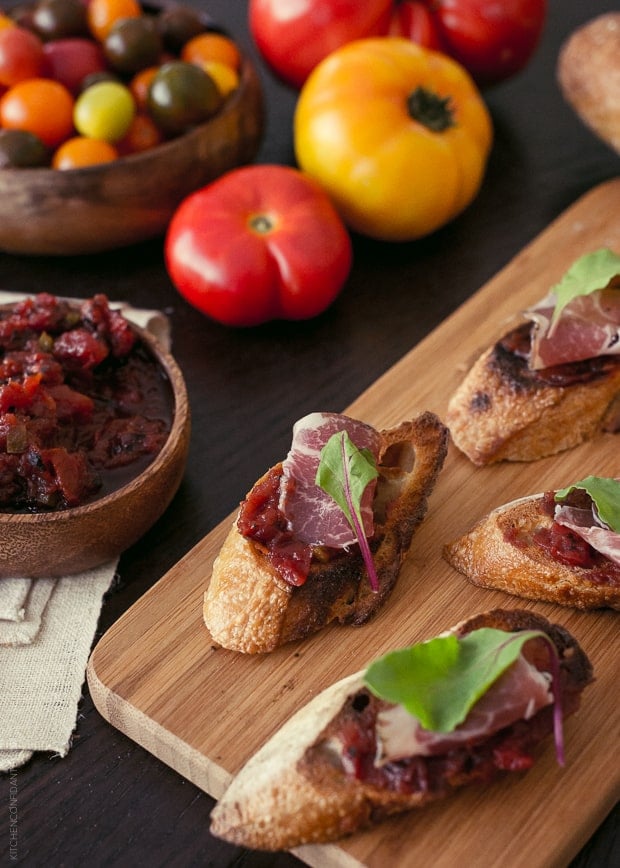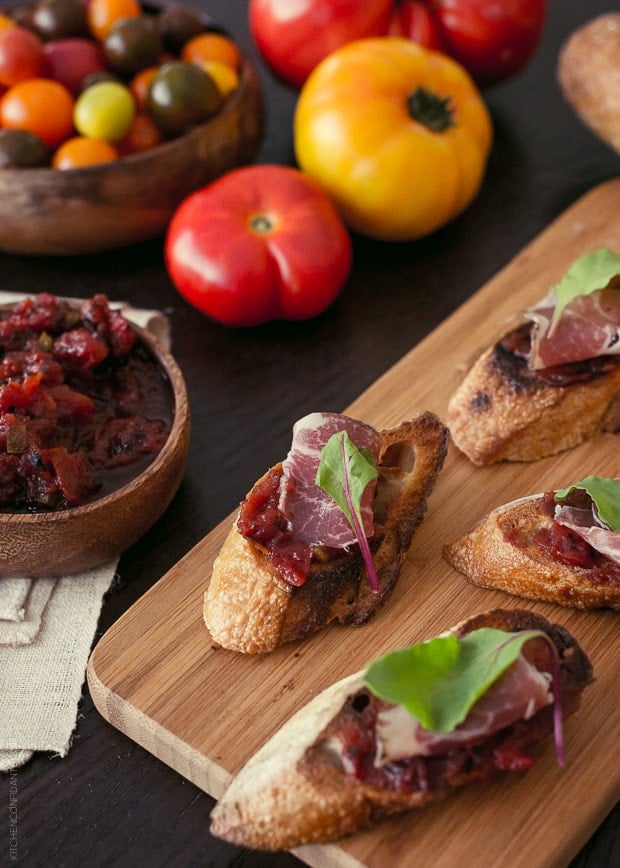 This Fire Roasted Tomato Jam Crostini is one you can make in 30 minutes, and with none other than canned tomatoes. Since I covered the event for Muir Glen, I thought it would be fun to recreate one of the recipes with their canned tomatoes, which you know by now, I love. So even once tomato season fades, this is a jam you can make in the depths of winter. I spiced up the jam to add a little heat to the savory profile, using not only fire-roasted tomatoes, but a helping of jalapeño, as well. Topped with a slice of salami, it was almost like being in the vineyards again. And yes, in case you were wondering, I ate it standing up. It was just meant to be eaten that way.
Disclosure: This was a sponsored post by Muir Glen Organic. I was assigned the happy task of photographing the event on behalf of Muir Glen Organic, a sponsor of the 2013 Kendall-Jackson Heirloom Tomato Festival. I am sharing this recipe using Muir Glen Organic tomatoes because I do love their product and use it weekly in my kitchen. As always, all opinions are my own.
Fire Roasted Tomato Jam Crostini
Unlike the last tomato jam I shared, this jam celebrates the savory side of the tomato. The sherry vinegar brings out both the sweet and the salty, and is worth making! It's wonderful on sandwiches, crackers, and with a good slice of brie, as well.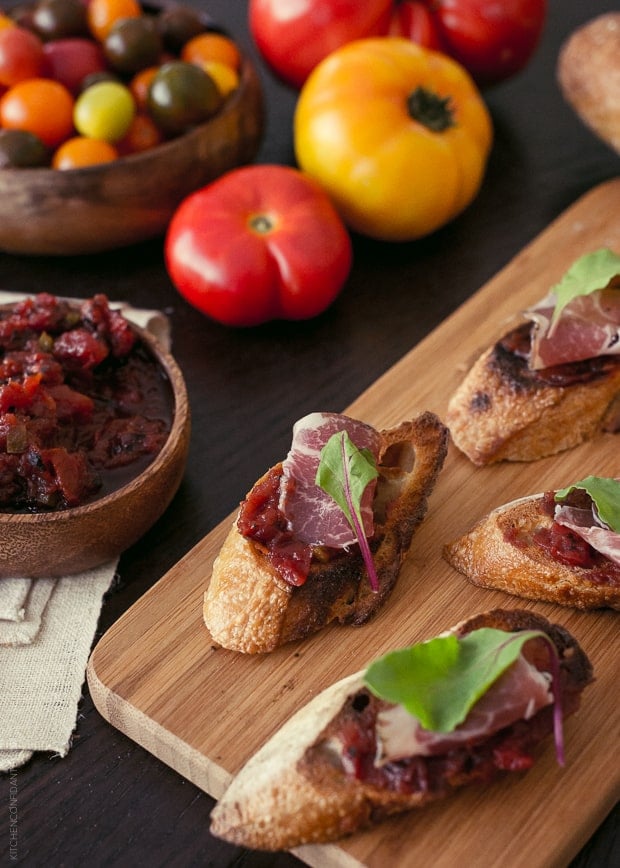 Print Recipe
Ingredients
For the jam:
2 14.5 oz cans fire-roasted diced tomatoes (I used Muir Glen Organic Fire Roasted Diced Tomatoes)
1 jalapeño, seeded and finely diced
1/2 cup turbinado sugar
1/2 cup sherry vinegar
1/2 teaspoon kosher salt

For the crostini:
Tomato Jam (above)
1 baguette, sliced on the bias
2 cloves of garlic, halved
Extra virgin olive oil
Lardo or salumi
Greens for garnish (I used baby chard)
Instructions
In a medium saucepan, combine the tomatoes with the juices, jalapeno, sugar, vinegar and salt. Bring to a boil over medium-high heat, then lower to a simmer and cook, stirring periodically, for about 30 minutes, or until most of the moisture is gone. When the jam is thick, mash any remaining large chunks with a fork or masher. Pour into jars and cool to thicken a little before serving.
To make the crostini, preheat the broiler. Brush each slice of bread with olive oil and rub with the cut side of the garlic. Toast under the broiler for 1-2 minutes, until golden. Slather with the tomato jam, top with lardo (or salami) and with greens. Serve immediately.
Fire Roasted Tomato Jam adapted from Heirloom Tomato Jam, Backyard Restaurant at the Kendall-Jackson Heirloom Tomato Festival.