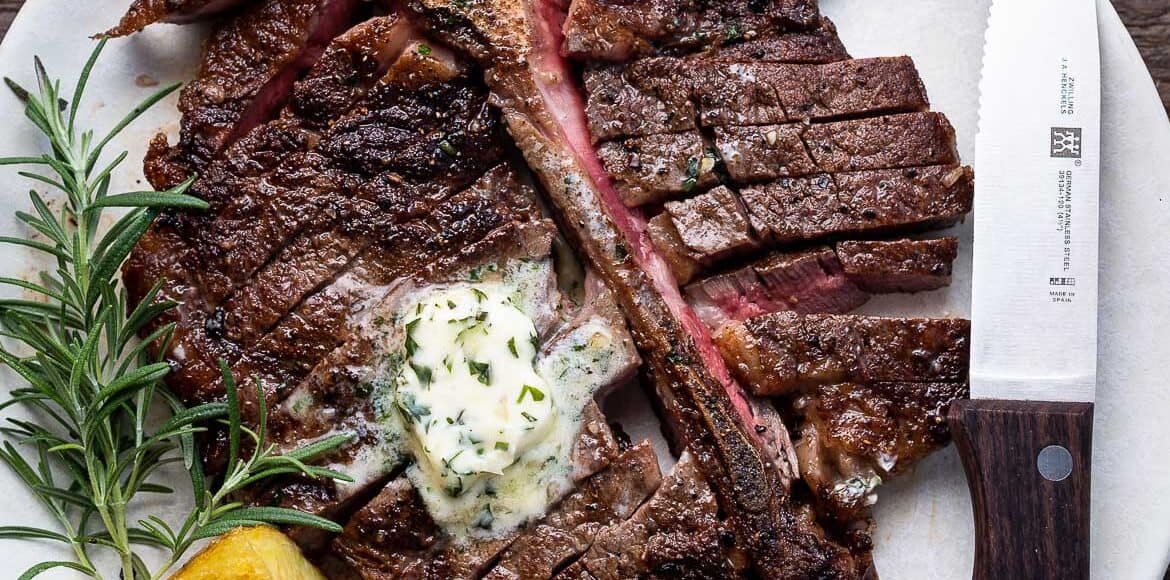 Certified Angus Beef® Steak Recipe with Garlic Herb Compound Butter
Nothing beats a simple Angus Beef Steak recipe when it's perfectly seared and finished with a flavorful Garlic Herb Compound Butter! Learn my tips for getting a perfectly cooked Certified Angus Beef® Steak.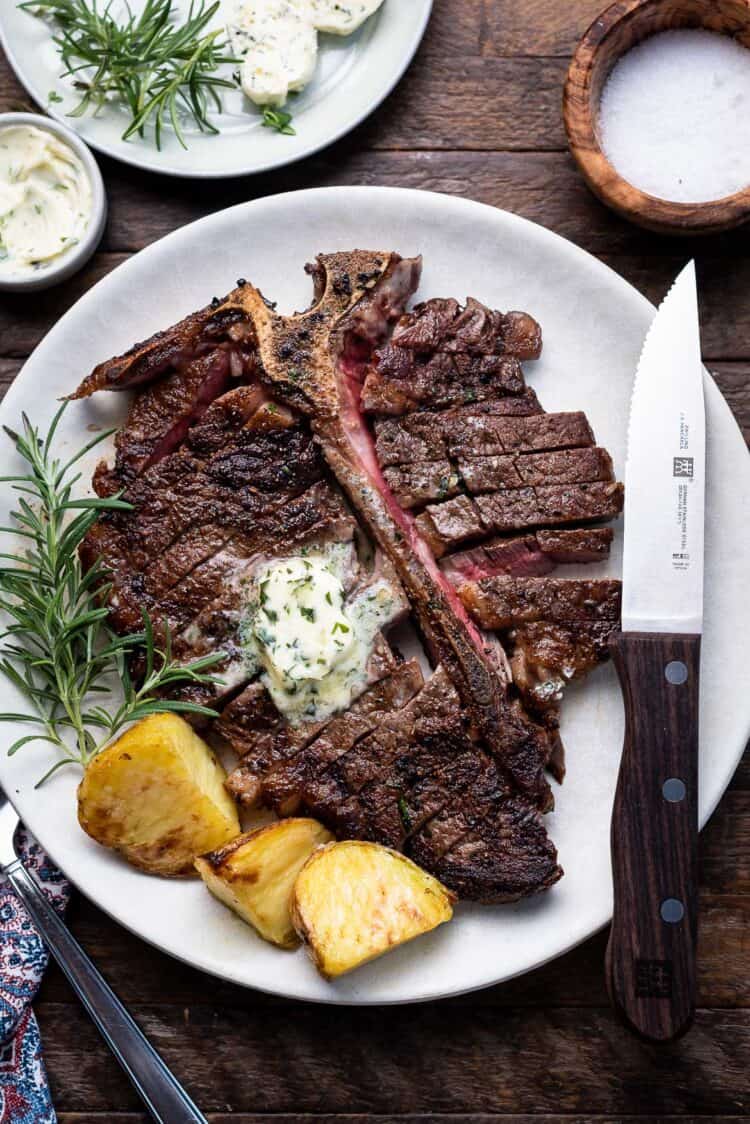 Certified Angus Beef® Steak Recipe with Garlic Herb Compound Butter
Certified Angus Beef® Steak Recipe with Garlic Herb Compound Butter – simple is always best when you have excellent ingredients! Certified Angus Beef® t-bone steaks shine when pan-seared, resulting in juicy, steakhouse-style steaks at home! 
This is a sponsored post written by me on behalf of Certified Angus Beef. All opinions are 100% mine.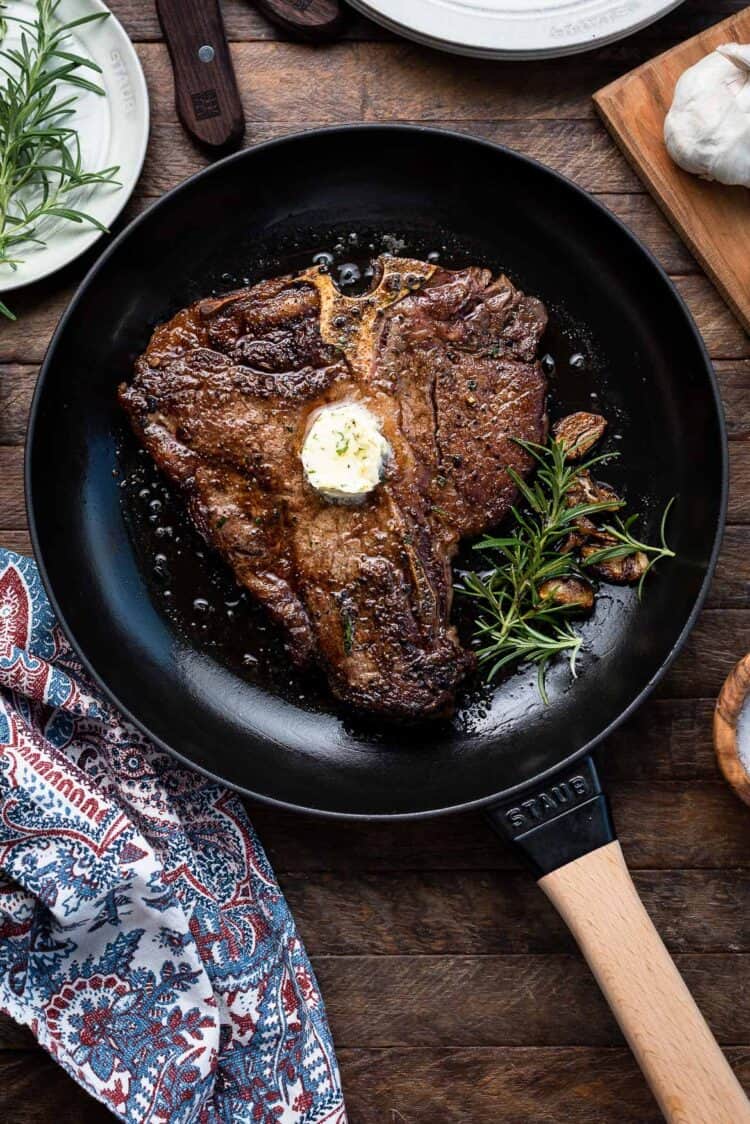 I called my husband to tell him that I had the most amazing steak I've had in recent memory. And if you know me at all, you will understand that this is quite the statement. In all the years he has known me, I was never the one who suggested a date night at a steak house or opted for steak when it was on the menu. I wrote a book titled Meat to the Side, for goodness sake!
But I was in Scottsdale, Arizona, last month for the Fresh Air Retreat, joining bloggers and brands in a most beautiful setting to learn from one another and find the inspiration I needed to be creative and fulfilled after such a busy couple of years.
And this was when I came to appreciate the perfect steak again.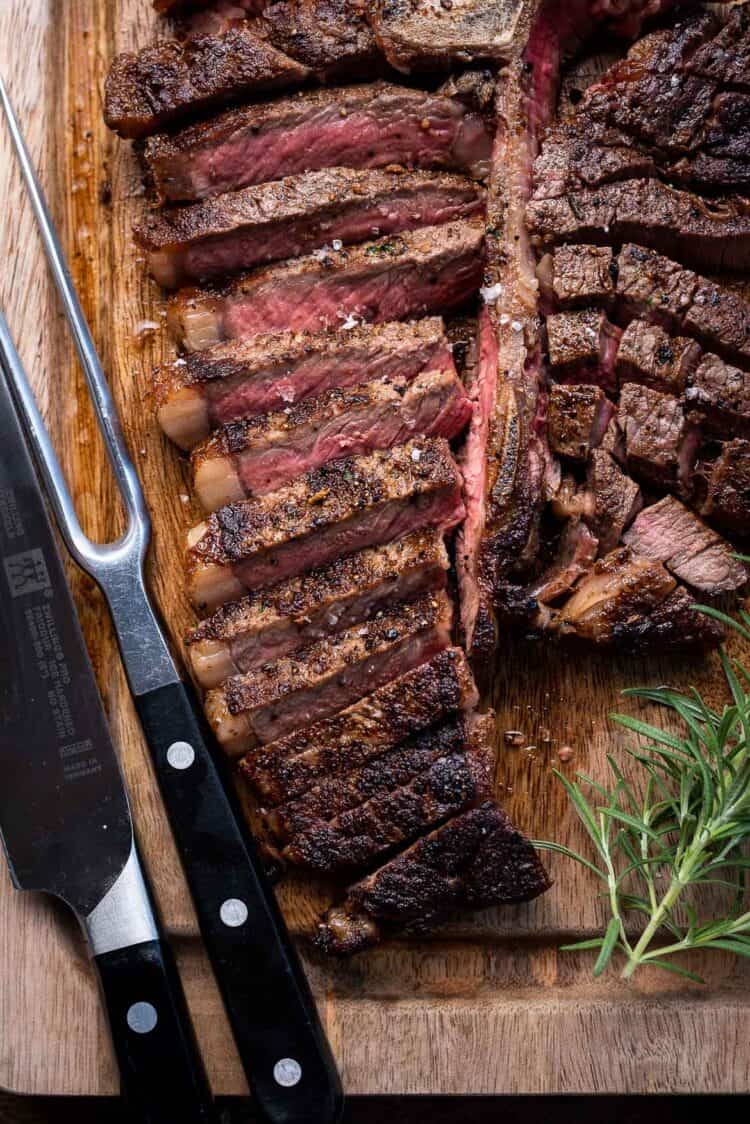 Certified Angus Beef was the first brand to greet and welcome us to Arizona, and it left an indelible mark on my tastebuds.
Fresh Air Retreat
The Fresh Air Retreat Scottsdale was hosted by my fellow friends in the blogging world, Liz Della Croce of The Lemon Bowl and Lauren Grier of The Curious Plate.
I actually met Liz at another retreat, many years ago, and you may recall that she recently appeared on my podcast. Lauren and I first met at a food blogging conference in Temecula, CA years ago, as well, and I was so excited to get to spend more time with both of them!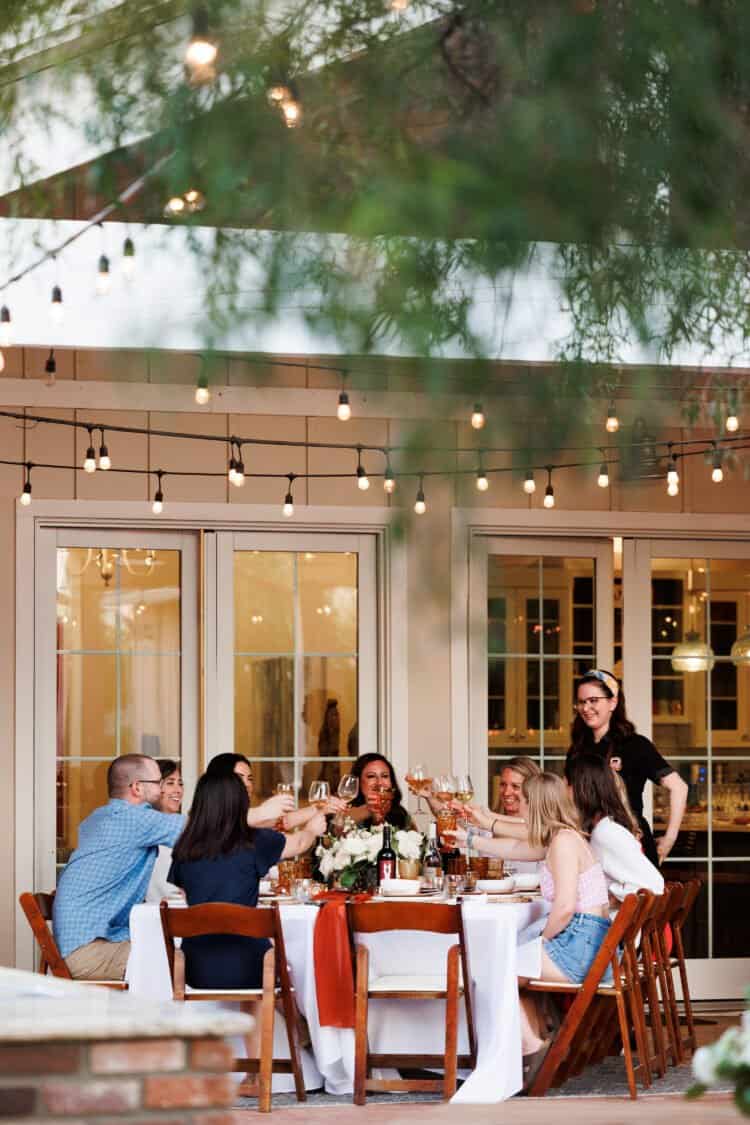 I was truly blown away by how much love and attention to detail they poured into making this retreat such an incredible and memorable experience. From the beautiful Scottsdale home nestled close to the McDowell Sonoran Desert Preserve and inviting such fabulous and enthusiastic brands, to having a team of talent, including photographer Amanda Montgomery (her beautiful images here!) of Arrae Photography and the talented Chef Trimell Hawkins keeping us well fed, it was such an excellent way to learn from one another.
The retreat kicked off with a happy hour and dinner hosted by Certified Angus Beef – I was so impressed by the house-made beef charcuterie and wish they sold it in stores! Executive Chef Ashley Breneman cooked every course to perfection. And I learned so much about the flavorful rib eye cap, I also can't wait to cook more with this cut in the future.
We were well fed throughout the retreat, so I especially appreciated the chance to move and be good to our bodies. There was morning yoga and an early hike to beat the desert heat, followed by epic breakfasts and lunches created by Chef Trimell, paired with Liz's delicious smoothies! I'm still thinking about his shrimp and grits!
The kitchen was outfitted with kitchen tools from Zwilling's family of brands, including Henckels, Staub, Demeyere, and Ballarini. We saw it in action during a delicious lunch, where we were able to learn more from our friends at Zwilling. From the beautiful serving dishes to the glasses we used to toast, the entire meal was made even more special.
I also loved the hands-on learning. I learned that we can make simple two-ingredient pizza dough with Stonyfield Organic for our pizza night! And we all got our creative juices flowing with Minute Rice – with a bevy of ingredients, it was fun to see each person's take on the dishes they made, both sweet and savory!
Despite all the pampering and good food, truly, the best part of the retreat was the time we all spent together. When you work with brands, it is rare to actually chat with them candidly in a beautiful setting and really exchange ideas so openly. The round tables with all the brands, getting to chat about SEO with AdThrive and web design with Grace & Vine Studios, and all the hands-on experiences are what really kick-starts the business planning for the quarters ahead.
And with my fellow bloggers, to be able to chat and work through our challenges and successes is such a great way to support and find inspiration from one another. After several years of not getting to interact in person, the opportunity for all of us to fly from our homes and gather in person was especially meaningful.
I am so grateful to Lauren and Liz for bringing us all together and for all they did to make it such a beautiful experience!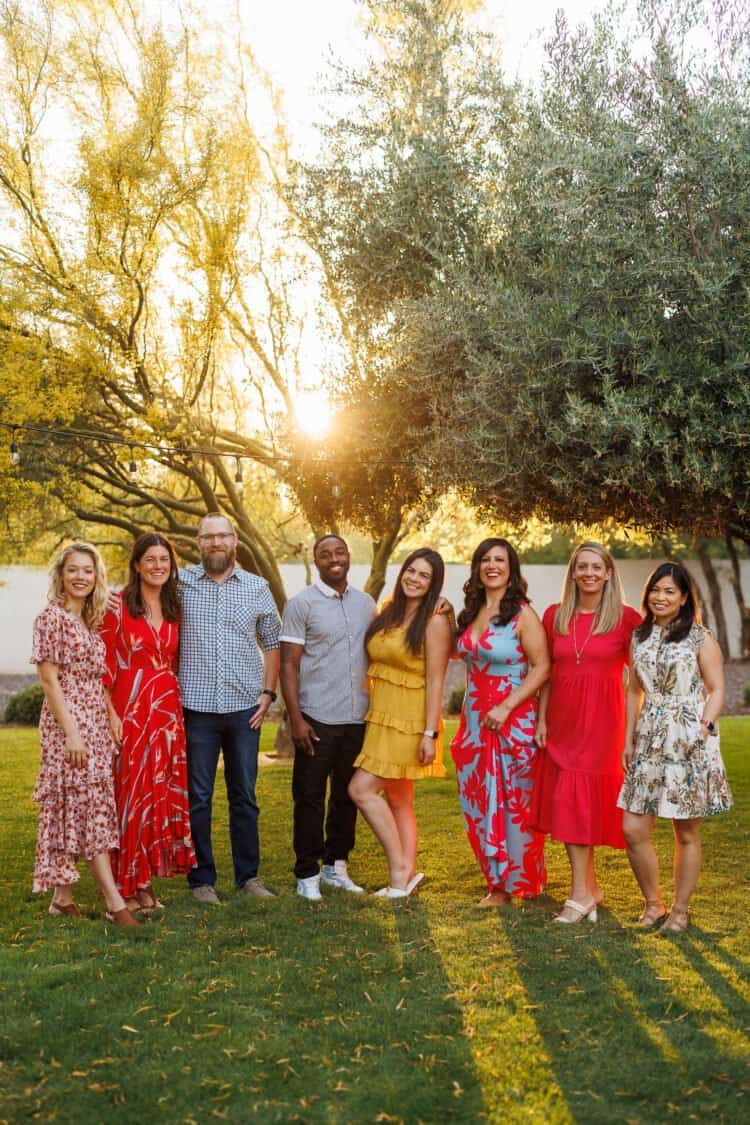 The Best Angus Beef
What makes the Certified Angus Beef® brand so special?
Founded in Ohio in 1978, the brand was founded and is owned by family farmers and ranchers. Their highly selective standards certify that every bite is tender, juicy, and full of flavor!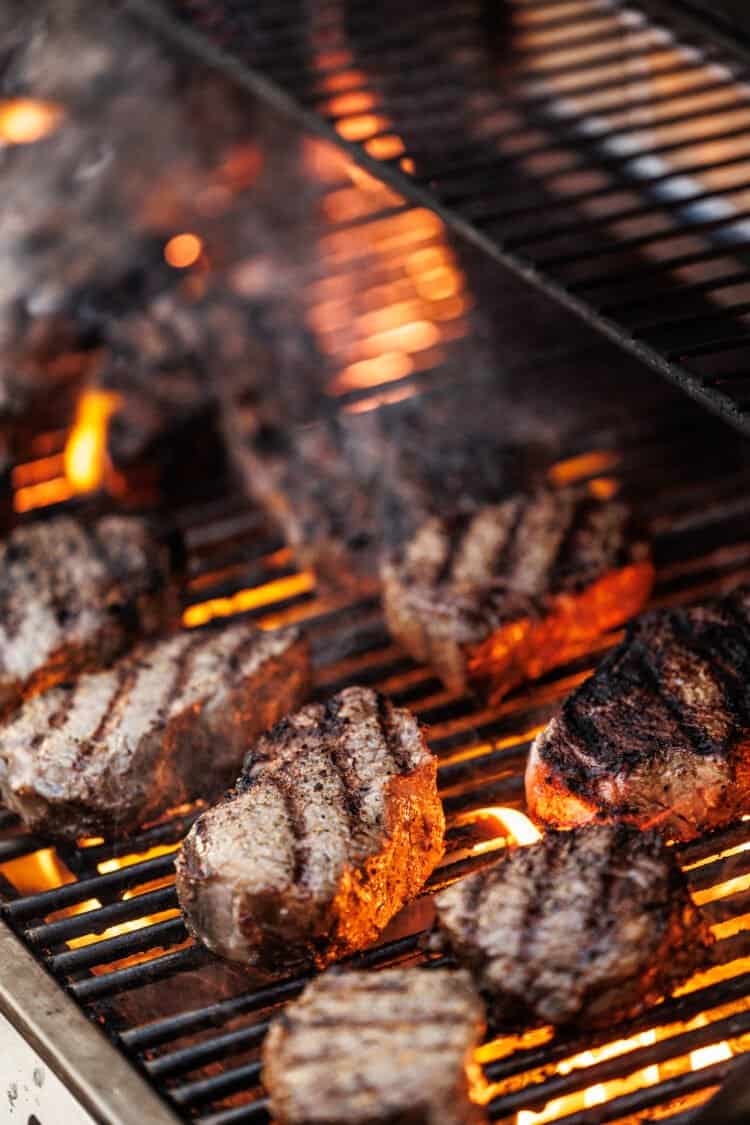 Angus is a breed of cattle, and specifically, the Certified Angus Beef® brand is a brand that comes from the best of Angus cattle. To qualify, beef must meet ten exacting standards – only 3 out of 10 cattle meet their requirements, guaranteeing quality and taste!
We had the opportunity to taste a "flight" of steaks during the retreat, and I was so impressed with how you could really taste the difference. The secret to Certified Angus Beef® flavor is in the marbling. The swirls and white flecks of flavor in the meat ensure that each bite is flavorful with every juicy steak!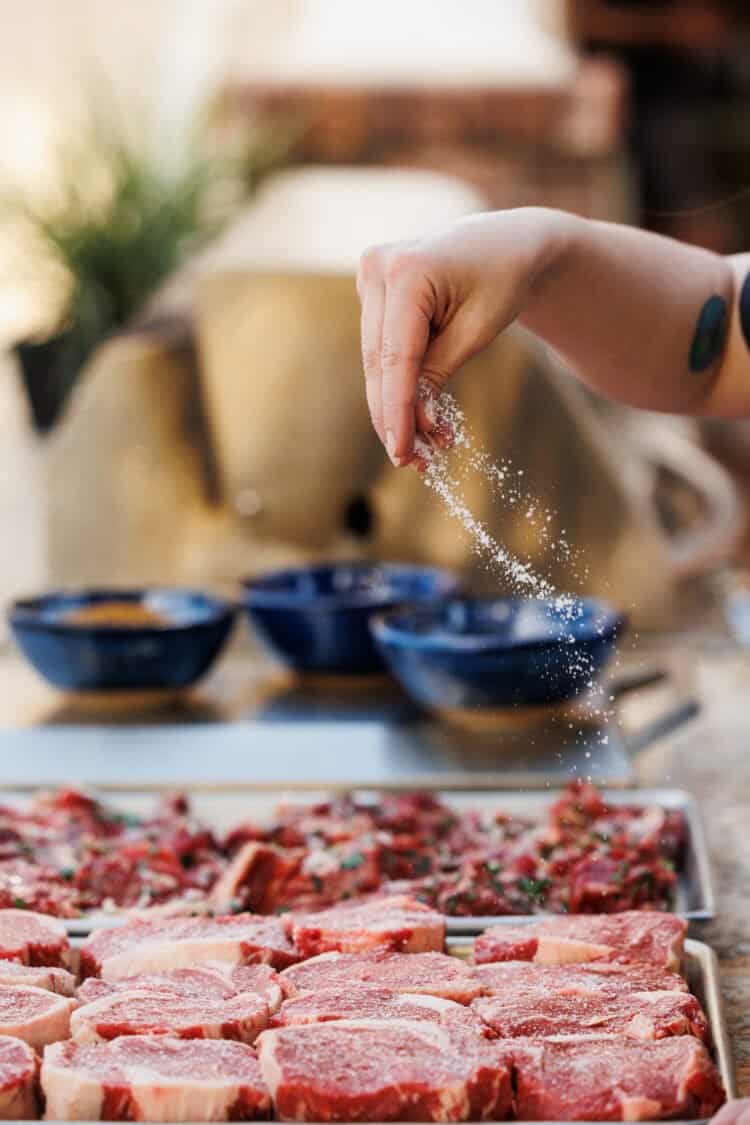 What I love most about the brand is that there is a family behind each of the excellent steaks we enjoy. Since the Certified Angus Beef® brand was started by family farmers and ranchers and continues to lead it today, they ensure that we can enjoy the best, most flavorful beef!
Certified Angus Beef® Steak Recipe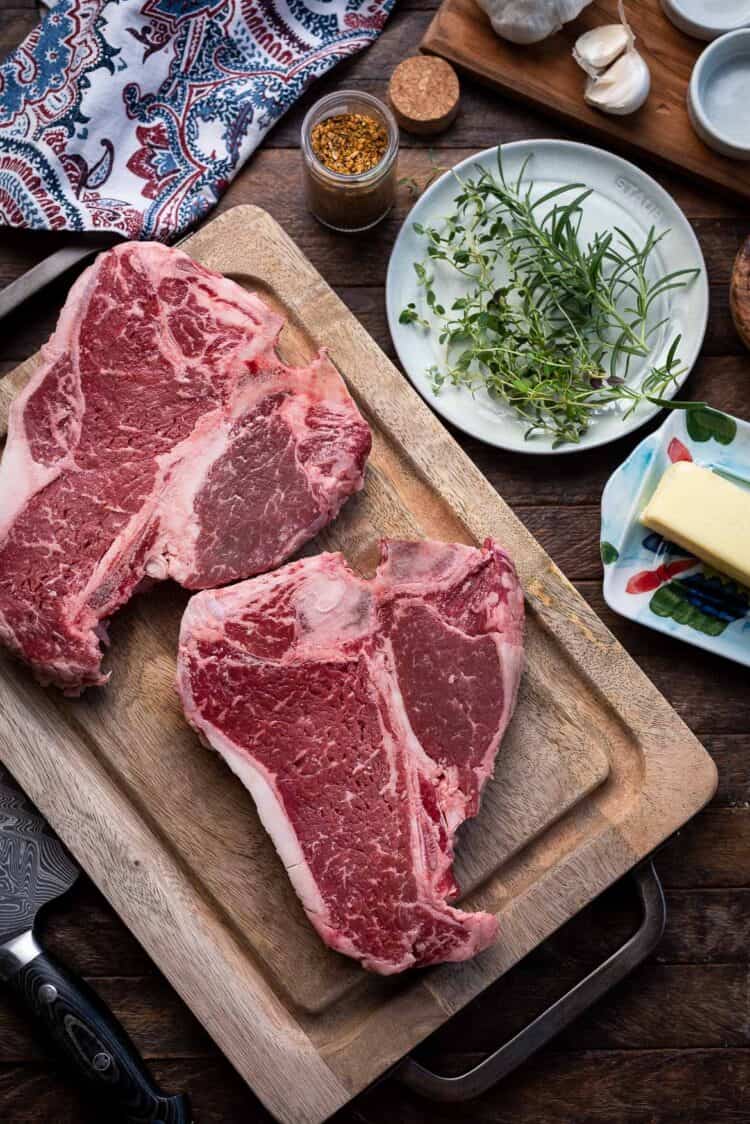 Back home in my kitchen, I was eager to share what I had learned with my family. I sourced Certified Angus Beef® T-bone steaks at my local grocery store and set off to make a perfect steak dinner.
The beauty of a delicious recipe like this is in the simplicity of the ingredients. It doesn't take much to create a beautiful meal when working with quality ingredients.
A simple sprinkling of Kosher salt and freshly ground black pepper would be fine, but I also added some of the beautiful steak rub that Chef Ashley Brenneman created for us. Feel free to use your favorite steak rub if you wish!
Before seasoning, remove any excess moisture by blotting the steaks on both sides with paper towels.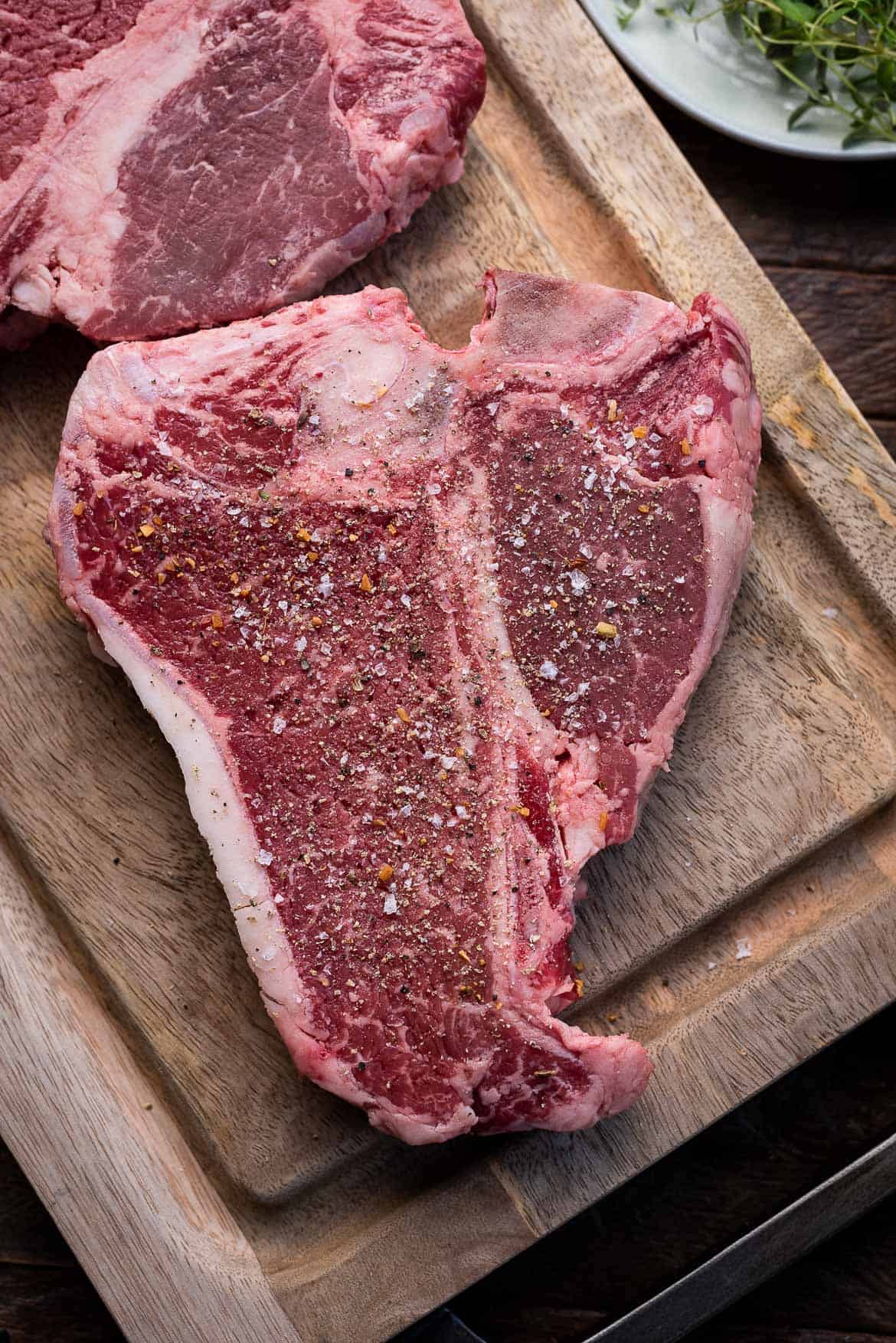 What I love about Certifed Angus Beef® T-bone steaks is that the best way to prepare them is simply pan-seared on the stove top. There's no need to fire up an oven with this easy recipe! Preheat the skillet to high heat, then lower the heat to medium-high heat to sear the steak. Flip steak to brown on both sides. Don't forget to sear the side of the steaks, too. Lower the heat to medium heat, and add some garlic butter and more fresh herbs and garlic to the pan for ultimate flavor. The cooking time is less than 15 minutes.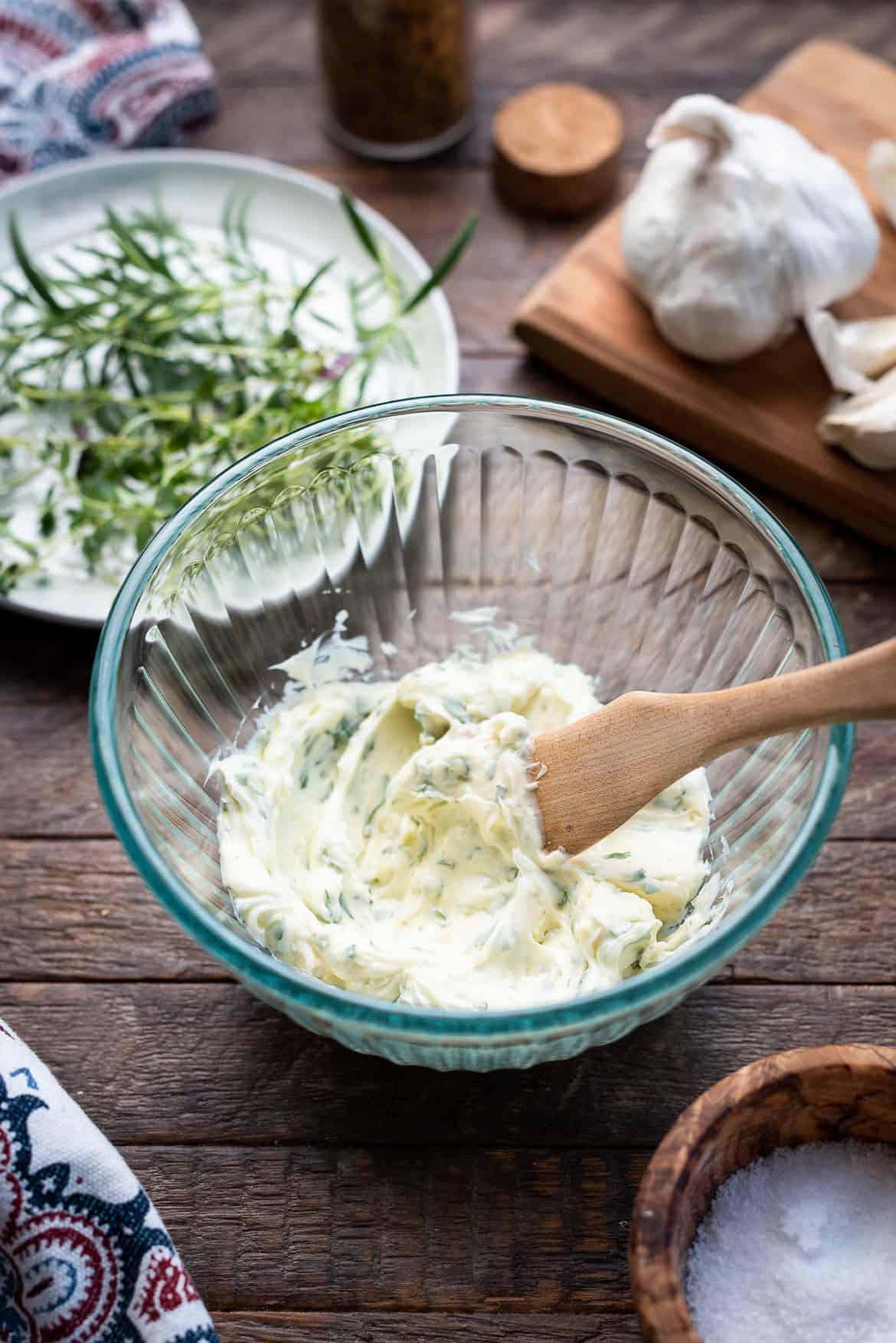 I also harness the flavor of herbs such as fresh thyme and rosemary. I love to whip up a garlic and herb compound butter in a small bowl to make the steak extra luxurious. It is simple enough to make weeks in advance and keep in the refrigerator. Since you only need a few tablespoons of butter in this recipe, you will have extra, so try it on your baked potatoes, seafood, and more.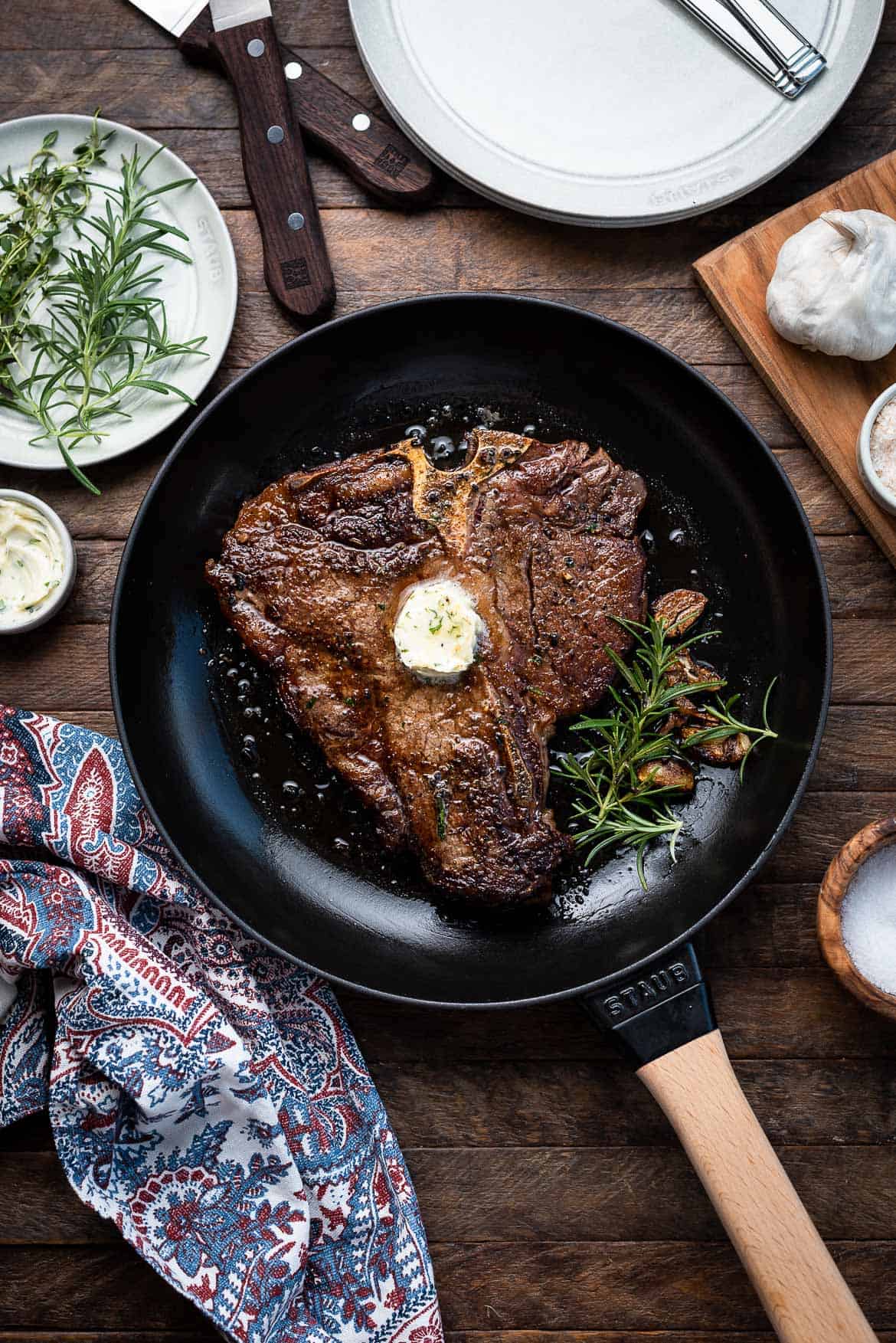 Place steak on a cutting board to rest for about 7-8 minutes. This will help seal in the juices before carving into thin slices.
See the recipe card below for the full recipe.
Certified Angus Beef® Steak Recipe FAQs
Is T-bone the same as Porterhouse steak?
Visit any butcher or steakhouse, and you will see these terms used interchangeably. Both T-bone and Porterhouse steaks have both the strip loin and tenderloin filet; however, Porterhouse steaks are cut from the rear of the short loin and have a wider tenderloin filet. T-bone steaks are cut closer to the front of the short loin and have a thinner tenderloin filet.
What kind of pan should I use for cooking my steak?
I recommend using a heavy, good quality skillet that conducts heat efficiently. I prefer using a cast-iron skillet, such as the Staub Cast Iron Fry Pan I used in this post.
Should I use thicker steaks or thinner steaks?
I recommend using steaks about 1-inch to 1 1/2-inches thick for pan-searing. Any thicker, and you will need to finish the steaks in an oven.
How do I know my steak is done?
Since various factors (steak thickness, temperature, etc.) can impact cook time and steak doneness, I recommend using a digital thermometer. I have the ThermoWorks Classic Thermapen. See below for the internal steak temperatures. I recommend cooking the steak until the internal temperature is 135°F for medium rare.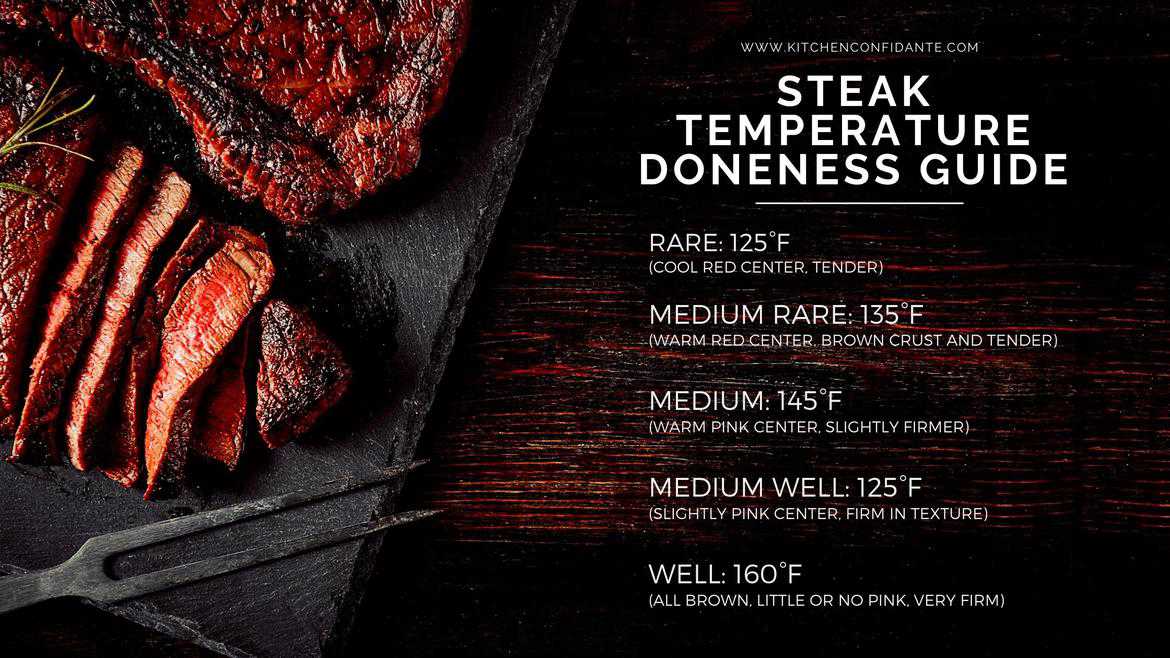 More Steak Recipes
Miso-Marinated Steak Salad
Grilled Flank Steak and Fingerlings with Chimichurri
More Beef Recipes
Shaking Beef Vietnamese Stir Fry
Mechado (Filipino Beef Stew)
Sweet & Smoky Spanish Beef Burgers With Pickled Saffron Pears
Beef and Lentil Chili
Favorite Sides to Serve with Steak
Butternut Squash Scalloped Potatoes
Chickpea Salad
Avocado Corn Tomato Salad
Roasted Butternut Squash Winter Salad with Kale, Farro, and Cranberry Dressing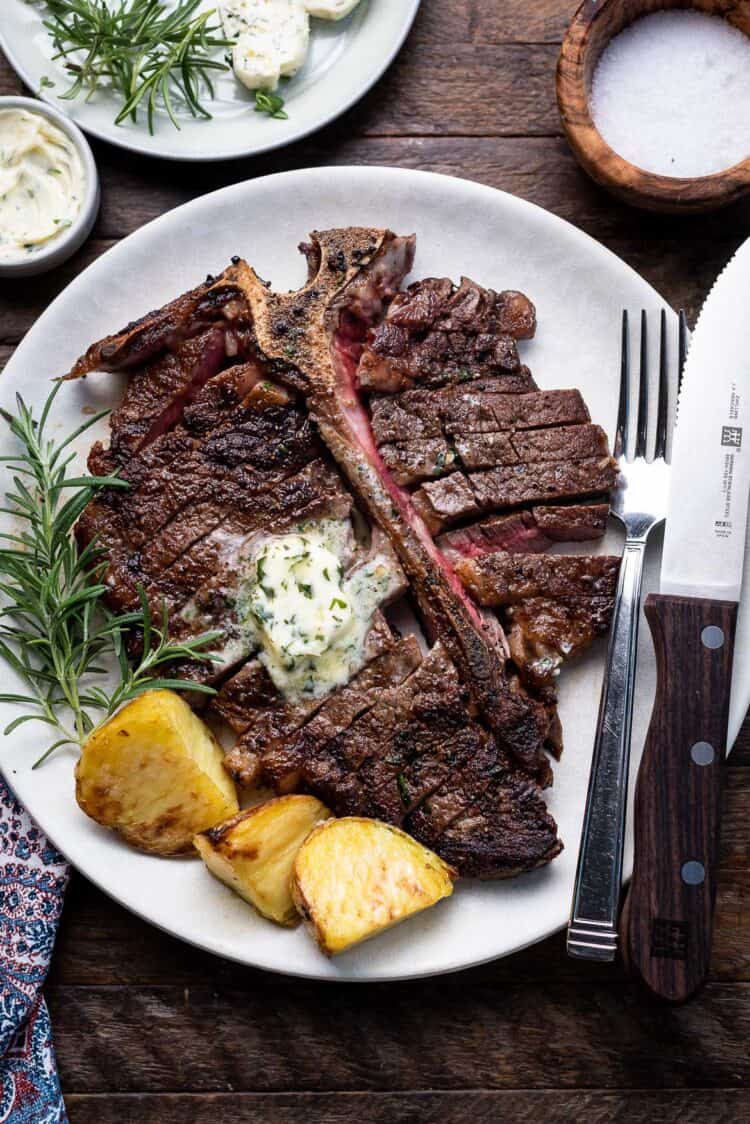 Disclosure: This post was created in partnership with Certified Angus Beef and other sponsors of the Fresh Air Retreat, including Zwilling, Stonyfield Organic, Minute Rice, AdThrive, and Grace & Vine. Thank you for supporting brands that matter to me; sponsored posts such as this help behind the scenes at Kitchen Confidante. All opinions in this post are, as always, my own.
Certified Angus Beef® Steak Recipe with Garlic Herb Compound Butter
Nothing beats a simple Certified Angus Beef® Steak recipe when it's perfectly seared and finished with a flavorful Garlic Herb Compound Butter! 
Ingredients
For the Compound Butter
1

stick

unsalted butter

softened at room temperature

1/8

cup

chopped herbs

I use a combination of fresh thyme and cilantro

1

clove

garlic

minced finely with a knife

1/8

teaspoon

kosher salt
For the Steak
1

1 1/2 lb

T-bone steak

or porterhouse steak, about 1-inch thick (the Certified Angus Beef® brand recommended)

Freshly ground black pepper

1

tablespoon

olive oil

1

tablespoon

compound garlic herb butter

2

sprigs

rosemary

3

cloves

garlic

smashed and peeled
Instructions
Make the Compound Butter
In a small bowl, mix the butter, herbs, garlic, and salt with a spatula until combined. A handheld mixer with beater attachments can also be used.

Transfer the butter onto a piece of parchment paper. Roll and form the butter into a log about 2 inches in diameter using the parchment paper. Transfer to the refrigerator to chill for at least 2 hours or until ready to use. This can be made in advance.

When the butter is chilled and firm enough to handle, slice into 1/4 inch thick rounds.

You only need 1-2 rounds per steak; you will have extra compound butter, that can be used for other recipes. Try it in a baked potato, with seafood, and more!
Make the Steak
Bring the steak to room temperature; this usually takes 20-30 minutes after removing it from the refrigerator. Pat the steaks on both sides with a paper towel to remove excess moisture.

Season both sides of the steak generously with salt and pepper. You can also use your favorite steak rub if you wish.

Heat a heavy skillet (ideally a cast-iron skillet) over high heat. Add the oil, and swirl to evenly coat the skillet.

Add the steak and lower the heat to medium-high heat. Cook for 4 minutes per side, until browned on both sides. Use tongs to turn the steak onto its side and sear the fat cap.

Lower the heat to medium-low heat and drop in 1 round of the compound butter, the rosemary, and the smashed garlic. Use a spoon to scoop the fragrant, melted butter over the steak. When the garlic is browned, and the steak is cooked to your liking (135°F for medium-rare; see temperature chart in notes), transfer to a cutting board to rest for 7 to 8 minutes.

Carve the steak away from the bone and slice against the grain. Serve with an additional round of compound butter if you wish (optional).
Notes
Certified Angus Beef® Steak Recipe Notes/FAQs
Is T-bone the same as Porterhouse steak? Visit any butcher or steakhouse, and you will see these terms used interchangeably. Both T-bone and Porterhouse steaks have both the strip loin and tenderloin filet, however, Porterhouse steaks are cut from the rear of the short loin and have a wider tenderloin filet. T-bone steaks are cut closer to the front of the short loin and have a thinner tenderloin filet.
What kind of pan should I use for cooking my steak? I recommend using a heavy, good quality skillet that conducts heat efficiently. I prefer using a cast-iron skillet, such as the Staub Cast Iron Fry Pan I used in this post.
How do I know my steak is done? Since various factors (steak thickness, temperature, etc.) can impact cook time, I recommend using a meat thermometer. I have the ThermoWorks Classic Thermapen. See below for the internal steak temperatures:
Steak Internal Temperature Guide
Rare: 125°F
Medium Rare: 135°F
Medium: 145°F
Medium Well: 125°F
Well: 160°F
Nutrition
Calories:
120
kcal
|
Carbohydrates:
2
g
|
Protein:
1
g
|
Fat:
13
g
|
Saturated Fat:
5
g
|
Polyunsaturated Fat:
1
g
|
Monounsaturated Fat:
7
g
|
Trans Fat:
1
g
|
Cholesterol:
15
mg
|
Sodium:
46
mg
|
Potassium:
22
mg
|
Fiber:
1
g
|
Sugar:
1
g
|
Vitamin A:
178
IU
|
Vitamin C:
1
mg
|
Calcium:
11
mg
|
Iron:
1
mg