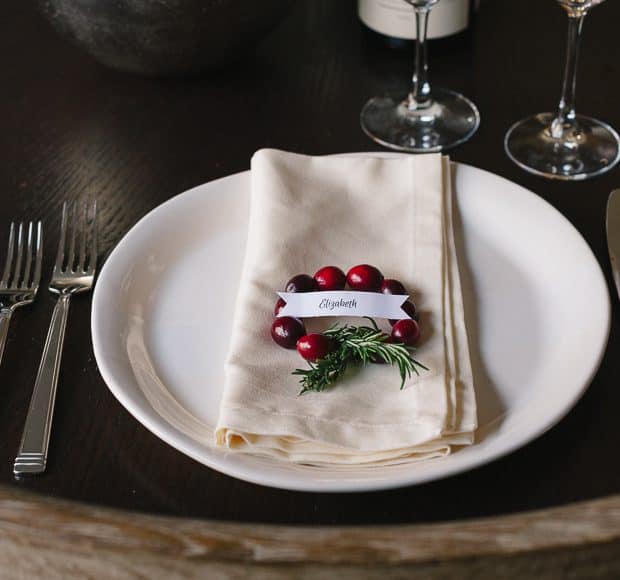 Simple Sundays | Cranberry Wreath Place Cards DIY
I never imagined that I would develop an affection for cranberries. It is a devotion that happened later in life, and one of those loves that you don't realize until it is gone. But there you go, I fell in love with these beautiful ruby…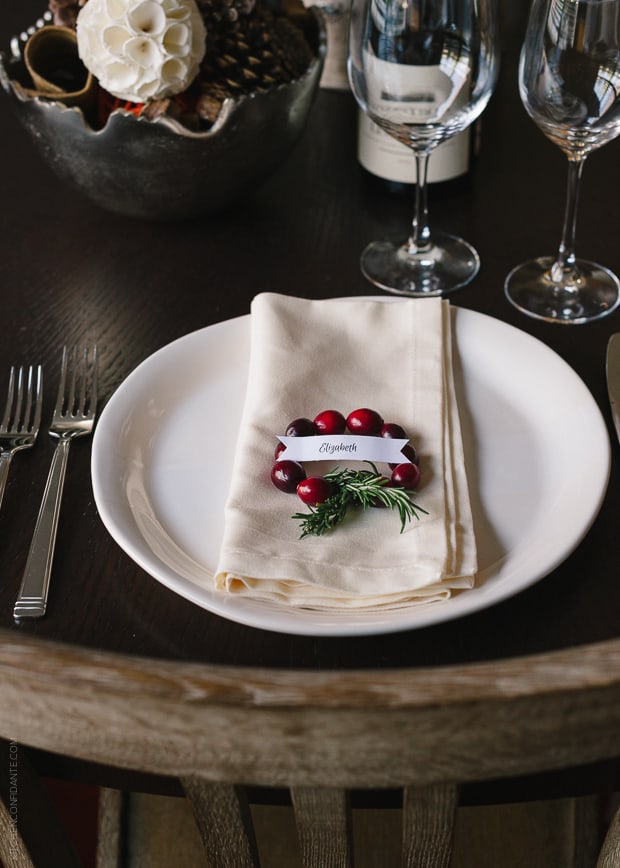 Simple Sundays | Cranberry Wreath Place Cards DIY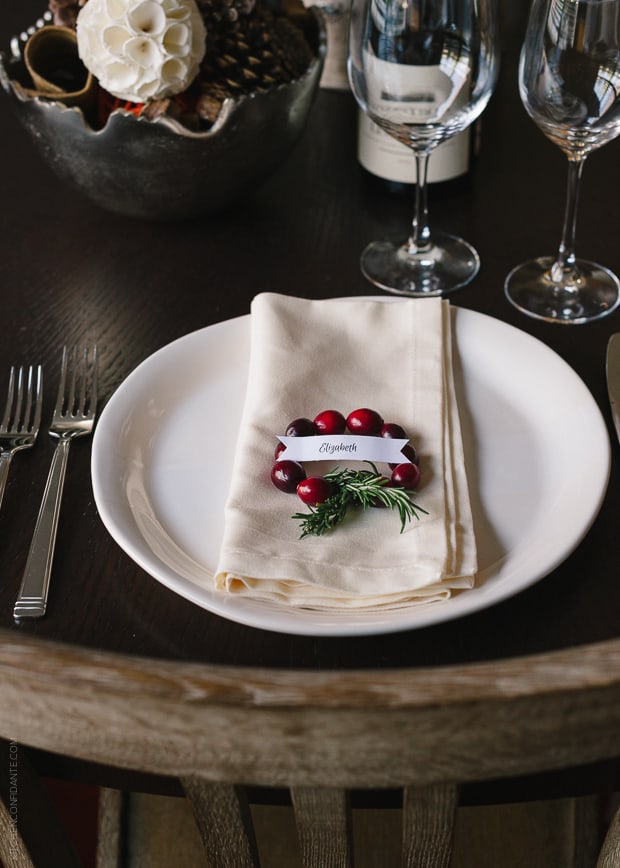 I never imagined that I would develop an affection for cranberries. It is a devotion that happened later in life, and one of those loves that you don't realize until it is gone.
But there you go, I fell in love with these beautiful ruby cranberries, and as I'm sure you have noticed, I can't stop cooking and baking with them. Their versatility astounds me. And I will be truly sad once their season fades.
This Christmas, I am setting aside some of my precious cranberry jewels to make our holiday table a little more festive. These adorable Cranberry Wreath Place Cards brought out the crafty in me!
It's so simple, and something even the children can do as you tend to other pressing holiday matters. Here is what you will need: wire (I used 32 gauge, but something similar will suffice), a needle (not necessary if you use a higher gauge wire), fresh cranberries (firm works best), fresh rosemary, scissors, ruler, card stock (trimmed to about 3″ W x 1/2″ H) and pretty font.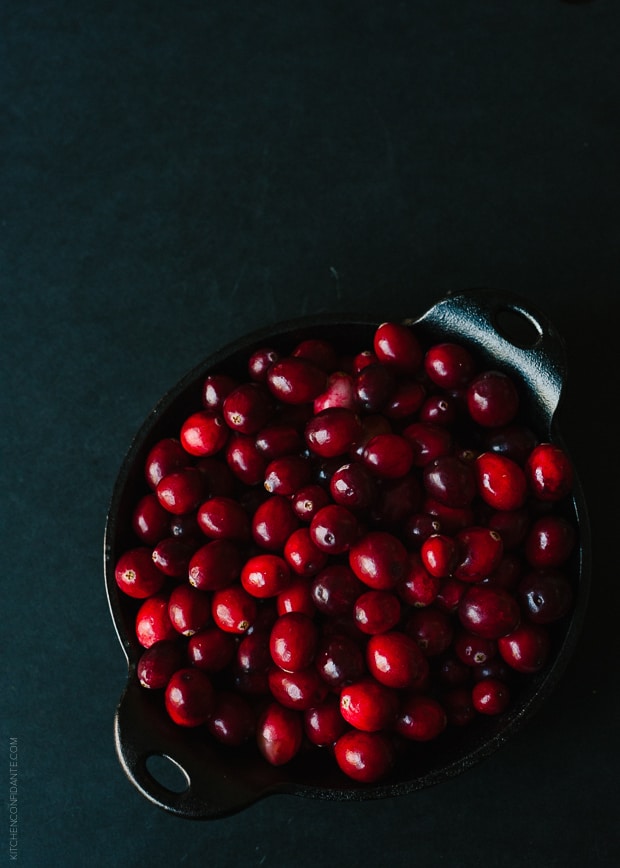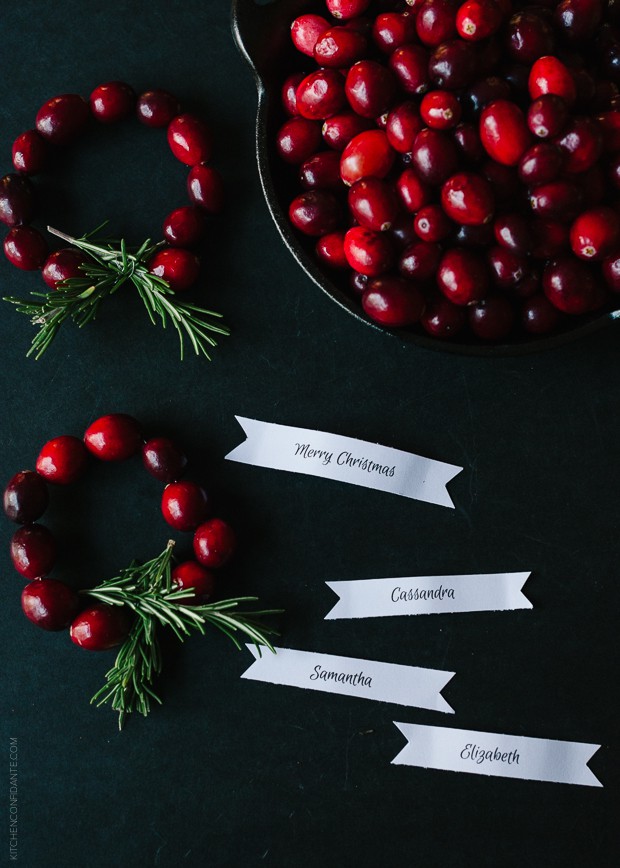 Simply thread your wire into a needle, then thread 11 similarly sized cranberries on to the wire, leaving about 2 inches of wire on either end. Cut the wire from the spool, then tie the ends in a knot, making a full circle with the cranberries. Cross two small rosemary stalks together, then use remaining wire to attach to the wreath, wrapping the wire tightly and concealing underneath the rosemary. Place your printed and trimmed card stock on the wreath and that is it!
If you make it a day or two ahead, just keep the place cards in the refrigerator to keep them fresh.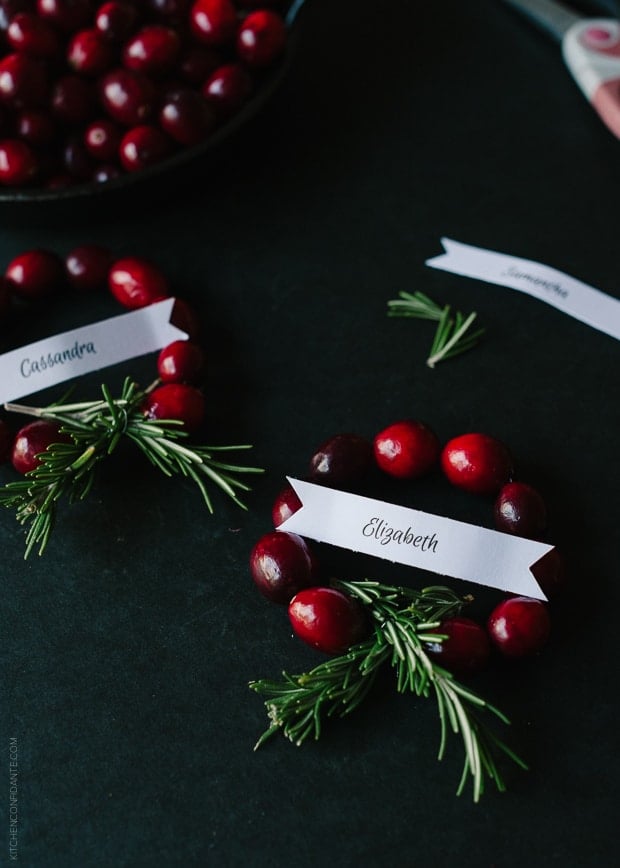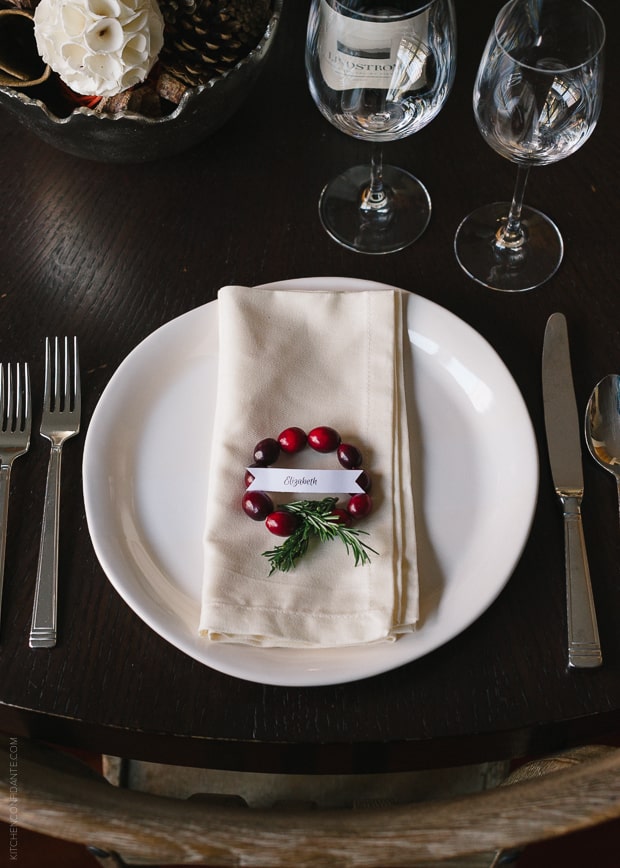 All that is left now is to set the table, and as you can see, the place cards are all you need to add a little bit of jolly to an otherwise humbug table.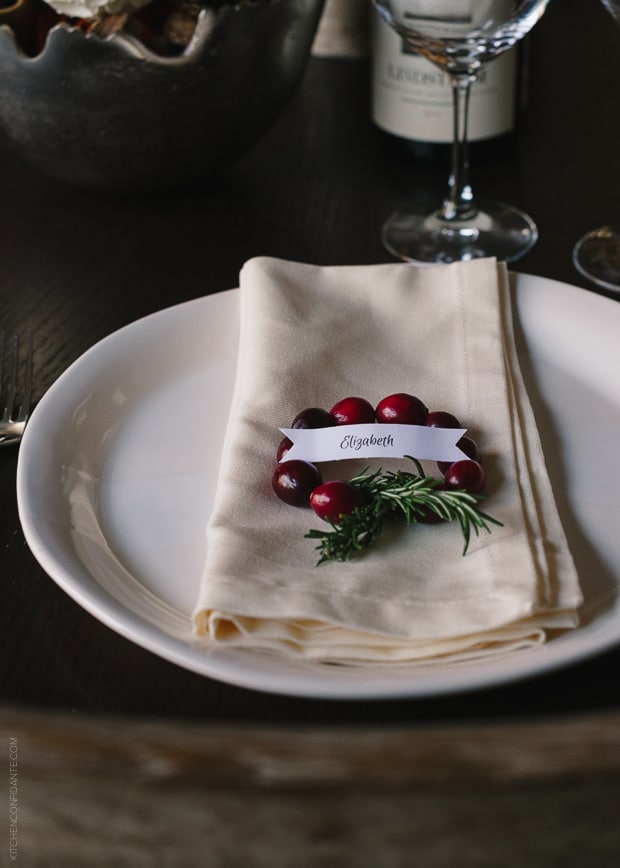 Looking for more cranberry inspiration? Here are some recipes, both savory and sweet:
Cranberry Orange Olive Oil Cake
Cranberry Wine Galette
Cranberry Balsamic Crusted Chateaubriand
Cranberry Nut Butterhorns (Rugelach)
Cranberry Walnut Kale Salad with Fresh Cranberry Vinaigrette
Apple Cranberry Oatmeal Cookies
Cranberry Almond Swirl Ice Cream
Cranberry Rhubarb Cobbler
Cranberry Oatmeal Muffins
Fresh Cranberry Tea Cake
Cranberry Curd
Cranberry Apple Torte | A Guest Post from A Thought for Food
Cranberry, Orange & Ginger Chutney Brie Cups | A Guest Post from Authentic Suburban Gourmet